Relievers struggle in eighth to send Yanks to loss
Angels score three runs on bases-loaded walks to take series opener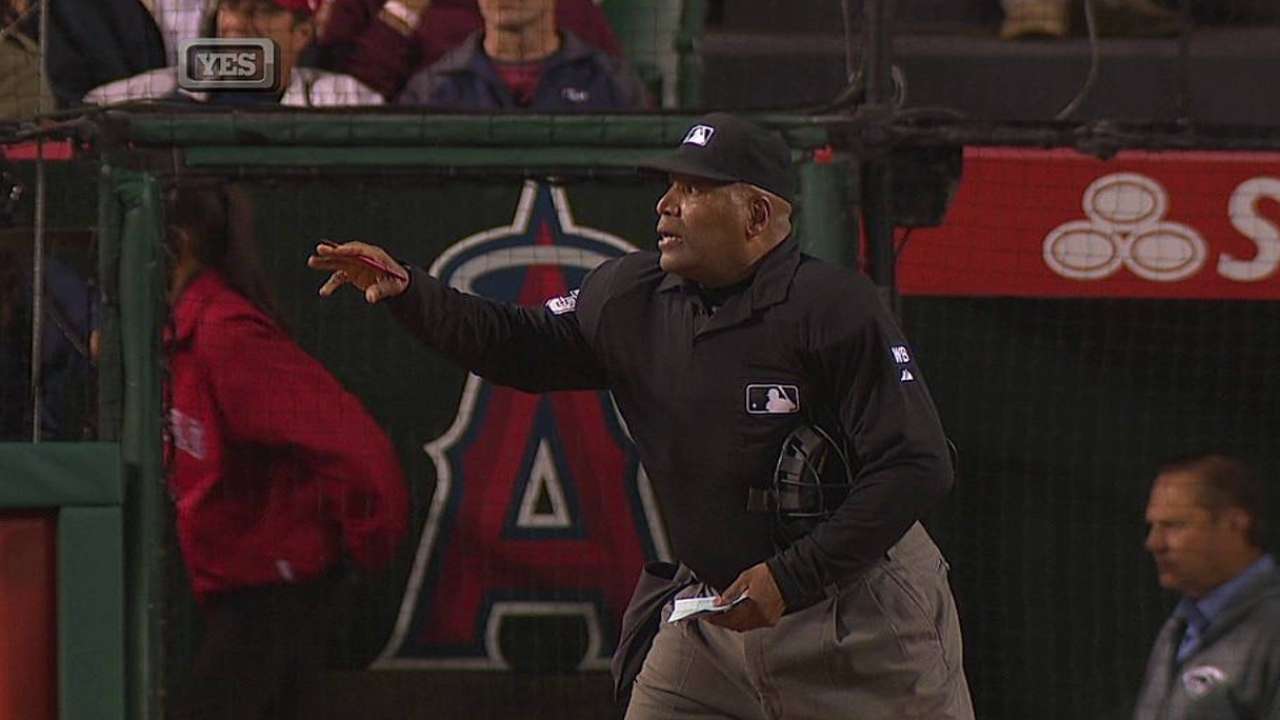 ANAHEIM -- A borderline strike call and a dismissive finger wave had Joe Girardi irate and ticketed for an early exit, as the Yankees' manager fired his cap into the Angel Stadium turf and jawed furiously inches away from the face of home-plate umpire Laz Diaz.
Girardi was already up the tunnel, walking toward the clubhouse, when more misfortune arrived. The Yanks wasted a prime run-scoring opportunity, then walked six batters to force home three eighth-inning runs as the Angels posted a 4-1 victory on Monday night.
"I walked the leadoff batter in the inning, and that started a downward spiral," said Shawn Kelley, whose walk to Howie Kendrick gave the Angels the lead. "We've got to block out all the other distractions, just like we do with the fans, crowd, emotions, all that stuff, and just pitch. Tonight wasn't my night."
Kelley issued free passes to four batters in the inning, but had just a runner at second with two outs when he put Albert Pujols on base intentionally. Kelley lost pinch-hitter Raul Ibanez to a full-count walk, and then walked Kendrick on a 3-1 offering.
Diaz, who had tossed Girardi in the top half of the inning, then ejected Kelley following his removal in a pitching change. Matt Thornton issued a bases-loaded walk, and so did Preston Claiborne as the Angels grabbed a three-run lead.
It was the first time since Sept. 12, 1990, that the Yankees issued six walks in an inning, and the Yankees appeared to have issues with Diaz's strike zone all night.
Girardi revealed that there had been an incident during Kelly Johnson's second-inning strikeout in which Diaz waggled his finger at Girardi, as if to say no more, a gesture that Girardi called "the Mutumbo," in reference to former NBA star Dikembe Mutumbo's dismissive wave.
"I don't appreciate that. I'm not a little kid," Girardi said. "I don't need to be scolded. Obviously we're trying to work together, and I just thought there were a lot of inconsistencies tonight.
"No one is coming [to the game] to see Laz, I can tell you that."
That frustration boiled over after an eighth-inning called strike on Brett Gardner. The strike call on a 1-0 pitch from Jered Weaver -- who was excellent all night -- seemed borderline in Girardi's view, and the Yankees believe it changed the tone of an at-bat in which Gardner struck out.
"There's no telling what would have happened," Gardner said. "I could have gone deep, I could have ended up striking out. There's no need to speculate. I just didn't get the job done, bases loaded, no outs."
Watching from the mound, Weaver seemed to enjoy the show. It surely didn't bother him; New York's bases-loaded, none-out rally -- built on two infield hits and an Ichiro Suzuki bunt single -- then fizzled, as Weaver worked out of trouble by getting Derek Jeter to ground into an inning-ending double play.
"That was pretty cool, huh?" Weaver said. "You don't see that too much anymore with the replay; hats being thrown around, spitting and all that stuff. You just have to try to stay locked in, try not to focus on what's going on with him and Laz there."
Jeter's 4-6-3 grounder spoiled a good evening for the 39-year-old, who said before the game that he was "going to try to get young again," and then rolled the clock back with a two-hit performance.
"My last at-bat, I hit that harder than my other balls, but I just hit it to somebody," Jeter said. "That's what's going to happen over the course of a season."
The Yankees' captain snapped an 0-for-14 skid with a fourth-inning single off Weaver, marking the first hit of the game for either club, and later ripped a seventh-inning double that sparked a game-tying rally.
Shooting a ball down the left-field line, Jeter advanced to third base on a groundout before coming home on Mark Teixeira's sharp single to right field. The run was the 1,882nd of Jeter's career, tying him with Tris Speaker for 11th place on the all-time list.
New York stayed in the game as David Phelps turned in a solid outing, making his first start of the season and his first appearance of any kind since April 23, holding the Angels to a run on three hits over 5 1/3 innings.
Kendrick opened the fifth inning with a triple into the right-field corner that took a bounce away from Ichiro, then scored on Ian Stewart's groundout one batter later. That accounted for the Halos' production against Phelps, who walked one and struck out three.
But the Yanks' offense was kept quiet by Weaver, who won his third consecutive decision for the Halos. The right-hander scattered six hits, walking one and striking out seven as he improved to 7-4 in 14 career starts against the Yankees.
"You go against teams' aces, that's going to happen sometimes," Phelps said. "Give that guy all the credit in the world, because he went out and kept us off the board."
That was why, whatever fireworks may or may not have transpired between the visiting bench and the home-plate umpire, the Yankees ultimately could look in the mirror to find the main culprit for their fifth loss in six games.
"I think any time you've got a guy like that on the mound, you feel like a guy is maybe getting expanded a little bit, it's frustrating," Gardner said. "It's no excuse. We've got to do better."
Bryan Hoch is a reporter for MLB.com. Follow him on Twitter @bryanhoch and read his MLBlog, Bombers Beat. This story was not subject to the approval of Major League Baseball or its clubs.