With Harang batting eighth, Pena delivers in last spot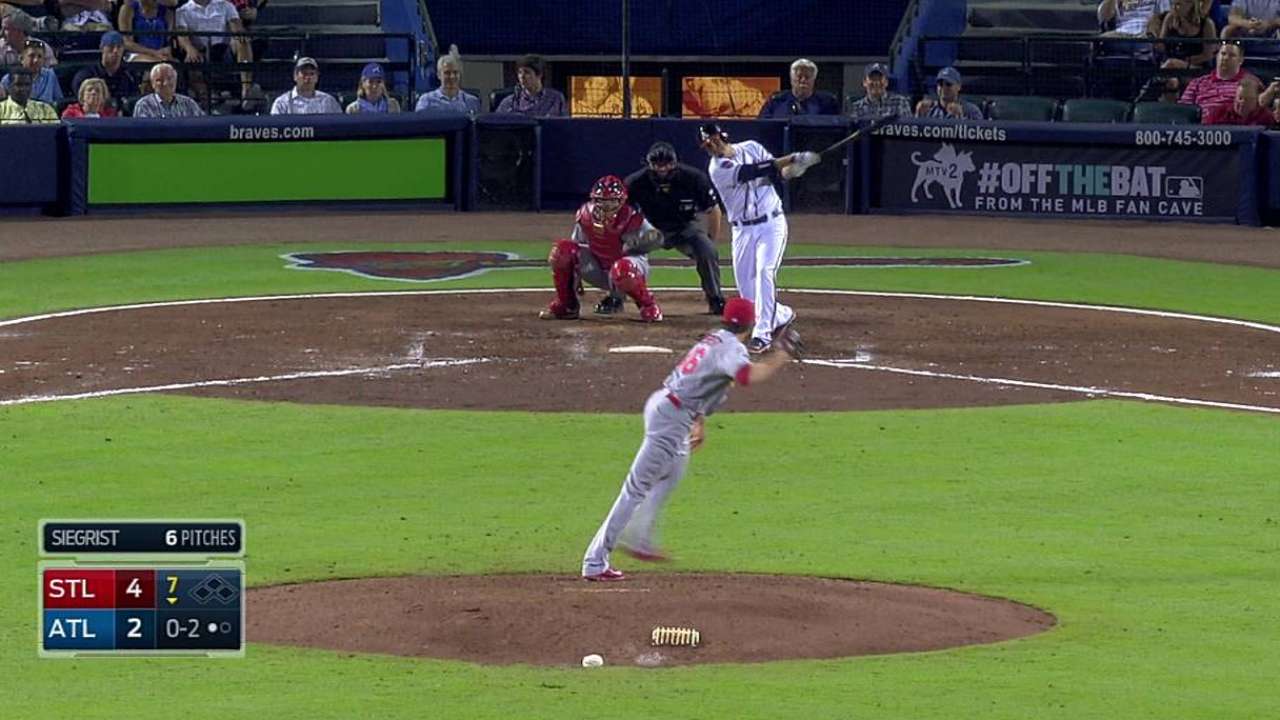 ATLANTA -- Braves manager Fredi Gonzalez is not sold on the theory behind batting a pitcher eighth. But with his offense looking lifeless over the past week, he opted to utilize this practice and shake up a couple other parts of his lineup for Monday night's series opener against the Cardinals.
"We won some games with it and you don't feel like, 'Wow, that was the game-changer, that we hit the pitcher eighth.'" Gonzalez said. Tony La Russa, a Hall of Fame manager that I admire very much, he's done it more than anybody else. But he's never done it in the postseason. But, why not?'"
In other words, Gonzalez had to do something to shake up an offense that had scored less than two runs four times during the six-game losing streak the Braves carried into this three-game set against the Cardinals. Thus he sat Dan Uggla for the third time in less than a week, moved Justin Upton to second spot and caught everybody's attention by batting Aaron Harang eighth and second baseman Ramiro Pena ninth.
Pena delivered from the No. 9 spot in Monday night's 4-3 loss to the Cardinals. The second baseman hit a solo homer and a double.
"We've lost six in a row, you've got to juggle things up a little bit," Upton said. "Wherever you've got to hit, you've got to hit."
The Braves won six of the previous eight games Gonzalez opted to bat his pitcher eighth during the 2011 and 2012 seasons. Included among these victories was one recorded against the Cardinals on May 29, 2012 to snap an eight-game losing streak.
While Gonzalez is superstitious, he provided some reason behind his decision to go with this lineup arrangement that is most often linked to La Russa, who popularized this method as he served as St. Louis' manager during Mark McGwire's 1998 home run chase.
Gonzalez wanted to get Upton back in the two hole, a spot in which the outfielder thrived during last season's final two months. At the same time, he viewed this as an opportunity to give his first three hitters -- Jason Heyward, Upton and Freddie Freeman -- more run-producing opportunities.
"Last year we moved Justin to the two hole and we ran a couple of good long winning streaks," Right now, our best hitter arguably is Freddie Freeman. He gets a chance to bat third in the first inning and then he gets a chance, hopefully, to hit third or fourth the next time around with more people on base."
Gonzalez said he will likely put his starting pitcher in the eighth spot of the lineup for at least a week. He said the opposing starting pitcher's splits will determine which player he places in the ninth spot, to essentially serve as a second leadoff hitter. He opted to bat the switch-hitting Pena ninth on Monday because St. Louis' right-handed starting pitcher Shelby Miller has allowed a .286 batting average against left-handed hitters and limited right-handed hitters to a .200 batting average.
"I haven't come up with a number to tell you how long I will do this," Gonzalez said. " But you've got to let them do it a little bit."
Mark Bowman is a reporter for MLB.com. Joe Morgan is an associate reporter for MLB.com. This story was not subject to the approval of Major League Baseball or its clubs.