Brewers back Garza, snap offensive funk with bang
Offense launches three homers; righty works six strong frames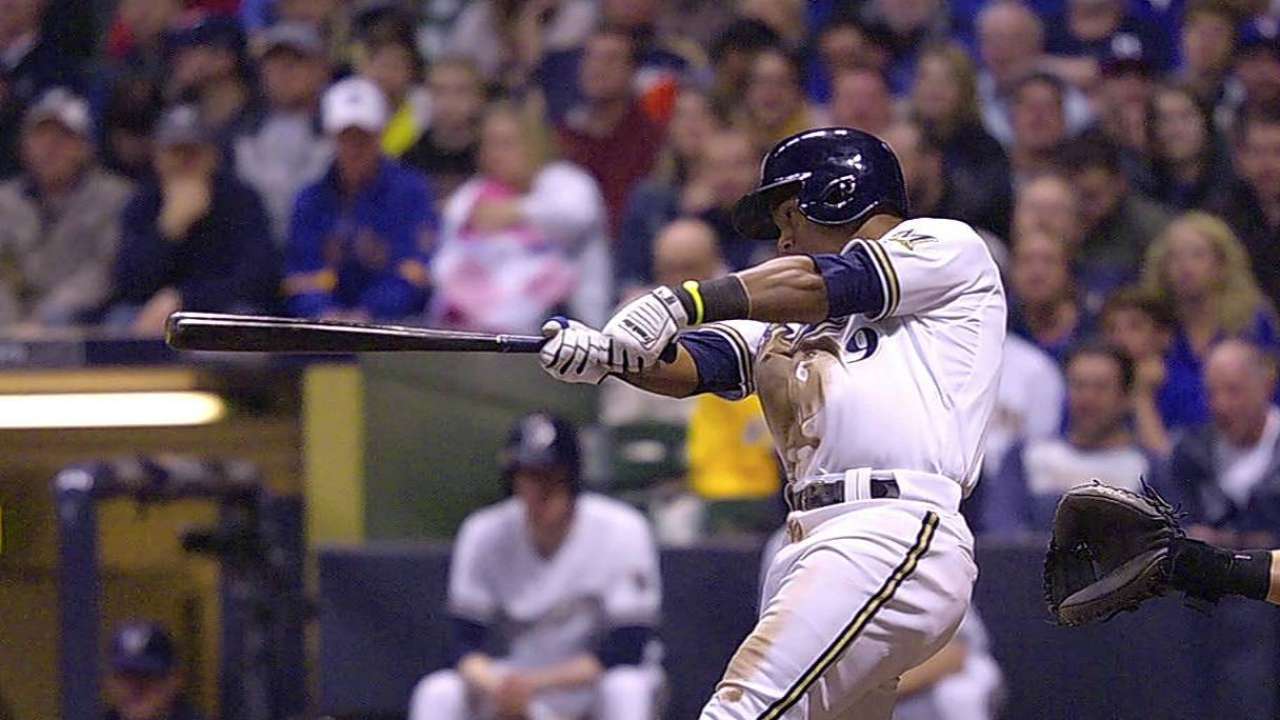 MILWAUKEE -- Matt Garza pitched, Brewers hitters hit, and all was right again for a team still clinging to baseball's best record.
The Brewers opened a long homestand with an 8-3 win over the D-backs at Miller Park on Monday night, with Garza battling for six innings and his hitters enjoying badly-needed breakout. Carlos Gomez, Martin Maldonado and Jean Segura all homered as the Brewers topped five runs in a home game for the first time this season.
Garza needed a game like this after expressing frustration following an injury-shortened loss last week in St. Louis. And Brewers hitters needed a game like this after scoring 10 total runs while losing three of four games over the weekend in Cincinnati.
"Baby steps," Garza said.
Gomez hit his third leadoff home run of the year -- and his eighth homer overall -- while leading the way with three RBIs and three walks. Segura followed Gomez's two-run double in the Brewers' game-breaking, four-run sixth inning with a two-run home run that made it 8-3.
The output was the Brewers' best since an 8-7 victory in Pittsburgh on April 19, and preserved Milwaukee's distinction as the only team in baseball yet to lose when scoring at least four runs. The Brewers are 18-0 when they reach that threshold, and 22-11 overall.
"We've been talking about somewhere in there getting, six, seven, eight runs, and we did," Brewers manager Ron Roenicke said with relief. "'Maldy,' who we send in there basically for his great defense, comes through with a great offensive day. Gomez, starts it off with a homer, but walked three times. I thought that was important. [Segura] had a good offensive day. There's a lot of really good offense."
Garza needed a good game just as badly as the hitters. A bruised right thumb was hurting after Garza's last start in St. Louis, but so was his pride, and the right-hander used words like "disappointed" and "frustrated" to describe the fact he was the only Brewers starter with an ERA that did not begin with the number two or three.
He vowed to do his part, and succeeded on Monday, though it wasn't easy. Garza threw 25 pitches in a long first inning, limiting the damage to Aaron Hill's RBI single, then saw the Brewers tie the game one pitch into the bottom of the first inning when Gomez connected with a fastball from D-backs starter Mike Bolsinger. Maldonado gave the Brewers a 3-1 lead in the second inning with his first homer this season.
But Garza allowed the D-backs to tie the score in a third inning that began with Gerardo Parra getting hit in the foot by a pitch. After a strikeout, Garza surrendered three successive singles, including run-scoring hits for Miguel Montero and Hill that tied the game at 3. Garza walked newly-minted National League rookie of the month Chris Owings to lead the bases, but struck out Alfredo Marte and Ender Inciarte to preserve the tie.
After that inning, Garza had a moment of reflection. He said he asked himself, "What am I doing? Why am I letting this go on?"
He said he found an answer in the top of the fourth, during a break in the action while Roenicke challenged a call at first base. The decision went Garza's way and so did the rest of his outing. He pitched three more scoreless innings for the Brewers' 26th quality start in 33 games, most in the Majors.
Garza was charged with three runs on eight hits in six innings. He struck out five and walked two.
"If you look at some of the hits he gave up, he made some good pitches," Roenicke said. "[Brewers pitching coach] Rick Kranitz went back in and looked at some of the pitches he made and he made some good pitches. The fourth, fifth and sixth, I thought he was really good. His fastball was better, his location was better, his slider was better. He started throwing some curveballs. I thought those innings were good."
"It was really satisfying," Garza said. "I felt like I got some timing and a little bit or rhythm going, and I really want to keep it going into the next start. It was bumpy early, but the guys stood behind me and backed me."
Khris Davis' fifth-inning sacrifice fly provided a lead, and the Brewers added four more runs in the bottom of the sixth inning after Garza's exit. Maldonado and pinch-hitter Rickie Weeks worked consecutive walks from Arizona reliever Randall Delgado before Gomez and Segura delivered their big hits.
After homering on the first pitch in the first inning, Gomez saw a total of 27 pitches on Monday.
"I had a plan today before the game started," Gomez said. "When I drove my car over here, I thought a little bit. The last five, six games, I feel so good that I was swinging at pitches out of the strike zone too much. Today, when I hit [batting practice], I was looking for pitches I could [put a] good swing on it. That's how I started everything today."
Garza had a plan, too.
"I felt like I did what I wanted to do, and that was attack and not shy away from anything," Garza said. "I liked the game plan I had and I liked the way me and Maldy executed it. There's still some stuff I need to get better at. It's baby steps."
Bolsinger took the loss after allowing four runs on seven hits in five innings.
"All in all, not a very good job of executing pitches tonight and we paid for it," D-backs manager Kirk Gibson said. "They're a very hot team."
Adam McCalvy is a reporter for MLB.com. Read his blog, Brew Beat, and follow him on Twitter at @AdamMcCalvy. This story was not subject to the approval of Major League Baseball or its clubs.