Hill catches fire, but shaky pitching haunts D-backs
Bolsinger and Delgado combine to allow three homers, eight runs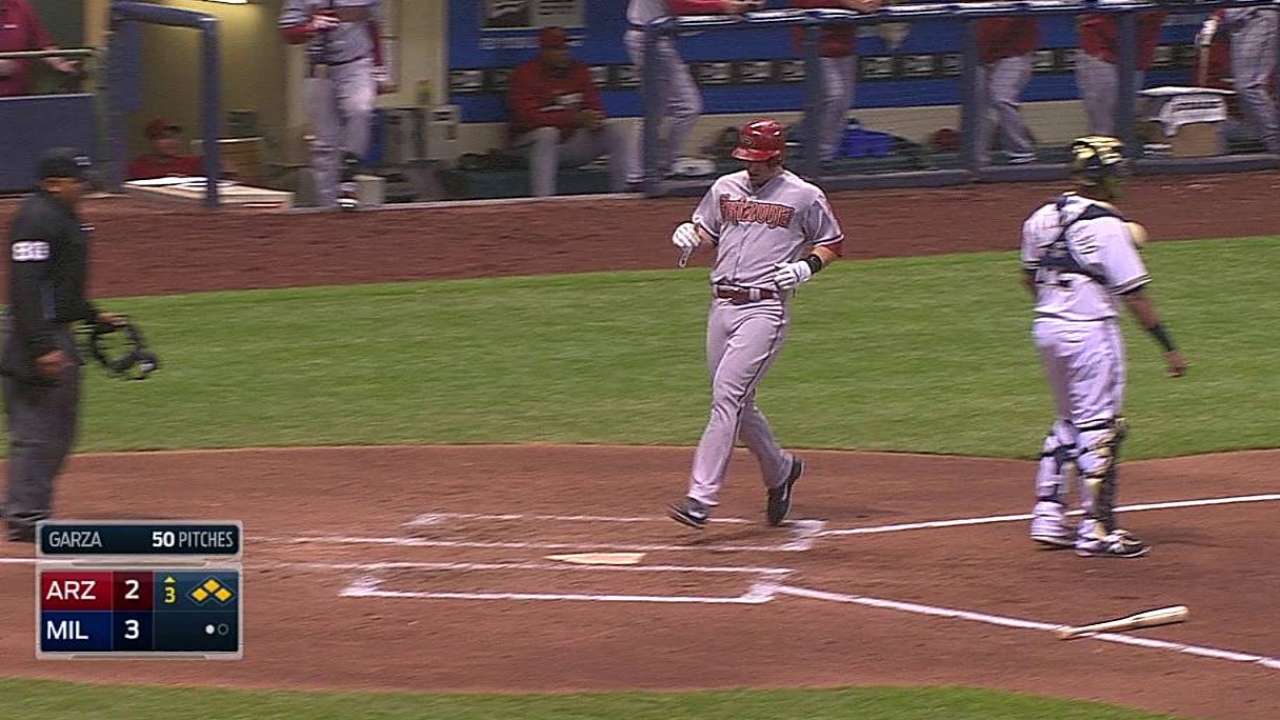 MILWAUKEE -- The D-backs outhit the Brewers on Monday night, but didn't come close to out-powering them.
Aaron Hill had four singles and reached base five times, but the Brewers hit three homers in beating the D-backs 8-3 on Monday night at Miller Park.
Arizona had 10 hits to Milwaukee's nine, but the Brewers had five extra-base hits to only one for Arizona, a Gerardo Parra double in the sixth. The bottom four spots in the D-backs' batting order went 0-for-15 with two walks.
"They drove the ball out of the ballpark," Arizona manager Kirk Gibson said of Milwaukee. "We had a bunch of singles and one double. That was kind of the difference."
Arizona seemingly took a step backward from the progress it made over the weekend when it won three of four games in San Diego. The Brewers, who had not scored more than five runs in any of their first 15 home games, erupted with 14 base runners over the first six innings to take a commanding lead.
"All in all not a very good job of executing pitches tonight and we paid for it," Gibson said. "They're a very hot team."
Carlos Gomez hit the first pitch thrown by Mike Bolsinger (1-2) over the center field wall for a home run.
"I don't know if there's much I can do about the first pitch of the ballgame, home run," Bolsinger said. "You don't see that too often, so hat's off to him."
Gibson had warned before the game that pitchers needed to be careful of Gomez from the first pitch of the game. Bolsinger said he was aware of Gomez' power.
"I knew he was a first-pitch guy, but I didn't know he would swing like that the first pitch of the game," he said.
The Brewers broke the game open with a four-run sixth inning off reliever Randall Delgado, capped by Jean Segura's second homer of the season.
"We didn't execute pitches from the first pitch of the game," Gibson said.
Bolsinger needed 88 pitches to get through five innings in his fourth start of the season. The right-hander gave up four runs on seven hits and three walks while striking out three.
Gibson was not complimentary of Bolsinger's performance.
"Tonight was his worst start I would say," Gibson said.
Bolsinger said he was frustrated that he was struggling with his best pitch, his curveball.
"It's something that I'm just hanging up," he said.
He allowed a second homer, this one a two-run shot, to Martin Maldonado in the second inning that gave the Brewers a 3-1 lead.
The D-backs tied it at 3 in the third on consecutive RBI singles by Miguel Montero and Hill, but Khris Davis' sacrifice fly gave Milwaukee a 4-3 lead in the fifth.
The Brewers, who scored only 10 runs in a four-game series at Cincinnati over the weekend, then tacked on plenty of insurance in the sixth. Delgado walked Maldonado and pinch-hitter Rickie Weeks in a nine-pitch at-bat. Both runners then advanced on a wild pitch before Gomez smacked a two-run single to make it 6-3. Segura then homered to give Milwaukee an 8-3 lead.
"I was really wild today," Delgado said. "I got behind in the count and I had to pay the price."
When asked whether Bolsinger would get to stay in the rotation, Gibson instead replied that reliever J.J. Putz would be placed on the disabled list Tuesday due to right forearm tightness. Reliever Evan Marshall will be recalled from Triple-A Reno to take his place on the roster.
Hill hit singles in his first three at-bats off Milwaukee starter Matt Garza (2-3) and walked in the seventh off reliever Will Smith. He then singled again in the ninth off Zach Duke.
"Matt Garza, he did what he's best at," Hill said. "He kept the ball down and even some of the runs we got off him were good pitches that weren't the greatest swings, but we'll take every run we can get off of a guy like that."
Garza allowed three runs on eight hits and two walks while striking out five in six innings.
The D-backs loaded the bases with one out in the third, but Garza struck out Alfredo Marte and Ender Inciarte to end the inning. He then finished with three scoreless innings and was pleased with his improvement as the game progressed.
"It was really satisfying," Garza said of his mid-game improvement. "I felt like I got some timing and a little bit or rhythm going, and I really want to keep it going into the next start. It was bumpy early, but the guys stood behind me and backed me."
Joe DiGiovanni is a contributor to MLB.com. This story was not subject to the approval of Major League Baseball or its clubs.