Padres show Will to win with walk-off in 12th
Venable's two-run single caps night of rallies in Interleague clash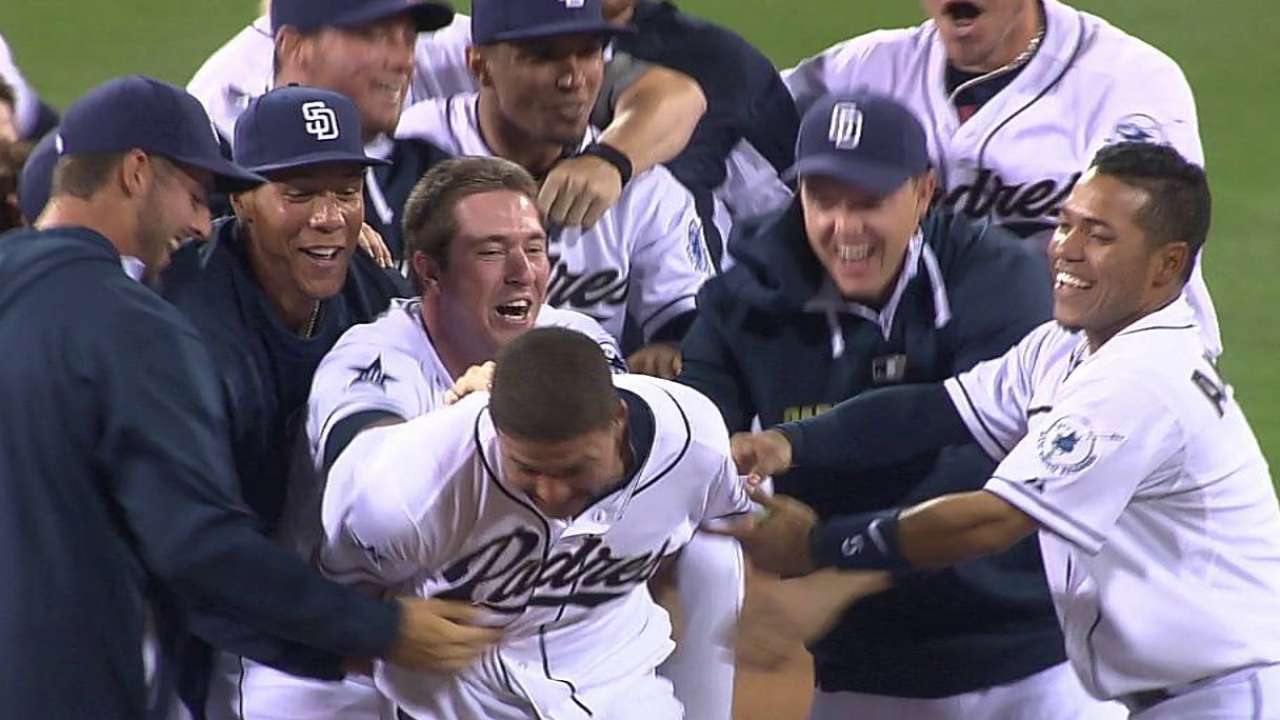 SAN DIEGO -- Hitless but not hopeless, Will Venable actually felt pretty good about his previous at-bats as he walked to the plate in the bottom of the 12th inning.
"Honestly, I felt really good," said Venable, who was 0-for-5 to that point with a strikeout. "... I missed some pitches, but took some good swings. It just didn't happen for me."
That changed in his final at-bat, though, as Venable's two-run single to the gap in right-center field gave the Padres a 6-5 walk-off win over the Royals before a crowd of 14,089, who witnessed three different comebacks and the second walk-off victory in as many days.
"I feel like things are heading in the right direction," Venable said.
Venable, who entered the game hitting .194, might have been talking about his own at-bats, although his statement held true with the rest of the Padres and their well-documented shortcomings offensively this season.
The Padres overcame deficits of 3-0, 4-3 and finally 5-4, after Mike Moustakas gave the Royals a one-run lead with an RBI single in the top of the 12th off Tim Stauffer, who got the victory.
But that lead would be short-lived.
Chris Denorfia started the Padres' 12th inning with a single to center field, as Royals manager Ned Yost brought in Tim Collins from the bullpen. Alexi Amarista moved Denorfia to second base with a bunt. The next batter, Yonder Alonso, then blooped a double into shallow left field, allowing Denorfia to advance to third base.
"This game will do some crazy things to you," Alonso said. "This game will humble you. You've just got to keep your head up. This was a huge win for us."
Venable then came to the plate and jumped on a 0-2 fastball up in the zone from Collins, which ended a game that looked as if it could easily roll on past midnight local time.
"It was a fastball up. It's where we wanted to go with it. I threw it where I wanted to. He just put a good swing on it," Collins said.
Things looked bleak for the Padres early on, as the Royals raced out to a 3-0 lead after five innings. Rookie starting pitcher Yordano Ventura methodically worked his way through the Padres' lineup, utilizing his mid-to-high 90s fastball to set up hitters before using his curveball and changeup to put them away.
Ventura struck out a career-high 10 batters, though only one on a fastball.
"He's got a good arm," Padres manager Bud Black said. "What I found as the game unfolded was that I was expecting more fastballs. I thought his secondary stuff was pretty good. He's got a nice future."
Ventura really only made one mistake and it cost him dearly, as in the sixth inning he allowed a single to Everth Cabrera and a double to Seth Smith. Ventura got ahead of Yasmani Grandal in the count, 1-2, but hung a curveball that Grandal hammered into the right-field seats to tie the game.
"I had a pretty good clue what was coming," Grandal said. "He has a live fastball. He's got a bright future, but he's a rookie and tonight he made a mistake."
The Padres needed another long ball to stay afloat in the ninth inning when, trailing 4-3, Jedd Gyorko hit a one-out, solo home run to right field to force extra innings. It was Gyorko's second homer in three days.
"I like how our guys are hanging in there," Black said. "We're seeing some subtle signs of harder contact, better swings."
San Diego pitcher Eric Stults got a no-decision. He allowed three runs on 11 hits over 4 2/3 innings with two strikeouts. This outing came on the heels of a 2 2/3-inning stint his last time out against the Giants on April 29.
"If you really break it down and look at every hit, he wasn't struggling with his command," Black said.
San Diego center fielder Cameron Maybin left the game in the seventh inning with what Black termed 'gastrointestinal issues.' He will be reevaluated on Tuesday.
Corey Brock is a reporter for MLB.com. Keep track of @FollowThePadres on Twitter. This story was not subject to the approval of Major League Baseball or its clubs.