Lyles' gem rewarded as Rockies' big boppers stay hot
Tulo belts two homers, Arenado extends hitting streak to 25 games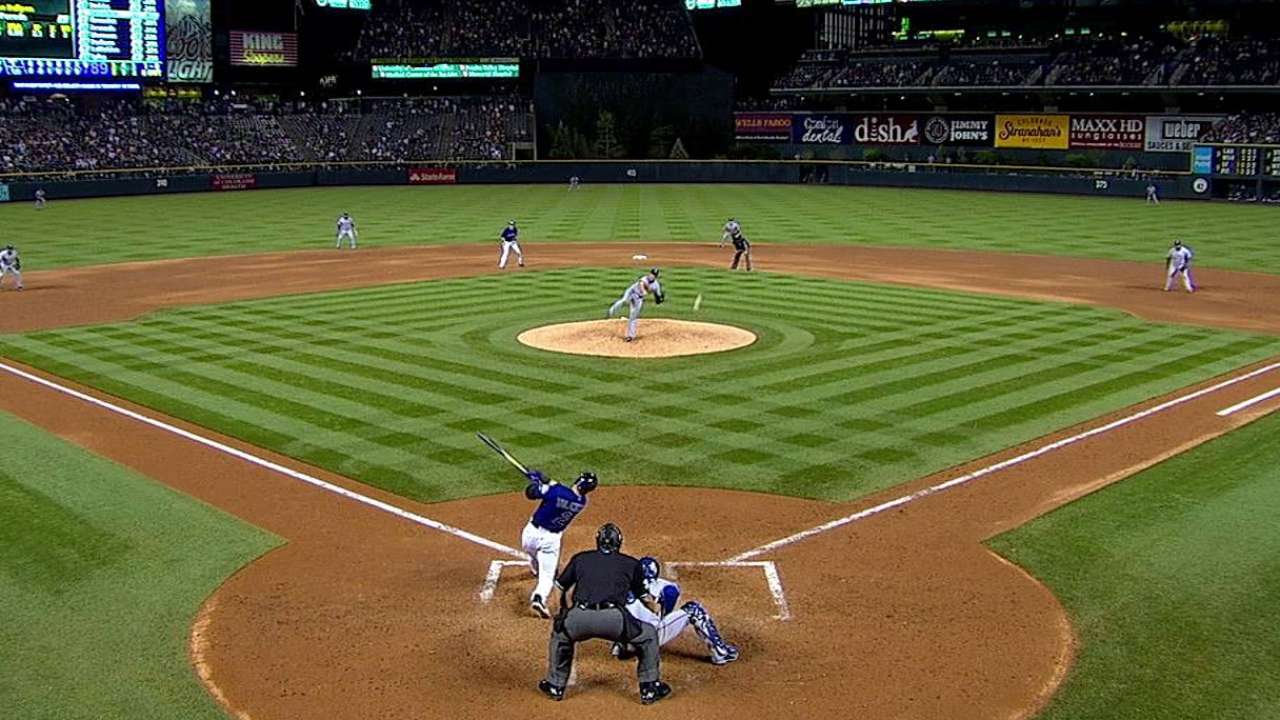 DENVER -- Rockies shortstop Troy Tulowitzki sees many of his own traits in third baseman Nolan Arenado. They're reflecting on one another quite well.
Arenado homered to run his hit streak to 25 games - second-longest in club history -- and Tulowitzki celebrated winning National League Player of the Week and Month awards with two home runs Monday night in an 8-2 victory over the Rangers at Coors Field in front of 26,242.
A couple of major reasons for a strong start by the Rockies (20-14, 12-5 at home) are the offensive and defensive production of the left side of the infield. But the reasons behind the play were evident in the clubhouse after the victory in the first of a two-and-two, home-and-home with the Rangers.
Tulowitzki, 29, was using the foam rollers to work the stress over his often-troublesome leg muscles. Arenado, 23, was busy pushing himself in the fitness room, and the few interviews he did were during a quick break for hydration.
"That's been my job, to try to help him understand how long the season is," said Tulowitzki, who improved to nine homers and raised his Majors-leading batting average to .408. "He's done a good job so far.
"For him being a young player, getting off to a good start is very important for him, because he can be so emotional, such as myself when I was a young player. I respect that about him but I'm also trying to make him learn quicker than I did."
The Tulowitzki-influenced physical routines also keep Arenado, whose streak is two games shy of the club-record 27-game run by Michael Cuddyer last year, from spending too much time basking in his accomplishments.
But nothing can keep Arenado from marveling at Tulowitzki, who lockers next to him.
"He's been playing unbelievable defense -- he's the best shortstop I've ever seen," Arenado said. "And the way he's been hitting is something I've never really seen before up close. But he puts a lot of hard work into it. It's not that surprising that he's been doing what he's been doing."
After consecutive last-place finishes in the National League West, the Rockies are exuding the aura that they're not surprised by their strong start. While the left side of the infield is hitting the ball hard and providing solid defense, some of the other reasons the Rockies have started strong were on display Monday.
Right-hander Jordan Lyles (4-0) limited the Rangers to two runs on seven hits, struck out five and forced three double-play grounders. He also singled and scored in the eighth. It was the third-longest start of his career. He went 8 1/3 innings once and had a complete game while pitching for the Astros, the team that traded him to the Rockies during the winter.
Also, Carlos Gonzalez doubled twice and, although he's been battling a slump that has left his batting average at .252, has hits in seven straight games and eight of his last nine. Brandon Barnes, who came in the same trade as Lyles, and Drew Stubbs each doubled twice as the Rockies rested left-handed hitters Charlie Blackmon and Corey Dickerson against Rangers starter Martin Perez (4-2).
"Hopefully, these guys are realizing that we have a good team," Tulowitzki said. "We talked about that so much in Spring Training, but at times until you get results it's hard to buy into that. But I think now guys are starting to get that confidence up."
Gonzalez opened the second inning with a double into the left-field corner and Arenado clubbed Perez's 2-2 pitch -- which would've been a ball inside -- into the left-field bleachers for a 2-0 lead.
"It was stupid," Rangers catcher Robinson Chirinos said. "He hit that ball that far inside and hit it outside the park. You can't do anything, just laugh, you know. It was a good pitch."
It began a second straight rough outing for Perez, who won four of his first five starts -- having pitched scoreless ball in the last three of those. But last week, against the Athletics, he gave up eight runs and eight hits in 4 2/3 innings. The Rockies bested him for seven hits and five runs in five innings Monday night.
Both Tulowitzki homers, off Perez in the fifth and Shawn Tolleson in the seventh, went the opposite way to right, and were preceded by Stubbs' doubles.
"You try to ride the wave," Tulowitzki said. "I come here to work and not get too confident that this comes easy, because it doesn't."
It's not a bad run for Lyles, 23, either.
He became the second Rockies pitcher to go at least 4-0 in the club's first 34 games. The other was Mike Hampton, who was 5-0 in 2001. Before Monday, Lyles was 0-5 with a 9.82 ERA in six starts against the Rangers. The Rangers saw a pitcher who has reached maturity Monday.
"I was just making better pitches, I guess, getting guys to hit it on the ground," Lyles said. "I'm with a different team and so many different scenarios of why I hadn't had success against them."
Manager Walt Weiss almost let Lyles go the distance. But after Adrian Beltre opened the ninth with a single, Weiss went to righty reliever Nick Masset, who joined the team Monday and made his first appearance in the Majors since Sept. 27, 2011 for the Reds against the Mets -- before shoulder surgery.
Weiss was happy to receive Lyles, along with Barnes, from the Astros for outfielder Dexter Fowler.
"An opportunity to get an arm like this at this age, who was a horse -- there were a lot of reasons to like this kid," Weiss said.
Thomas Harding is a reporter for MLB.com. Read his blog, Hardball in the Rockies, and follow him on Twitter @harding_at_mlb. This story was not subject to the approval of Major League Baseball or its clubs.