Indians' bats waste McAllister's strong effort
Right-hander continues rotation's hot streak, but Tribe shut out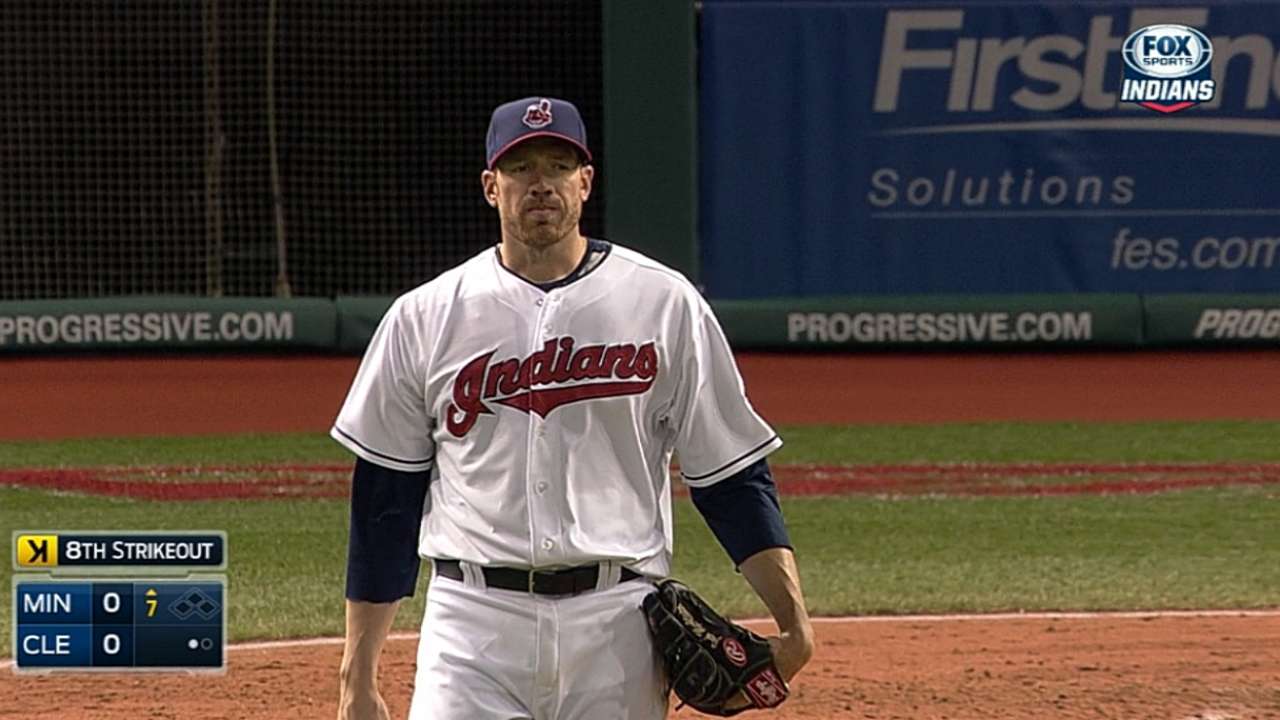 CLEVELAND -- John Axford sat in the corner of the Indians' clubhouse, still in uniform, staring into his locker. When the Indians closer sensed the pack of reporters gathering behind him, he stood tall and discussed yet another setback.
The best cure for a blown save can often be a quick turnaround. That was not the case for Axford in a 1-0, 10-inning loss to the Twins on Monday night at Progressive Field. One night after blowing a save against the White Sox, Axford surrended a go-ahead home run to Eduardo Escobar in the final frame vs. Minnesota.
Axford wanted the ball, even though it betrayed him once again.
"That's something you want, and that's something that I want," Axford said. "I want to go out there the next day, the next game, and get the job done. Erase the slate. Get a clean slate and erase what happened the day before. Unfortunately, second pitch, it didn't work out."
The path to that pitch was paved by Cleveland's offense.
For the second game in a row, the Indians received a stellar starting performance from one of their pitchers. This time, it was right-hander Zach McAllister who cruised into the seventh inning without allowing a run, escaping harm along the way. In Sunday's loss to Chicago -- a game undone by a three-run meltdown by Axford in the ninth -- Corey Kluber spun eight brilliant innings.
Neither McAllister nor Kluber had much margin for error, though. George Kottaras swatted a pair of home runs on Sunday, but Cleveland managed only three runs on the day. On Monday, Twins right-hander Kyle Gibson hardly overpowered the Tribe, but he scattered two hits in seven shutout frames to frustrate the Indians' anemic offense.
The Tribe had three hits on the night, and no baserunners advanced beyond second.
"We got in some hitter's counts. We hit some balls hard," Indians manager Terry Francona said. "We just are fairly inconsistent right now. Even in hitter's counts, we're not getting really good swings. I think when it's team-wide, everybody is trying to do [too much]. It's a good quality, but we have to fight through it together and keep the line moving. Right now, we're not doing that."
The rotation has certainly done its part of late.
McAllister exited after 6 2/3 scoreless innings, during which he equaled a career best with eight strikeouts. The big right-hander walked only one in an outing that continued a recent resurgence for the staff. Over the past three games, Indians starters have posted a 0.41 ERA with 27 strikeouts in 22 innings. The Tribe's rotation has a 1.33 ERA in 27 innings through four games on this homestand.
"Zach pitched so well," Francona said. "He pitched with his fastball and he worked ahead. He pitched out of a couple jams. He was so good. That's two in a row. That's about as good as they're going to pitch. There certainly isn't much wiggle room right now."
McAllister sidestepped harm at a handful of turns.
Chris Colabello opened the second inning with a single and moved to second on a wild pitch, but McAllister retired the next three batters in order to escape unscathed. In the fourth, the Twins had runners on the corners with two outs, but McAllister induced an inning-ending fly ball off the bat of Kurt Suzuki to avoid any damage.
Sam Fuld tried to ignite a rally for Minnesota in the sixth inning, when he slashed a pitch into the left-field corner for a one-out double before stealing third base. Unfazed, McAllister then sat both Trevor Plouffe and Colabello down on called third strikes.
"I knew it was a big part of the game right there," McAllister said.
In McAllister's final frame, the Twins again threatened. Josmil Pinto reached with a double to left field and Chris Herrmann followed by drawing a walk. With two outs and McAllister's pitch count up to 114, Francona opted to turn to Shaw. The right-hander forced Escobar -- pinch-hitting for Pedro Florimon -- to ground out to wiggle out of the jam.
Setup man Cody Allen followed with a clean ninth inning, setting the stage for Axford.
Just two games ago, Axford had a 2.31 ERA through 13 appearances. The lanky right-hander had converted five straight saves heading into Sunday, when he walked two before yielding a three-run home run to Chicago's Dayan Viciedo in a 4-3 loss for the Indians. Monday marked Axford's third consecutive day of work, but Francona felt it was an opportune situation.
"We don't want to hurt guys," Francona said, "but I actually wanted to get him back in there. I thought it'd be good for him."
Two pitches into the 10th inning, Escobar sent a 1-0 fastball from Axford over right field and into the first few rows of seats for a leadoff home run. Axford now has a 4.85 ERA with nine saves in 11 chances this season for Cleveland.
"It's a shame," Axford said, "that my performances in the back end the last two days has kind of taken precedent over a great hitting performance by George and two outstanding starting pitching performances from Kluber and Mac.
"Hopefully, everyone knows that those guys are doing their best and working hard and doing fantastic for us. We'll piece it all together as a club soon and start pulling out some wins."
In the wake of the loss, McAllister expressed confidence in his teammate.
"He's a huge part of this team," McAllister said. "We trust him every time we hand him the ball. His stuff's too good not to be good out there. That's just part of the game right now. That happens. We're ready for him to take the ball again."
Jordan Bastian is a reporter for MLB.com. Read his blog, Major League Bastian, and follow him on Twitter @MLBastian. This story was not subject to the approval of Major League Baseball or its clubs.