Tribe reinstates Gomes, places Giambi on DL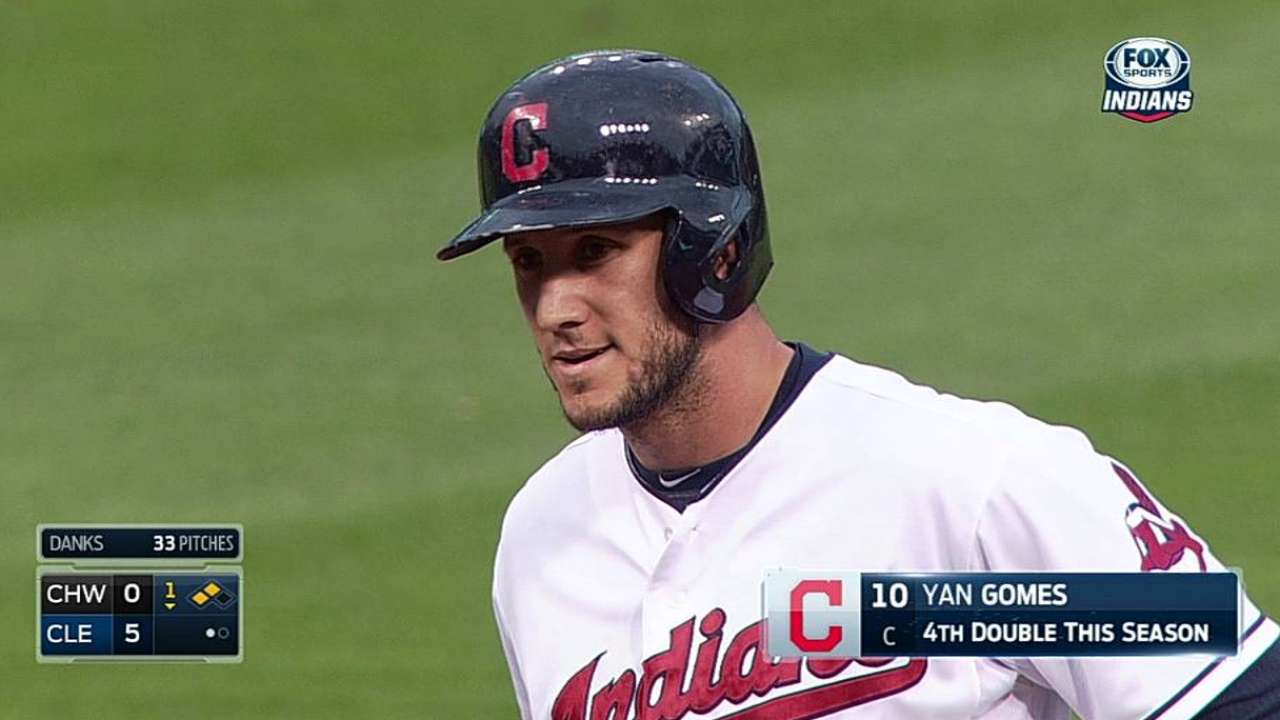 CLEVELAND -- Indians manager Terry Francona was pleased with a pair of his players on Monday. One agreed to rejoin the team earlier than expected, and the other was willing to accept a trip to the disabled list to make it happen.
Prior to Monday's game against the Twins, Cleveland activated catcher Yan Gomes from the Major League paternity list and inserted him back into the starting lineup. In order to clear a spot on the active roster, veteran designated hitter Jason Giambi was placed on the 15-day DL with a strained right calf.
Gomes rejoined the Tribe one game earlier than required.
"First of all, it was pretty cool that Gomer came back, because he didn't have to," Francona said. "[Giambi] can hit, but he's not sure if he can kind of do the rest of it, to the point where it's a little bit iffy. So I just talked to him today. He continues to amaze me by his willingness to see past himself, to see the team.
"When you leave the room [after] talking to 'G', even when you put him on the DL, you just feel like a better person."
Cleveland placed Gomes on the list on Saturday so the starting catcher could be with his wife, Jenna, for the birth of their first child. They welcomed a daughter, Brooklyn Mae, to their family on Saturday morning in Cleveland. MLB's paternity list allows a player to miss up to three games.
"I was a pretty good cheerleader the last couple days," Gomes said. "We're just excited and so blessed. The whole experience was unbelievable. I'm just extremely proud of my wife. I can't even begin to say how much. What she went through, and just to see how strong she was, was pretty unbelievable."
Through 26 games for the Indians this season, Gomes has hit .261 with three home runs and 10 RBIs.
The 43-year-old Giambi, who is 0-for-10 on the season, exited Saturday's game against the White Sox due to the calf injury in the sixth inning. Giambi -- a veteran of 20 years in the Majors -- opened the season on the 15-day DL due to a fractured rib in his right side.
Jordan Bastian is a reporter for MLB.com. Read his blog, Major League Bastian, and follow him on Twitter @MLBastian. This story was not subject to the approval of Major League Baseball or its clubs.