Grimm night for Cubs after Samardzija's stellar start
Reliever gives up two runs in 12th; RHP goes nine, lowers ERA to 1.62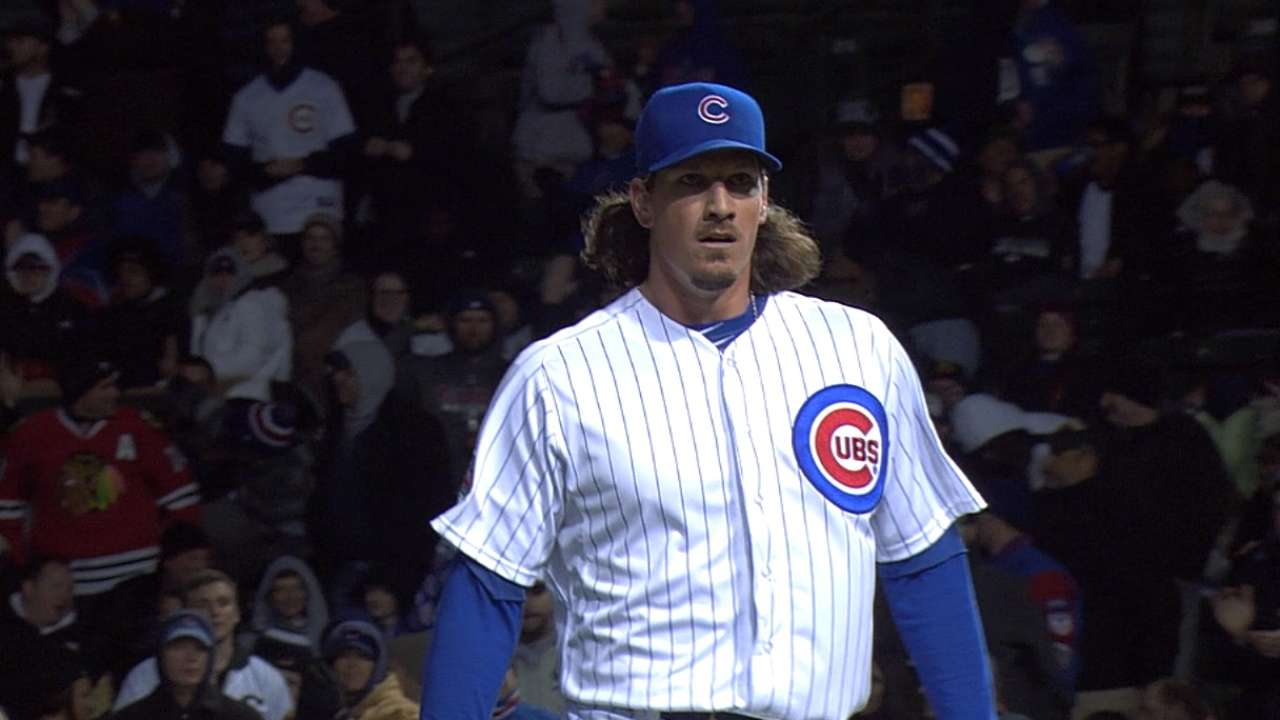 CHICAGO -- Jeff Samardzija struck out seven over nine innings, made the pitches when he needed, hit, scored a run, fielded his position, and lowered his ERA to 1.62. But it wasn't enough for the win.
Marcus Semien smacked a tiebreaking RBI double with two outs in the 12th inning to lift the White Sox to a 3-1 Interleague victory Monday night at Wrigley Field over their crosstown rivals, the Cubs.
With the game tied at 1 and two outs in the 12th against Justin Grimm, Alexei Ramirez singled to right and stole second. Tyler Flowers walked, and Semien lined a double down the left-field line. Pinch-hitter Paul Konerko was hit by a pitch to load the bases, and Grimm walked Alejandro De Aza to force in another run.
"I got behind people, not staying within myself, walking people -- it's going to catch up," Grimm said. "It catches up with you, one time or another. Pitch sequence may have been a little off to some guys, but other than that, you've got to get ahead and stay aggressive. When I'm not aggressive, I'm not at my best."
The story of the game was Samardzija. The right-hander threw a career-high 126 pitches, but his last was one of his best as he got Dayan Viciedo to hit into an inning-ending double play and strand a runner in the ninth in front of 33,146 chilled fans. This was the right-hander's seventh start, and sixth quality start. He's still looking for that first "W."
"I was pretty hungry for that one," Samardzija said.
The Cubs did everything they could. Manager Rick Renteria let Samardzija bat for himself in the eighth.
"What a great outing -- gritty, gutsy, everything you could ask for," Renteria said of the effort. "We wanted that game for him, but we couldn't pull it out."
Samardzija may be frustrated, but he hasn't shown it.
"You do your job," he said. "I'm just going out and doing my job and doing my part to win a ballgame. I can't control things on the outside. It's not my job. Every fifth day is my job and that's what I'm going to continue to do."
That's what he told Renteria in the clubhouse after the game.
"[Samardzija] said, 'Hey, every time. Every time I go out there, that's what I'm going to do,'" Renteria said. "He's doing what he's supposed to do as a Major League pitcher. He's giving us a great chance to win a ballgame. Today was a fantastic effort on his part."
The Cubs had a chance in the ninth. With one out against Ronald Belisario, Anthony Rizzo singled. Starlin Castro was called out on a close play at first base, which Renteria challenged. First baseman Adam Dunn appeared to be up in the air when he caught the ball but after a review, the call stood.
White Sox starter Jose Quintana retired the first 14 batters he faced before Nate Schierholtz walked with two outs in the fifth. Schierholtz stole second and Mike Olt walked, but Quintana got Darwin Barney to ground out to shortstop Alexei Ramirez to end the inning.
The closest the Cubs came to a hit over the first five innings was with two outs in the second. Schierholtz bunted toward third, but Semien made a barehanded grab and threw in time to first to end the inning.
Samardzija struck out the side in the White Sox sixth, then doubled to left to lead off the Cubs' half for the first hit off of Quintana. Samardzija advanced to third on a sacrifice by Emilio Bonifacio before scoring on Junior Lake's sacrifice fly to left.
"I just swing hard every time," Samardzija said of his at-bat. "If you see my [batting practice], there's no mental approach whatsoever. I just swung and got a piece of it. As a pitcher, you go up there and hope for the best."
Quintana was lifted after throwing 95 pitches over seven innings, and did not get a decision.
White Sox slugger Jose Abreu, named the American League Player and Rookie of the Month on Monday, added to his RBI total in the first. De Aza singled to lead off and reached third on Olt's throwing error. Olt fielded Gordon Beckham's grounder and tried to make an off-balance throw to second, but the ball deflected off Barney's glove and into center. De Aza then scored on Abreu's sacrifice fly for his 35th RBI.
Samardzija made the defensive play of the game when he snared Viciedo's high chopper over his shoulder with one out and one on in the fourth. The pitcher's throw to Rizzo was low, but the first baseman was charged with the error when he couldn't hold on to the ball.
"He made a great play -- I don't know how he did it," Cubs shortstop Starlin Castro said of Samardzija.
"I've seen that play a few times happen where it's a tough play for the shortstop and it's either barehand-or-nothing kind of thing," Samardzija said. "When it was in the air, I thought I might as well go for it and whatever happens, happens."
The last time he made an over the shoulder catch like that?
"Probably in the Sugar Bowl," he said, referring to his days as an All-American wide receiver at Notre Dame. "For a touchdown, of course."
This was the first of four games between the two Chicago teams, and first taste of the intracity rivalry for Renteria. He's heard from Cubs fans who have stressed the importance of beating the White Sox.
"I've seen Sox fans with their Sox hats and tried to bring them over to this side, but there are no takers," Renteria said. "I don't know if it goes both ways. It's pretty much split. Where they stand is where they stand."
Carrie Muskat is a reporter for MLB.com. She writes a blog, Muskat Ramblings, and you can follow her on Twitter @CarrieMuskat. This story was not subject to the approval of Major League Baseball or its clubs.