Worth the wait: Nats reign in soggy series opener
Rendon, Espi homer; five relievers shine after three-plus-hour delay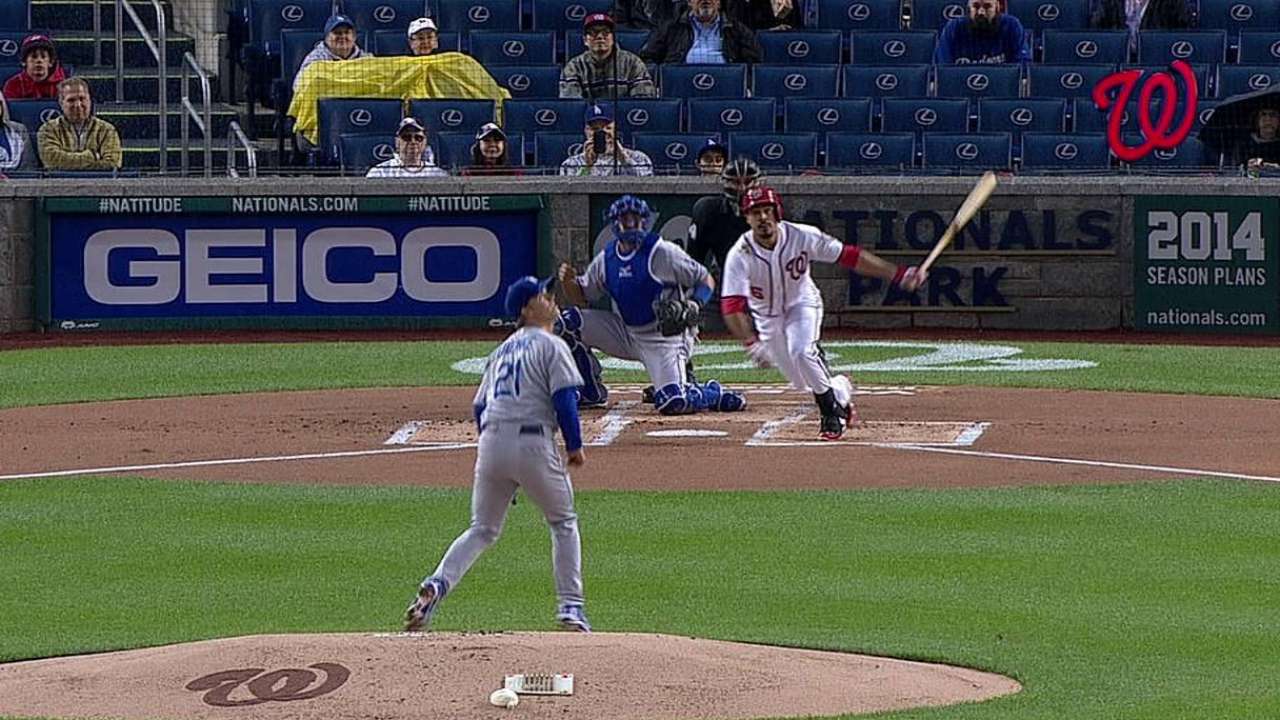 WASHINGTON -- The Nationals needed six pitchers on a wet Monday night to blank the Dodgers, 4-0, at Nationals Park in a game that included a three-hour, 17-minute rain delay.
The Nationals were facing right-hander Zack Greinke when they took the lead in the first inning. With Denard Span on second, Anthony Rendon swung at a 1-2 pitch and hit the ball over the left-center-field wall to give Washington the two-run lead.
Nationals right-hander Jordan Zimmermann was having a solid outing before the game was delayed. He pitched four shutout innings, allowed five hits and struck out three.
The Dodgers' best chance to score off Zimmermann occurred in the second inning. With one out, Andre Ethier and Juan Uribe reached base on singles, but Miguel Olivo struck out and Greinke grounded out to end the threat.
"I felt good. I had good command of the fastball today. I was locating pretty well," Zimmermann said. "I wish the rain wouldn't have come because it was one of those games where I had a lot of things working and I felt like my command was pretty good."
Then the rain came down.
"It was supposed to be passing, and it didn't," Dodgers manager Don Mattingly said. "It didn't seem like there was any concern. I don't think either team really wants to go through this and lose their starter after four innings and tax their bullpen. Something switched a little bit or turned, who knows?"
The Nationals spent the delay watching the Wizards defeat the Pacers in Game 1 of the Eastern Conference semifinals. Zimmermann was throwing during the beginning of the rain delay. But after an hour, he was told to shut it down.
The game resumed at 11:43 p.m. ET, and Zimmermann was out of the game as manager Matt Williams used five relievers the rest of the way. Aaron Barrett, Jerry Blevins, Drew Storen, Tyler Clippard and Rafael Soriano pitched a combined five shutout innings and struck out seven batters. Barrett (2-0) was awarded the win, but he said it was a team win.
"Rendon hit the home run … Jordan pitched four great innings and the rest of the bullpen shut it down," Barrett said. "I was the next guy in line. It was a great team win."
There were few fans left after the rain delay and the players could hear what was said in the stands.
"The fans were going crazy," Zimmermann said. "You have to play, no many how fans are out there. The place wasn't exactly rocking, but it was a game we had to play and we wanted to win. We got the win and that was main thing."
Washington added to its lead in the bottom of the eighth inning off right-hander Pedro Baez, when Danny Espinosa hit a two-run homer. It was Espinosa's fourth home run of the season.
"It felt good to make contact," Espinosa said. "To be able to help the team right there and extend the lead, it definitely felt good. I was happy to come through right there."
The Nationals received a scare in the top of the eighth inning. Outfielder Nate McLouth left the game with a sore knee and a right hand injury after making a sliding catch in foul ground, but according to Williams, McLouth is going to be OK.
With one out and Clippard on the mound, Dee Gordon hit the ball down the left-field line and McLouth made a diving catch and jammed his right hand and knee into the wall.
"He sold out. On that play, he has to go for the ball and not paying any attention where his body is going to be. That's a great play," Williams said.
McLouth had a tough time getting up. At first, it looked like he had a knee injury, but he left the game wiggling his right hand. Kevin Frandsen entered the game and replaced McLouth.
"He banged his knee pretty good," Williams said. "He pulled his thumb back a little bit. He cut himself open pretty good. No stitches. He should be fine. His knee seems fine as well. He could be a little bit sore, but he is good."
With the win, the Nationals improved their record to 18-14.
Bill Ladson is a reporter for MLB.com and writes an MLBlog, All Nats All the time. He also can be found on Twitter @WashingNats. This story was not subject to the approval of Major League Baseball or its clubs.