Long night ends with loss for Dodgers
Bats go silent as Greinke's start cut short by three-plus-hour delay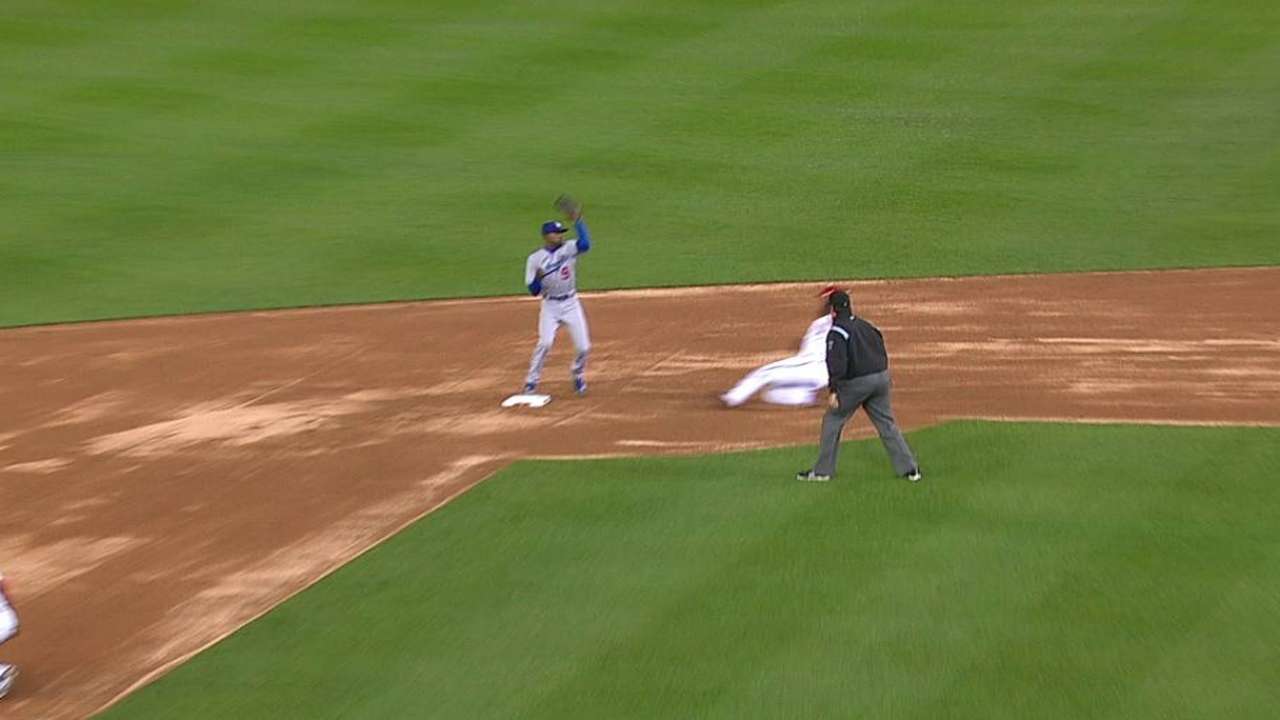 WASHINGTON -- The Dodgers found problems in several places Monday as the opening game of their series with the Nationals became a long day's journey into night.
They first ran into trouble with Washington starter Jordan Zimmermann, who threw four shutout innings before rain forced a three-hour, 17-minute delay. After the stoppage, the Nationals used five pitchers, each of whom blanked the Dodgers and helped Washington to a 4-0 victory at Nationals Park.
Los Angeles (18-15) cranked up some offense at times, finishing with eight hits -- led by three from Carl Crawford and two more from Matt Kemp. The problem was that the Dodgers couldn't come up with key hits to bring in runs, ending up 0-for-6 with runners in scoring position, stranding six and losing a second consecutive game.
"We had chances, we just didn't do anything," Dodgers manager Don Mattingly said. "We didn't really get anybody on enough and do enough to win the game. It's as simple as that, really."
The Dodgers went down in order only twice -- in the fifth and again in the ninth. They also had runners in scoring position in three innings, but they just couldn't drive in a run.
The long rain delay also cost them in a few ways. Starter Zack Greinke (5-1) took the loss but could pitch only three innings -- the Nationals (18-14) also couldn't bring back starter Jordan Zimmermann after just four innings -- so Mattingly and Washington manager Matt Williams each had to go to their bullpens to finish the game.
"It's the same both ways," Mattingly said. "Welcome to the East Coast, really. You do this 10-15 times a year out here. It's what you do. You have delays. It's the same on both clubs."
Greinke said he stayed loose during the delay, but after about an hour, that was it. He gave up two runs on five hits, with both runs coming on Anthony Rendon's first-inning homer.
This game ended an impressive streak for Greinke, who had gone at least five innings and allowed two or fewer runs in 18 straight regular-season starts. This was the longest streak of its kind in the Major Leagues since 1914.
But the weather problems robbed Greinke of a chance to extend that streak. The umpires stopped the game at 8:26 p.m. ET before the start of the bottom of the fourth. They waited out the rain and began the game again at 11:43 p.m.
"A lot of pretty good pitches that they were smoking early," Grienke said. "[Overall], I thought I pitched pretty good, wasn't perfect, but started to make adjustments [and was] starting to feel better as the game went on. Then, it started raining."
After the rain, the Washington bullpen took care of business. Aaron Barrett, Jerry Blevins, Drew Storen, Tyler Clippard and Rafael Soriano each shut out the Dodgers for one inning. Barrett (2-0) -- who knew Mattingly and his sons while growing up -- got the win after pitching a perfect fifth inning.
"That is how you plan it," Williams said. "[But] it doesn't always go according to plan."
This time it did, on a night the Dodgers fell behind early and never could catch up. In the first inning, Denard Span led off by slicing a low Greinke pitch down the left-field line for a double. Rendon followed with a two-run homer to left-center.
Greinke needed 26 pitches to get through that first inning but settled down after that. He gave up a single in the second that didn't cause any harm but gave up a single and a walk in the third that gave Washington runners on first and second with one out.
After that, Greinke then got Ian Desmond to hit a grounder back to the box, and the pitcher started a 1-4-3 double play that ended the inning. The rains picked up soon after, and the umpires stopped the game and ended Greinke's night.
Brandon League came on after the delay to throw two shutout innings before Chris Withrow did the same thing in the sixth. Brian Wilson entered in the seventh and gave up two hits and a walk but escaped a bases-loaded jam with two outs by striking out Adam LaRoche.
Pedro Baez, the team's 10th-ranked prospect who was called up earlier in the day from Double-A Chattanooga, made his Major League debut in the eighth and struck out two but allowed a two-run homer to Danny Espinosa that gave the Nationals a 4-0 lead.
There were just a handful of fans left by then -- including a large group cheering for the Dodgers behind their third-base dugout -- but the game went on, ending at 1:21 a.m., more than six hours after it began with 25,447 in attendance.
"It is like a back-field Spring Training game," Espinosa said. "You have to stay locked in and focused [despite the small crowd]."
Jeff Seidel is a contributor to MLB.com. This story was not subject to the approval of Major League Baseball or its clubs.