MLB.com Columnist
Richard Justice
Considering contenders, Tigers look strongest
Detroit stands above the rest with starting pitching, offensive potential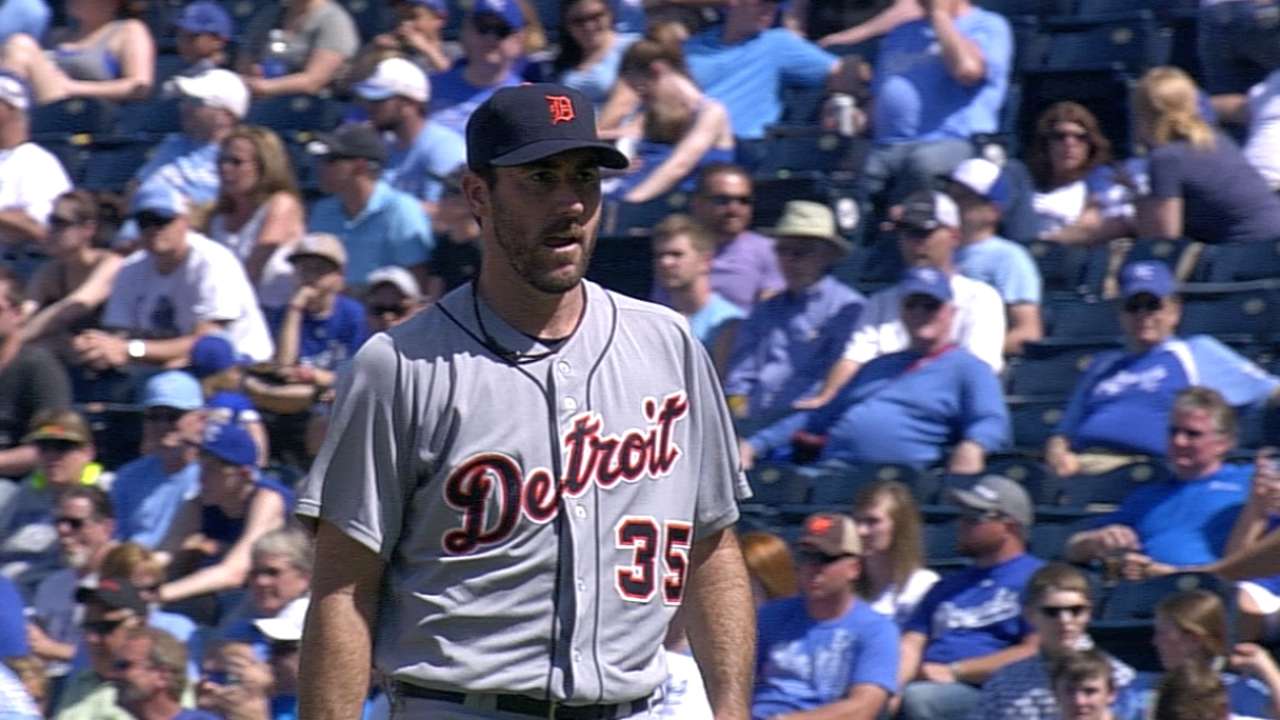 If you could pick just one team to make the postseason, which would it be? Sounds easy, doesn't it? Check out all the good teams in baseball right now. Check out all the contenders, all the teams gaining confidence.
And that's the problem.
Twenty-five of baseball's 30 teams are within three games of a playoff berth. That's 17 within three games of first place in their division, with another eight close to one of the Wild Card berths.
Here's the other side of that deal. It's still ridiculously close. The Tigers lead the American League Central by 4 1/2 games. The Brewers are up five over the Cardinals and 5 1/2 over the Reds. Anyone want to bet against St. Louis and Cincinnati making a run?
OK, here's my pick …
The Tigers.
If I'm betting my Jimmie Dale Gilmore CD collection on one club, this is it, for a bunch of reasons.
First, there's that rotation.
It has a 2.87 ERA, best in the AL. In Justin Verlander, Max Scherzer and Anibal Sanchez, Detroit has a front three that will prevent significant losing streaks and shoulder both the workload and responsibility down the stretch.
And those two 25-year-olds -- Rick Porcello and Drew Smyly -- have been solid. Any team that plays the Tigers knows it's going to get a difficult draw on the starting pitcher every single night.
Ask the Royals. The Tigers swept them this weekend and outscored them 26-8. Smyly and Porcello got two of the three victories; Verlander the other.
At a time of competitive balance, one of the easiest ways to pick the teams that will endure is by checking out the starting pitching.
That's why the Cardinals (2.72 ERA) and Reds (2.93) should not be overlooked. It's always why the Brewers (3.01) and A's (3.11) are the real deal.
Offensively, Detroit hasn't been great. The Tigers are just ninth in the AL in runs and 11th in home runs. They're running more (second in steals) and getting on base (third in OBP) enough.
They've also got the two-time AL Most Valuable Player Award winner in Miguel Cabrera. Victor Martinez and Torii Hunter have been solid, as usual, and so has Rajai Davis and Ian Kinsler.
The Tigers almost certainly will score enough runs, and because of all those quality starting pitchers, the dynamics are different for them.
Detroit's only problem has been a bullpen that has a 5.31 ERA. Only the Blue Jays and Astros have a higher ERA in relief.
Here are two reasons the bullpen won't keep the Tigers from winning the World Series.
First, Joe Nathan is going to be fine. He has a long, distinguished track record for closing games. At 39, Nathan no longer takes a 95-mph heater to the mound, but no big deal there. He has enough weapons -- slider, curve, change -- to get by.
Also, Tigers general manager Dave Dombrowski has already added a significant piece, signing free agent Joel Hanrahan. He seems likely to pitch the eighth inning, but with Al Alburquerque, Ian Krol and Joba Chamberlain, Dombrowski has given manager Brad Ausmus more quality late-inning options than Detroit has had in awhile.
If more help is needed, Dombrowski will add. He's also a significant part of this equation. Dombrowski has been a big league general manager for 27 years, and he is among the most respected men in the game on several levels.
Along the way, Dombrowski has established a consistent way of doing business. That is, when he believes his team has a chance to win, he'll aggressively tinker with the roster. Dombrowski is also unafraid to trade his top prospects. In other words, he's not worried about what a trade will look like three years or five years down the road.
If you're a Tigers fan, there's great comfort in knowing that you've got an owner in Mike Ilitch who will spare no expense to win and a GM in Dombrowski who has a long history of acquiring impact players.
So that's why I've got the Tigers. There's a case to be made for the Brewers, who've been baseball's best and most complete team since Opening Day. There's one to be made for the Nationals, who look very, very good, and likewise, the A's.
Meanwhile, Tim Lincecum and Ryan Vogelsong just made a significant statement for both themselves and the Giants. Some of you will go with the Cardinals, A's or Dodgers. You may end up right.
With the races still lacking focus, with most of the division races unlikely to be settled until September, I'll take the Tigers.
Richard Justice is a columnist for MLB.com. Read his blog, Justice4U. This story was not subject to the approval of Major League Baseball or its clubs.