Matheny shuffles Cards' lineup again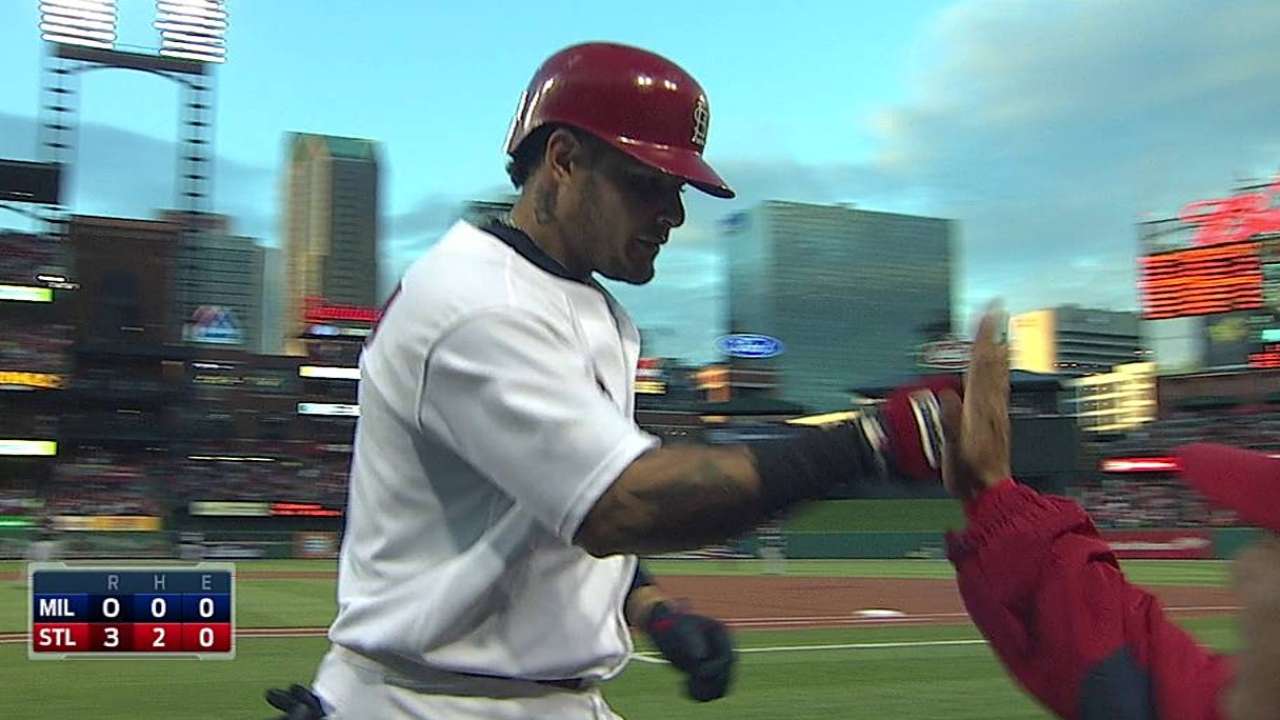 CHICAGO -- The Cardinals' well-documented offensive woes this season have lead to nearly daily adjustments to the lineup by manager Mike Matheny, who is desperate to find something that will spark his struggling hitters.
Matheny was at it again Sunday. Most notably, he flipped Yadier Molina and Allen Craig from Saturday's lineup, moving Molina to the two-hole and Craig to the fifth spot in the order.
"Yeah, just trying to get something that looks right going there," Matheny said. "I think you could look at [Molina] almost as like what we did with Carlos [Beltran] in the two-spot. Not necessarily a guy that's going over and bunting people over, giving himself up, as much as an opportunity to have one of our top hitters in the lineup and getting him around there more often."
It worked well for Beltran and the Cardinals last season, to say the least. Some might not see Molina in the same light as Beltran due to the catcher's lack of foot speed, but Matheny appreciates Molina's professional approach at the plate.
"He handles that bat. He will do the little things right," Matheny said. "You see him, even when he's batting fifth, big situation in a game, he thrives on getting the guy over, driving the ball the other way when he has to, doing the small things situationally right."
Matheny also inserted Randal Grichuk in the seven-hole in place of Jon Jay, and Mark Ellis in the eight-hole for Greg Garcia. Ellis, who started the season on the DL and made his season debut April 15, slumped to a .133 average (4-for-30) in April and consequently lost some playing time.
Ellis snapped an 0-for-9 skid with a pinch-hit single in the ninth inning Saturday. Matheny also noted he wanted to get the recently promoted Garcia in the lineup since Garcia wasn't far removed from playing ever day. Grichuk entered 2-for-12 this season and made his third start on Sunday.
"Mark Ellis is going to be able to get some pretty consistent playing time for us," Matheny said. "Randal has done a nice job with the opportunities we've given him defensively, and taking good at-bats. Offensively, he's had a couple strikeouts, but the swing looks close, and we know what he was able to do at the Triple-A level, and once again, that's one of those guys we can fire in there and get a big hit for us."
Ellis, a career .265 in 12 big league seasons, said he isn't bothered by the inconsistent playing time.
"It doesn't matter," Ellis said. "When your number's called, you've got to go out there, you've got to perform. I feel good, I feel fine. Physically, I feel great. So hits are going to come, but hopefully they come soon, and I know they're going to come. It's just a matter of getting it done."
Ellis praised Grichuk and Garcia as good hitters that can help the Cardinals break out of their offensive inconsistencies, but said it's ultimately up to him and his fellow veterans to lead the way. And he stressed that base hits aren't the only way to evaluate offensive success -- having good at-bats is always important, regardless of outcome.
"You can't get four hits in one at-bat," Ellis said. "You've just got to go out there and you've got to have a good at-bat every time. If you have four at-bats in a game, you have four good at-bats. You can't always control the results, but you continue to do the best you can at having a good at-bat.
"We have a bunch of guys who are going through it at the same time right now, and this is too good of a team to stay down. And sooner or later, it's going to turn around. Hopefully sooner rather than later."
Joe Popely is an associate reporter for MLB.com. This story was not subject to the approval of Major League Baseball or its clubs.