Cubs rally, but fall short in sweep attempt of Cards
Rondon allows two-run single to Molina in ninth in series finale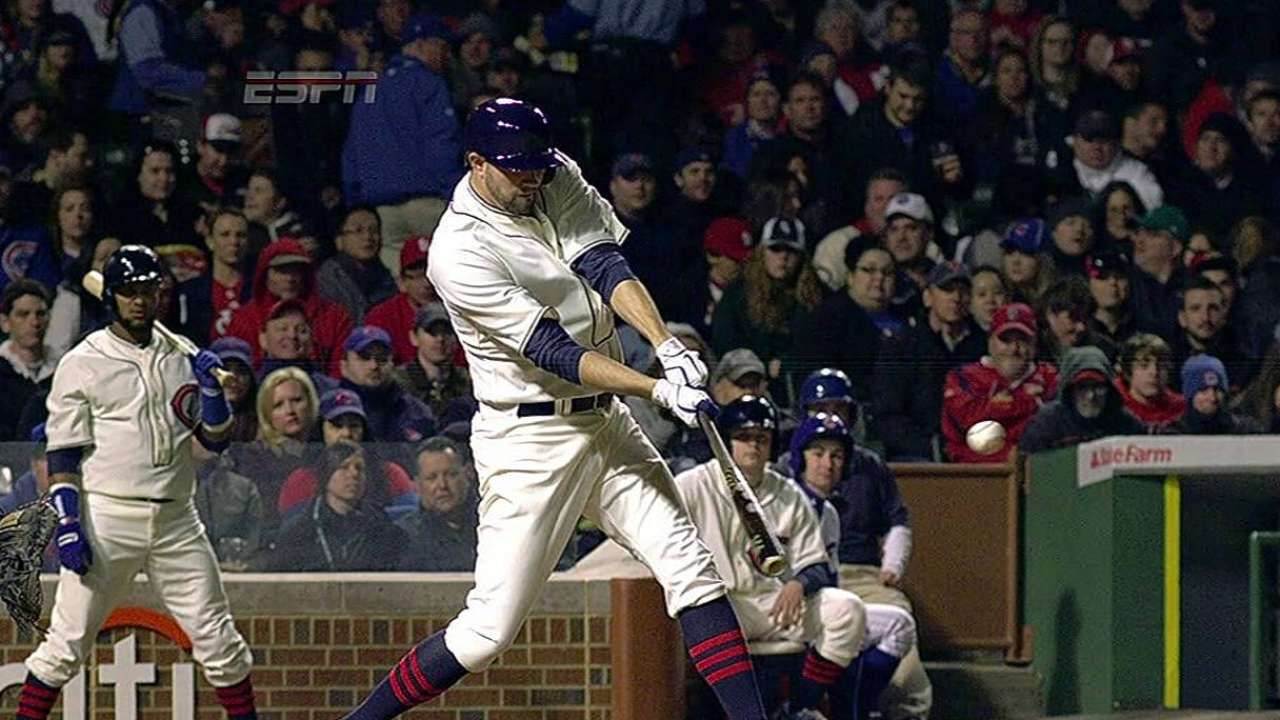 CHICAGO -- Hector Rondon is learning quickly how tough it can be to pitch in the ninth.
Yadier Molina hit a tiebreaking two-run single with two outs in the ninth off Rondon to lift the Cardinals to a 5-4 victory over the Cubs, snapping Chicago's three-game winning streak.
Sunday was Rondon's third straight game, and he entered in the ninth with the game tied at 3.
"[The ninth inning] is really tough, because I need to come in aggressive against the hitter," Rondon said. "I tried to make a good pitch today, but something happened. I tried to throw a pitch for a breaking ball, but it went for a base hit."
With one out in the St. Louis ninth, Rondon walked Randal Grichuk, and Mark Ellis singled. Rondon, who was 3-for-3 in save opportunities, picking up two of those Friday and Saturday against the Cardinals, then struck out Peter Bourjos, but he walked Matt Carpenter to load the bases for Molina. The veteran then lined a 1-2 pitch to center, driving in Grichuk and Ellis.
"I was looking to not strike out," Molina said. "I mean, I got real lucky with that -- they were playing me to pull. It was a good at-bat. He wanted to strike me out, and I put the ball in play, and good things happened."
Rondon said he wasn't tired; he'd only thrown seven pitches on Saturday.
"I tried to throw a sinker inside, but it stayed a little in the middle," Rondon said. "It was down, and that's why I got a ground ball. He fought me with a lot of pitches. I tried to go away, away, away, and finally I tried to go in. I missed the location, but I still made a good pitch. I got a ground ball."
The Cubs have not officially designated Rondon as the closer. Manager Rick Renteria is going with matchups as they try to fill the role, which was Jose Veras' at the start of the season. Veras lost the job April 11 after blowing a two-run lead, and is now on the disabled list with a strained oblique. Rondon is one of Renteria's options.
"Every game is a test," Renteria said. "He needs to keep his head up. Games like this are going to happen. He went out there and he wanted the ball."
"For me, this helped me a lot," Rondon said of facing the Cardinals. "In my mind, I know I need to be more aggressive. It happened today, and OK, we lost the game, but we won the series, and that's a good sign for us."
The Cubs were vying for their first three-game sweep of the Cardinals since April 7-9, 2006.
"We should take some positives away, even though we lost this ballgame today," Renteria said. "In the end, we had the potential tying run on second base."
Trevor Rosenthal entered in the Chicago ninth and allowed Luis Valbuena's two-out RBI double before nailing down the save by getting Anthony Rizzo to ground out.
The Cubs wore retro uniforms from 1929, a season in which they won 98 games and reached the World Series. Jason Hammel would probably like to turn back the clock to April. He posted a 4-1 record in the first month of the season, and entered the game with the best WHIP in the Major Leagues. On Sunday, walks did him in.
The Cardinals tallied with two outs in the second, when Jhonny Peralta walked and scored on Grichuk's triple that bounced into the yet-to-bloom ivy. Ellis followed with an RBI double for a 2-0 lead.
With two outs in the St. Louis third, Hammel walked Matt Holliday, and he scored on Matt Adams' double.
"Those [walks] hurt me pretty good," Hammel said. "Just can't do that. Two quick outs, put a guy on base and bad things happen, and that's what happened tonight. I was trying to find my command -- it really wasn't there. It was a grind, and I made pitches for most of the night. Two-out walks in the big leagues, those are no good."
The Cubs had a chance with one out in the third, when Lance Lynn walked three batters in a row to load the bases. But the right-hander got the Cubs' Nos. 3-4 hitters, Rizzo and Starlin Castro, to fly out and end the threat.
"We had them on the ropes and weren't able to do anything," Renteria said.
With one out in the Chicago fourth, Ryan Kalish singled and John Baker walked, the fourth free pass issued by Lynn, and both moved up on Darwin Barney's groundout before scoring on Hammel's single.
"The hit was nice," Hammel said. "It found a hole, and [Lynn] provided most of the distance with his velocity."
Valbuena tripled with two outs in the Cubs' seventh against Carlos Martinez, and Rizzo was intentionally walked. Valbuena then scampered home with the tying run on a wild pitch during Castro's at-bat. Martinez struck out Castro to end the inning.
The Cubs were outhit, 11-5, and fell to 2-15 this season when they are outhit.
"We had to capitalize on the limited chances we had, and we did that with the bat," Hammel said. "It was a grind all the way through."
Even though they lost Sunday, the Cubs did win the series, and did so against a tough Cardinals team.
"We still had some fight, we still had some pep -- Luis with the big double in the ninth to get it within one," Hammel said. "You've got to be proud of the guys. We're fighting. We're not going to lay down."
Carrie Muskat is a reporter for MLB.com. She writes a blog, Muskat Ramblings, and you can follow her on Twitter @CarrieMuskat. This story was not subject to the approval of Major League Baseball or its clubs.