Molina makes amends, gives Cards win in finale
After seventh-inning wild pitch allows tying run, catcher clutch in ninth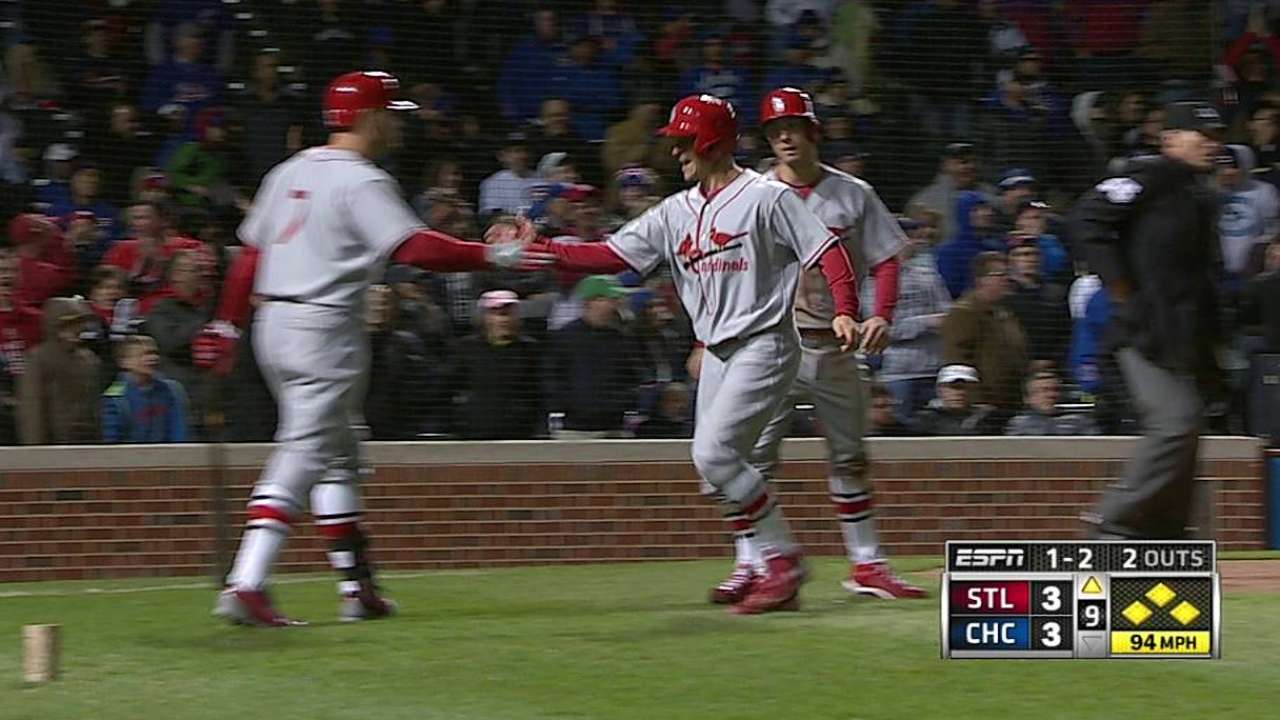 CHICAGO -- There were some rarities at Wrigley Field on Sunday night. The Cubs were sporting 1929 replica jerseys, there were completely empty sections of rooftop bleachers, and each manager won their replay challenge.
The most notable rarity of all, however, happened in the seventh inning. Yadier Molina let a blockable breaking ball in the dirt go right between his legs, allowing the Cubs to tie the game.
"I mean, I was there," Molina said. "I was. I don't know. It's one of those things, I mean, I can't explain it. I was ready for it, the ball still goes through my legs. I was ready for it, got a man on third base, I was expecting a ball in the dirt. I went down … I block that ball 99 out of 100 times, but tonight, I wasn't able to block it."
The official ruling went down as a wild pitch by Carlos Martinez, but Molina showed considerable frustration after the play. And so it was only fitting that the six-time Gold Glove Award winner got a golden chance for redemption, and delivered.
Molina more than made up for the mistake by delivering the game-deciding two-run single in the ninth inning off Hector Rondon to give the Cardinals a 5-4 win to avoid being swept by the Cubs for the first time since April 2006.
"Yeah, I'm so grateful," Molina said. "When you mess that up early in the game and you want to be there for your team at the end, hopefully I come through -- so it's a good feeling."
Molina also made his manager grateful he decided to move his catcher up to the No. 2 spot in the order. Mike Matheny has spent more time shuffling than a casino dealer in an effort to find a lineup that will spark the Cardinals' inconsistent offense. He talked before the game about how hitting Molina second would bring one of the team's best hitters up to the plate more often.
So, of course, Molina's fifth and final at-bat produced the results Matheny and the Cardinals have been desperate to get. Molina was 0-for-4 entering the at-bat, though he was robbed of extra bases in the first, and hit the ball with authority most of the night. He also grounded in to an inning-ending double play with two on in the seventh, though he said not blocking Martinez's ball in the dirt was more frustrating, because defense is his strong suit.
"He's not happy about that at all, and that's what makes him the best catcher in the game," starter Lance Lynn said. "The fact that he's very [ticked] off, and that's why he is who he is, and that's why he got the hit in the ninth inning. He knows what he's capable of, and does it."
"I tried to throw a sinker inside, but it stayed a little in the middle," Rondon said. "It was down, and that's why I got a ground ball. He fought me with a lot of pitches. I tried to go away, away, away, and finally I tried to go in. I missed the location, but I still made a good pitch. I got a ground ball."
Hitting Molina second wasn't the only move that paid dividends for Matheny. Randal Grichuk, inserted after sitting on Saturday, had an RBI triple and scored a run in the second inning, and walked ahead of Molina's game-winning hit. Mark Ellis also didn't play Saturday and came into the game hitting .143, but he delivered a three-hit game that included an RBI single in the second, and a single following Grichuk's ninth-inning walk.
"Yeah, huge day for Mark," Matheny said. "He needed that. That's the kind of player that we know he is -- not necessarily being able to get three hits every single night -- but just a real solid approach, real short swing. And then Grichuk is just what we saw in him: ball jumps off his bat, and he gave us a great opportunity with that triple."
Lynn worked out of the major trouble he created with free passes in the third. He walked Cubs starter Jason Hammel, Emilio Bonifacio and Valbuena to load the bases with one out, but got Anthony Rizzo to fly out to shallow center and Castro to fly out to right.
Lynn allowed just two earned runs on three hits but was plagued by four walks and a general lack of control. He had excellent movement that he simply couldn't command.
"That's just part of growing in this game, and growing as a pitcher: knowing what your movement is, knowing when your right, and knowing when your wrong and how to correct it," Lynn said. "You fight with that every time out, and the last two times, I felt it took a little too long to correct it."
For the second straight outing, Lynn also allowed a run-scoring hit to the opposing starting pitcher. Hammel slapped a two-run single down the line in right to cut the Cardinals' lead to one.
"Yeah, I mean maybe I should start walking them to get to their leadoff hitter, because I usually get the leadoff hitter out," Lynn quipped.
All five of the Cardinals' runs came with two outs, and for that matter, were set up by a two-out walk. It's the sort of clutch hitting and quality at-bats the Cardinals have been lacking the entire season.
"Two-out walks, two-out big hits -- the kind that we haven't had all season long," Matheny said. "Couple of real nice at-bats, seeing Mark Ellis be able to get the big hit for us, and that's really what we've been talking about all year -- seems like we've been in those spots quite often, to have those opportunities to get the big hit, we just weren't getting it.
"And then obviously the big one was Yadi later on, but a lot had to happen in order to get us to that spot."
The Cardinals moved back to .500 with the win, a disappointing record on May 4. But it's too early to worry, and maybe the strings of quality at-bats they had today will start a much-needed trend.
"They did a good job. They did a great job, you know, getting it to me to give me an opportunity," Molina said of the hitters before him in the ninth. "Matt Carpenter right before me, nice at-bat. Mark Ellis -- we took some good at-bats in the last inning.
"I feel that we're going to come through. We've got too good of an offense to be in this situation right now. It's still early. We have to figure out what's going on, but I trust my teammates."
Joe Popely is an associate reporter for MLB.com. This story was not subject to the approval of Major League Baseball or its clubs.