Lucroy, Crew won't take downtrodden D-backs lightly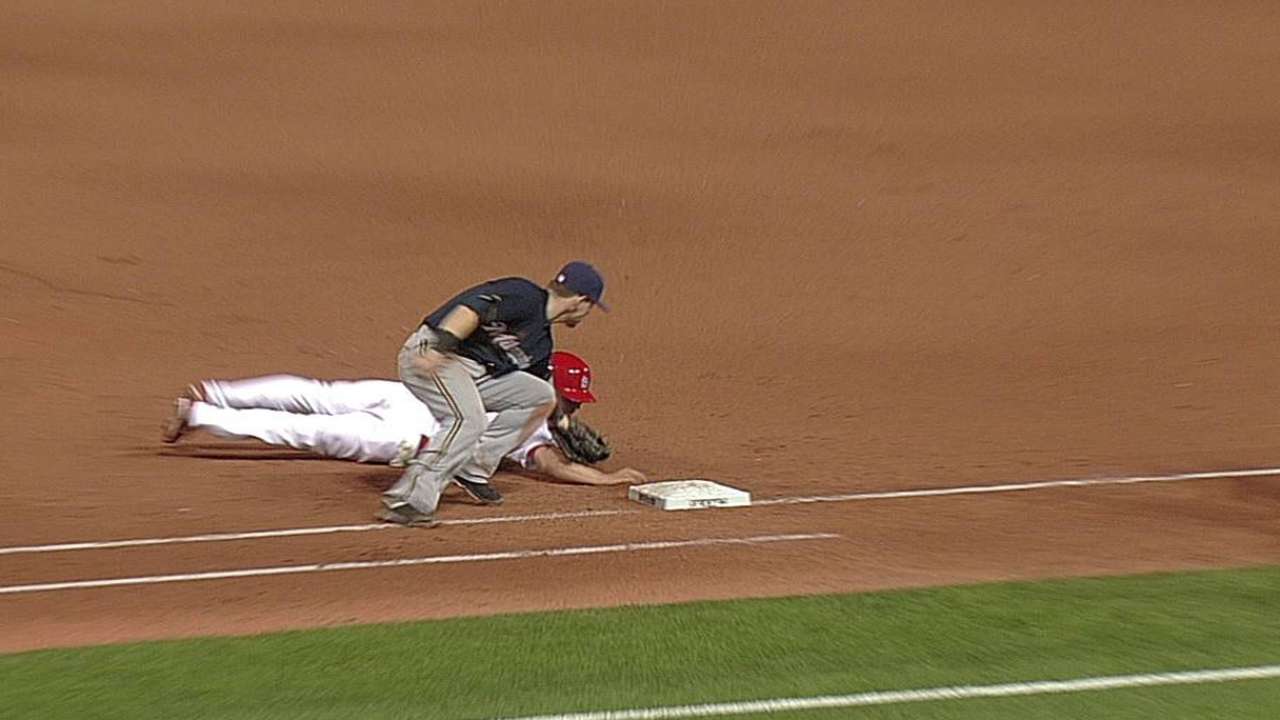 CINCINNATI -- When dissecting the goings-on of a struggling team, a baseball season really could be sectioned off into three categories.
1. It's early.
2. It's still early.
3. Is it too early to panic?
In the case of the head-scratching Arizona Diamondbacks, their start to this season remains a mystery.
They started off abysmally bad, losing 18 of their first 23 games, a .217 winning percentage. This is hard to grasp not because it's unprecedented -- after all, plenty of teams just aren't very good and have the record to show for it. But the D-backs are different. They weren't supposed to be that bad, and, mostly likely, as the season progresses, they won't be.
So, five weeks into the season, you could probably file the Diamondbacks under No. 2: It's still early.
That's why the Brewers, who entered play Sunday with the best record in baseball at 21-10, have no plans to let their guard down when they host Arizona for a three-game set beginning Monday. The Diamondbacks -- who, by the way, picked up the pace a little bit after their 5-18 start, winning six of their next 10 -- are unquestionably not this bad. And opponents know this.
"That's the great thing about the game of baseball," Brewers catcher Jonathan Lucroy said. "Any team can beat any other team. It's not always bigger, faster, stronger."
On paper, where the games are not played nor are they decided, the Brewers are the clear favorite. The ERAs of the Brewers' three probable starters are 5.00 [Matt Garza], 3.13 [Marco Estrada] and 2.04 [Wily Peralta]. The D-backs, on the other hand, are 5.79 [Mike Bolsinger], 3.77 [Josh Collmenter] and 6.03 [Bronson Arroyo].
Overall, Brewers pitchers have the third-lowest ERA in the National League at 3.01. The D-backs? The highest, with a 4.97 ERA.
But none of that gives the Brewers any reason to believe this series will be a cake walk. That's just not how a six-month season works when you're talking about baseball at the highest level.
"Guys are going to start off slow," Lucroy said. "They're going to have slow months. It's a long season. You never know what can happen. We can't take them lightly. We have to play them like we do everybody else."
Peralta, Wednesday's starter, expressed a similar sentiment.
"I just pitch, whoever I'm facing," he said. "I don't ever change my approach. If they're struggling, it's better, but I don't really think about it. You still have to go out there and make pitches. They have really, really good hitters. They're struggling, but one day, they can turn everything around."
Alyson Footer is a national correspondent for MLB.com. Follow her on Twitter @alysonfooter. This story was not subject to the approval of Major League Baseball or its clubs.