Bats remain quiet as Braves swept by Giants
Atlanta scores one run for third straight game as skid hits six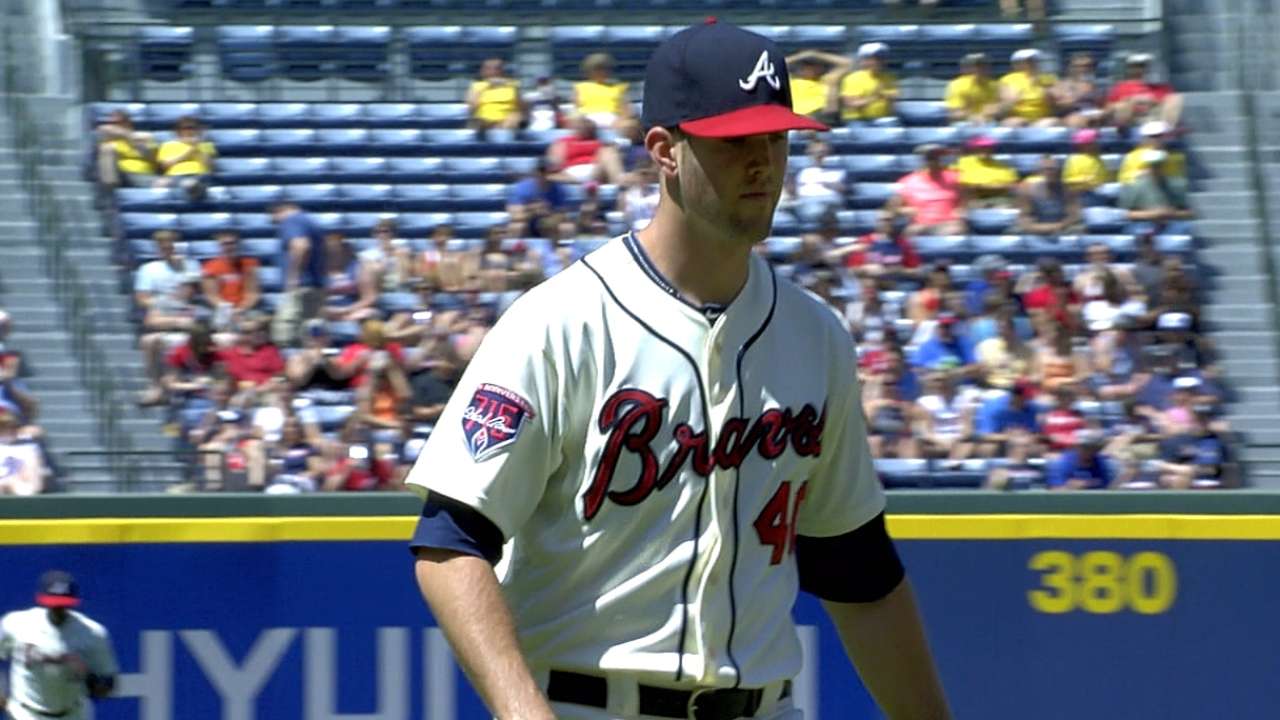 ATLANTA -- Now that they have experienced a weekend during which it seemed nothing went right, the Braves might have a better appreciation for the standing they gained as they cruised through most of this season's first month benefiting from an overachieving starting rotation's ability to consistently cover up subpar offensive outputs. Further proving that things can indeed get worse when it seems they can't, the Braves concluded a miserable series against the Giants with Sunday afternoon's 4-1 loss at Turner Field. San Francisco completed this three-game sweep by once again proving solo homers can prove sufficient against a lifeless offense.
"I don't want to use the word frustrating, and I won't, but I don't know another word I can use," Braves manager Fredi Gonzalez said. "We're too talented a team offensively to be able to not put a crooked number up."
Since completing a three-game sweep of the Reds with a thrilling 1-0, 10-inning win on April 27, the Braves have been swept by both the Marlins and Giants. They tallied one run in each of the three games against San Francisco and scored more than one run against just one of the three Miami starting pitchers they faced during this current six-game losing streak.
"This is the first time since I've been over here that we've experienced anything like this," Braves third baseman Chris Johnson said. "I think it will tell a lot about our ballclub to see how we respond and bounce back from something like this."
Before Aaron Harang and Alex Wood produced their worst starts of the season during the first two games in Miami, the Braves had produced a 17-7 record despite the fact that their offense was averaging just 3.7 runs a game. The success came courtesy of a starting rotation that allowed two earned runs or less in 22 of those 24 games.
In other words, not much was different from a pitching perspective this weekend as each of Atlanta's starters allowed three runs or less.
Each of the five runs San Francisco totaled in the first two games of this series came courtesy of solo homers hit off Mike Minor and Julio Teheran. The Giants added another solo shot in the series finale and essentially iced the game when Brandon Crawford capped a two-homer performance with a two-run home run off Jordan Walden, who had not allowed a run in the 10 appearances he had made dating back to April 11.
The Braves squandered far too many opportunities while going 3-for-21 with runners in scoring position during this series. But thanks to seven home runs, the Giants still managed to complete the sweep while going hitless in 13 at-bats with runners in scoring position.
"We didn't have many chances, because they [the Braves] pitched well, too," Giants manager Bruce Bochy said. "We just happened to capitalize on some mistakes. That's such a good ballclub over there. Every ballclub goes through its ups and downs."
Wood was certainly not at his best as a greater-than-normal array of offspeed pitches spiked his pitch count and forced him to exit after he had totaled 104 pitches through five innings on Sunday. Still, the only damage he incurred came courtesy of a Hunter Pence double that led to a first-inning run and Crawford's fourth-inning solo shot.
Crawford's first home run of the day extended a maddening trend. The Braves surrendered a solo homer in the inning that followed the three in which they had produced a game-tying run this weekend.
Giants starting pitcher Madison Bumgarner pitched out of trouble in the final two innings of his six-inning performance. The only run surrendered by the lefty came when Wood produced what has become a rarity -- a successful sacrifice bunt by an Atlanta pitcher -- and Jason Heyward followed with a game-tying sacrifice fly in the third inning.
The Braves stranded two runners in the fifth inning and then truly wasted a prime opportunity in the sixth, when B.J. Upton walked, stole second and advanced to third base on Freddie Freeman's fly ball to right field. Justin Upton then swung at the first pitch and hit a weak popup that Brandon Belt caught along the railing of Atlanta's dugout. Bumgarner then ended his day by striking out Evan Gattis.
"These games could've easily went our way," Braves second baseman Dan Uggla said. "Not easily, but with a few timely hitting situations in certain times throughout today and yesterday and the day before, it's a different ballgame, but they made the pitches they needed to and we just, whether it was a line-drive out or a strikeout, we just didn't get that run across."
Uggla came a few feet shy of hitting a game-tying home run in the fifth inning. But given that he has hit .136 with no extra-base hits in his past 12 games, the veteran second baseman could be affected by the slight lineup tweak Gonzalez said he might make on Monday. The Braves are likely at least a few weeks away from potentially promoting Tommy La Stella, an offensively skilled infield prospect. But Ramiro Pena or Tyler Pastornicky could soon see more time at second base.
"Sometimes you've got to [alter the lineup]," Gonzalez said. "Sometimes you've got to take a little step back before you go forward, and we've played now almost, I think almost all the starters have gotten over 100-something at-bats. So you know what, maybe come in [Monday] and you'll see something a little different, but nothing major."
While it has not helped that Uggla has extended the struggles that began nearly two years ago, the Braves have also been hurt by the fact that two of their key cogs are in the midst of slumps. Freeman has batted .146 (7-for-48) over his past 12 games and Justin Upton has just three hits in 19 at-bats during the team's six-game skid.
"You scratch your head because you've seen guys really, really be productive, all of them, one through the whole offensive lineup," Gonzalez said. "And then you go through spurts like this. The good thing and the thing you always talk about is that our pitching is there. It keeps us in the ballgame. Sooner or later, our offense will start cranking up."
Mark Bowman is a reporter for MLB.com. This story was not subject to the approval of Major League Baseball or its clubs.