Dodgers fall in finale as Puig collides with wall
Right-fielder can't get to walk-off RBI double, listed as day to day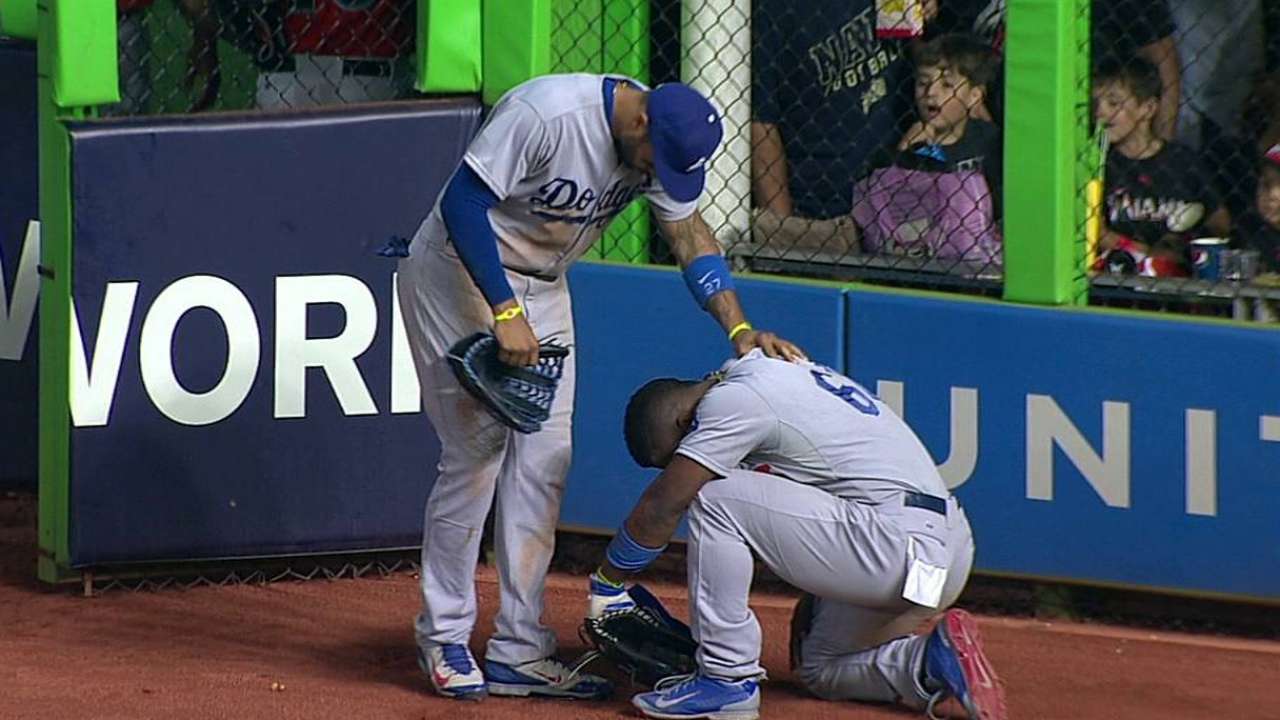 MIAMI -- When Jose Fernandez came to the Dodgers' clubhouse after Sunday's game, it wasn't to congratulate or console fellow Cuban star Yasiel Puig on the outcome, but to make sure his concussion test was negative, which it was.
Little Havana turned out to see the pride of Cuba mix it up Sunday, but when Miami walked off with a 5-4 win in the bottom of the ninth, Puig couldn't even walk off the field under his own power.
The left side of his body crashed into a padded pole supporting the right-field wall as he tried to catch Jeff Baker's game-winning double off Jamey Wright, and the ball caromed off the fence and hit Puig on the head.
The ball appeared to get to the wall just before Puig hit it and both came to rest on the warning track, Puig face down and barely moving initially. As the Marlins celebrated, Puig was surrounded by concerned teammates and medical personnel. He eventually was helped to his feet and, with his arm slung over the shoulders of head trainer Stan Conte, made a dazed and unsteady walk back to the clubhouse.
The left side of his head and lower part of his left leg took the blow, but Puig dressed and walked out of the clubhouse for the flight to Washington, listed as day to day by the club.
For Puig and other reasons, the end was hard to swallow for the Dodgers. They had called up Stephen Fife from Triple-A Albuquerque to make the spot start in place of the injured Hyun-Jin Ryu. Fife hadn't allowed a home run in 85 innings with Albuquerque, but he allowed three in this start, two to slugger Giancarlo Stanton, one to Christian Yelich.
"If I make quality pitches down the way I have been ... but I got into a rhythm using soft stuff and they were sitting on it," Fife said.
Still, he kept the Dodgers close enough that they could come from behind and tie the game three times. Fife pitched six innings, charged with four earned runs. Although he's expected to be sent back to Albuquerque on Monday with Paco Rodriguez promoted for a day, manager Don Mattingly had no complaints.
"He kept us in the game. He did his job," said Mattingly, who let Fife lead off the seventh inning down a run because "we're just out of pitching."
Mattingly was more distressed at the top of the ninth-inning, in which a leadoff walk by pinch-hitter Chone Figgins turned into the tying run when Stanton misplayed Andre Ethier's sinking liner into an RBI double. But Dee Gordon was unable to bunt, instead striking out for the third time, and Ethier was stranded at third base.
"We got a run in the ninth with an opportunity to win the game," said Mattingly. "If we execute better in the ninth, we get another run."
Fernandez, Puig and Hanley Ramirez spent much of the game talking all kinds of smack, in a friendly rivalry sort of way.
"We had a little talk yesterday, Puig and I," said Fernandez. "He told me, 'If I get you, I'm going to do something with the crowd.' I said, 'Alright, but if I strike you out, I'm going to do something.' It was really friendly. With Hanley, It's the same thing."
Mattingly said he likes the back and forth.
"The cat's tough," he said of Fernandez, who struck out 10 in seven innings. "He's emotional on the mound. Our guys are emotional. It's fun. I like seeing the matchups. Our guys like facing him."
After allowing a one-out single to Derek Dietrich in the first inning, Fife fell behind Stanton, 2-1, and tried to throw a 90-mph fastball by him, with predictable results -- a two-run homer.
The Dodgers tied it, however, with a two-out rally in the third. Gordon started it with a walk, raced to third on Puig's single and Ramirez followed with a single that scored Gordon and sent Puig to third. Puig then scored on catcher Jarrod Saltalamacchia's passed ball to tie the game at 2-2.
Yelich blasted a home run to right field in the fifth to break the tie.
But the Dodgers responded with another two-out rally in the sixth after Fernandez struck out Puig for the second time and caught Ramirez looking. He walked Adrian Gonzalez, then gave up singles to Matt Kemp and Saturday night hero Carl Crawford, whose hit scored Gonzalez as Kemp hustled to third ahead of left fielder Yelich's throw.
The tie didn't last long, because Fife hung a curveball to Stanton leading off the sixth inning and he sent it like a missile off the sign above the Clevelander nightclub beyond the left-field fence.
In no hurry to get into the weary bullpen, Mattingly let Fife lead off the top of the seventh inning trailing by a run (he grounded out). But in the bottom of the inning Fife walked Adeiny Hechavarria and hit Reed Johnson and was replaced. J.P. Howell escaped the mess, pitching around Stanton with a walk and getting a called strike three on Casey McGehee with the bases loaded.
After Ethier's double scored Figgins and Gordon were unable to sacrifice, Puig was walked intentionally. Ramirez's grounder up the middle was knocked down by diving shortstop Hechavarria, who flipped to second baseman Dietrich, with umpire Dale Scott calling Puig safe to load the bases. But the call was overturned on an umpire review, putting runners on the corners with two out, and Gonzalez grounded out.
Ken Gurnick is a reporter for MLB.com. This story was not subject to the approval of Major League Baseball or its clubs.