Pirates unable to post third straight rally
In finale against Blue Jays, Bucs' offense starts -- and stays -- sluggish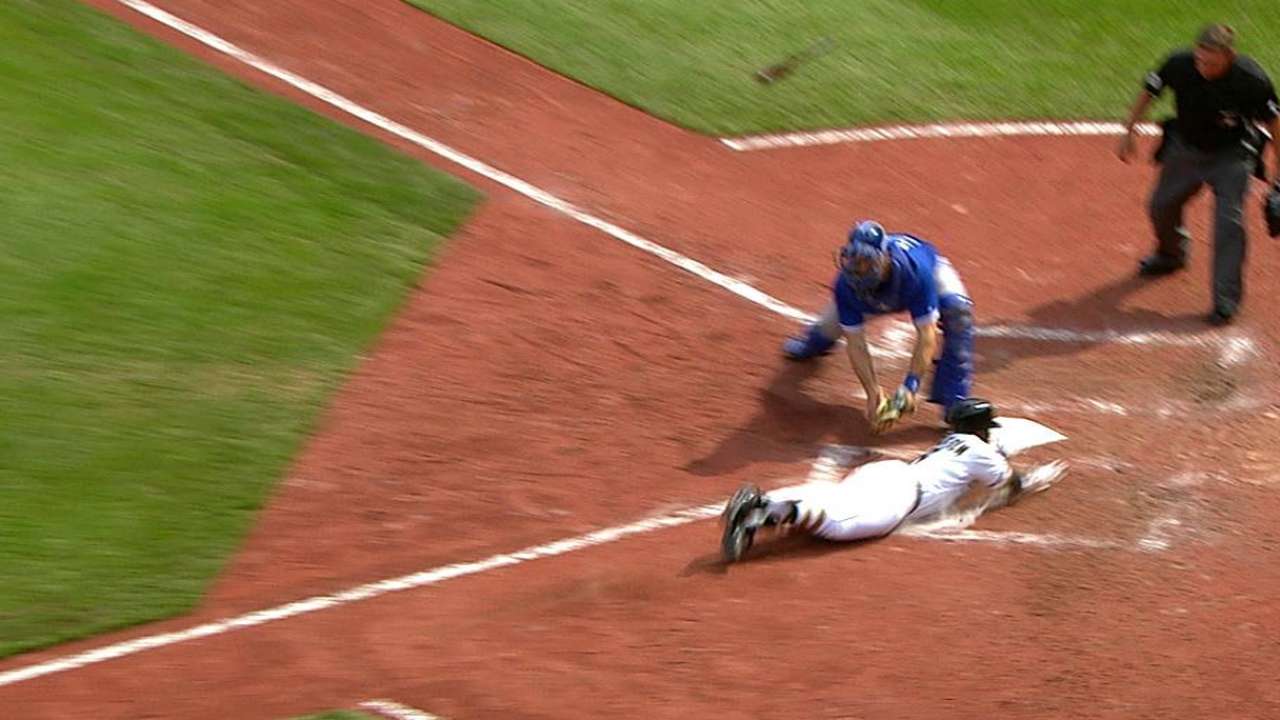 PITTSBURGH -- When Jordy Mercer took a called third strike from Toronto right-hander Dustin McGowan to end the fourth inning and it quickly led to the ejections of both manager Clint Hurdle and first-base coach Rick Sofield, it appeared to be only the start of a frustrating Sunday at PNC Park.
It was actually the end, punctuation for three unsettling innings, a brief sequence that had already sealed the eventual 7-2 loss to the Blue Jays.
Pittsburgh starter Edinson Volquez not being given a low strike directly led to a second-inning Colby Rasmus grand slam that essentially decided the game.
And Mercer's getting rung up on the same pitch Volquez was not getting from home-plate umpire Greg Gibson took the Pirates out of their best threat against McGowan.
"It was pretty apparent the low strike wasn't going to come into play," Hurdle said. "The pitch that hadn't been called a strike all day got called at a very pivotal at-bat for us."
Deprivation of the classic pitcher's pitch compounded Volquez's second inning. He began by walking both Edwin Encarnacion and Juan Francisco, then he saw the bases get loaded on an infield single by Brett Lawrie.
"He felt like he was getting the ball in good spots, down in the zone, and wasn't getting the calls," Hurdle said. "He tried to make an adjustment and probably over-adjusted. They've hit one ball, and all of a sudden you're looking at bases loaded."
Volquez took a more accountable view of the developments.
"I can't think about that [not getting calls]; I can't get down about it, need to just let it go and try to make better pitches," Volquez said.
"He threw the 3-2 breaking ball right in the swing path to a pretty good hitter right now; he's hot," Hurdle said of Rasmus, who launched his seventh homer over The Clemente Wall.
"I just made the wrong pitch," Volquez said.
In the midst of Volquez's hunt for the strike zone, Hurdle had expressed his displeasure to Gibson who, in turn, had issued him the warning, "That's enough."
But Sofield was not aware of the formal warning, violation of which comes with automatic ejection. So when he trotted by the plate on his way back to the dugout and said, "That pitch was low," he was gone.
Coming to his rescue, Hurdle was, too.
"We disagreed on the strike zone," the Pirates' skipper said. "I thought he'd let us know that part of the zone was a ball, that's all."
Mercer's pivotal at-bat had come with two runners on -- the only time all day the Pirates would have two runners on base against McGowan and the two relievers who protected his second win.
So there was no three-peat of the late-game comebacks that had secured the series win for the Bucs.
"Any time you win a series, it's a good thing," said Josh Harrison, the Bucs' offensive pulse on Sunday with two triples. "It was good to come from behind for those two wins, and we don' t want to have to do that too much. But we'll take a win any way we can."
After two nights of having leveled numerous uppercuts, the Bucs had to take the Blue Jays' Sunday punch.
McGowan's seven innings of three-hit pitching was effective enough to enable the Blue Jays to salvage the finale of the series without manager John Gibbons having to rely much on his bullpen. Gibbons had been frustrated to see the Bucs hang 13 hits and eight runs in 5 2/3 innings on solid relievers.
"Big, big day for us, and McGowan was great," Gibbons said. "I said it yesterday, it has been a rotten trip so far, but we've played good baseball. It's been a couple of innings here or there, but you still have to play nine innings."
Volquez retired the first three batters he faced but, after that perfect first inning, had 11 of his next 20 batters reach base. He pitched with enough tenacity to bull his way through some jams, but the two blows he could not duck were Rasmus' slam and Melky Cabrera's fifth-inning two-run homer.
"I was a little bit all over the place," said Volquez, who owns one victory, the last credited to a Pirates starting pitcher, on April 17.
The Bucs' little offensive spark came off the flint of Harrison, who, just as George Harrison was the most underrated Beatle, is the most underrated Bucco.
Harrison had half of the Pirates' hits and scored both their runs, after smacking triples in the first and eighth to virtually the same spot in right center. Harrison scored first on Neil Walker's infield grounder, then on Andrew McCutchen's sacrifice fly.
The common path of the two three-baggers was even more unusual given that they came off different pitchers, McGowan then Marcus Stroman, in his Major League debut.
"I just know they were both two-strike fastballs, and I put good swings on them," Harrison said.
Volquez labored through 83 pitches in five innings, allowing seven hits and six earned runs while both walking and fanning three.
His departure after five both doomed the Pirates' rotation to be stuck on three wins now 31 games into the season and added to the burden on the bullpen. Pittsburgh starters lasted a combined 13 2/3 innings in the three games of this series, and they have not pitched through the sixth in seven straight games.
For the second time during the series, rookie Casey Sadler helped out with two scoreless innings. Sadler took care of the sixth and seventh, turning away the Blue Jays on one hit.
Jared Hughes took over in the eighth and gave up a run-scoring pinch-hit single to Dioner Navarro.
Tom Singer is a reporter for MLB.com and writes an MLBlog Change for a Nickel. He can also be found on Twitter @Tom_Singer. This story was not subject to the approval of Major League Baseball or its clubs.