Replay crucial in Padres' first walk-off of '14
Maybin, on base thanks to an overturned call, scores winning run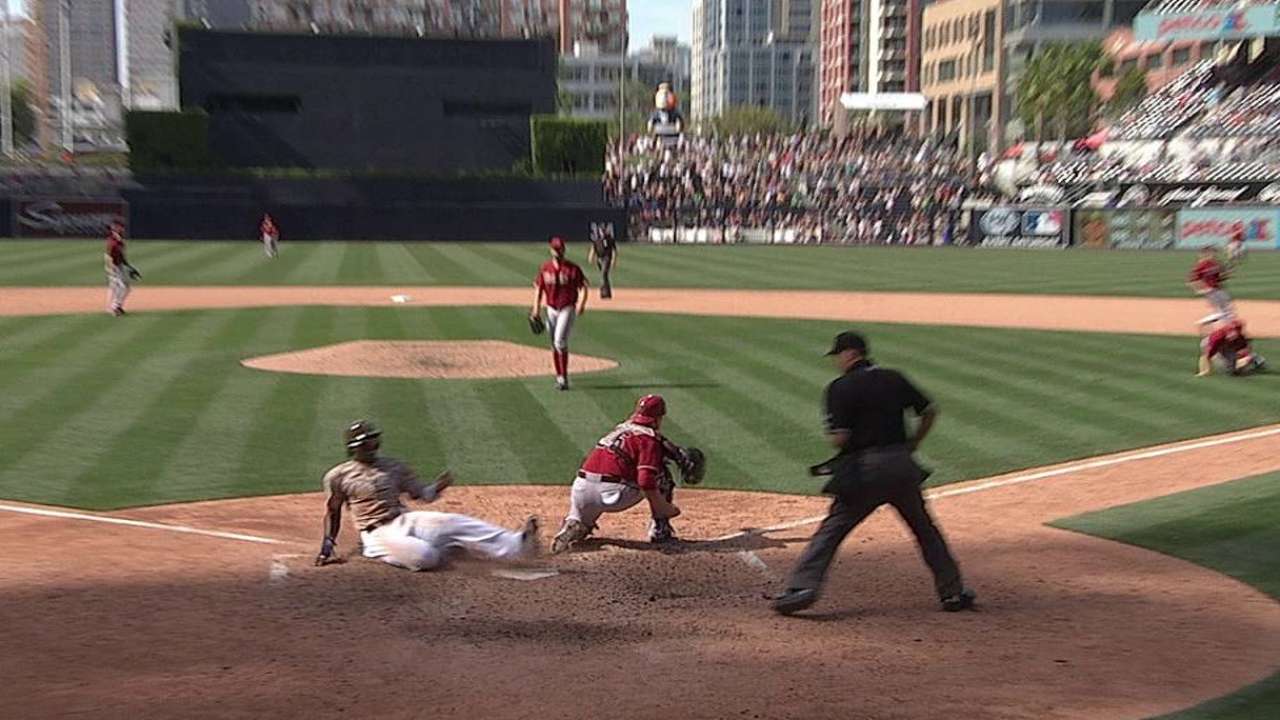 SAN DIEGO -- Bud Black's second successful challenge on Sunday proved to be an especially crucial one.
After already having a call at first base overturned in the seventh inning, Black challenged a ruling at first that Cameron Maybin had not beaten the throw on a slow grounder to open the ninth. The play was reversed and Maybin later scored the game-winning run as the Padres prevailed, 4-3, over Arizona in walk-off fashion to snap a four-game losing streak.
For a team that has struggled to score runs, every baserunner is valuable, and Black made certain that a close play late in the game would be reviewed. Even though Black had a second challenge available to him because the first one was successful, he felt the umpires could call for a review as well.
"I talked about that with the umpire, that if we didn't have a challenge on Cam's play that we would've wanted them to take a look at it," Black said.
With such a close play, Black, who has been successful in all four of his challenges this season, immediately walked toward first-base umpire Bill Welke. When Black got the signal from his dugout that the replay was close enough for a review, he put the request in to Welke.
"I'm not seeing the replay," Black said. "I'm in the dugout, but teams have people dedicated to watch close plays, and it gets relayed out to me and I make the challenge."
Maybin, who said he originally was not a fan of the instant replay rules, was not sure he had beaten the throw either.
"I didn't know," Maybin said. "It was a close play. Before this whole replay thing, I've had it go so many different ways, so I didn't argue it. The replay worked in our favor and it turned out to be an important run."
Consider Maybin's opinion of the replay rule changed, at least for today.
"I've been playing baseball since I was three years old, and the human factor has always been a part of it," Maybin said. "You get some calls that go your way and some don't, but that's just part of it. I was always a big fan of the human factor. Those guys work their [behinds] off to get the calls right. It's new and I think it takes some getting used to."
Rene Rivera, who doubled home two runs in the fourth, hit another double off former Padres pitcher Oliver Perez to advance Maybin to third. Yonder Alonso then hit a chopper to first base with the infield in. The speedy Maybin beat the throw home to send the Padres to a win.
Perez (0-1), who made his Major League debut with the Padres as a starting pitcher in 2002, thought the pitch to Rivera was a good one.
"Actually, I saw the video and that was a good pitch," Perez said. "It was away. Sometimes you have to tip your cap to them, because they did a pretty good job. He had a good day today. I was trying to make pitches and they got two infield hits that I can't do anything about. That's a tough game. The pitch was away, maybe it was a little bit higher. But it wasn't a bad pitch."
Alonso, who had entered the game in the eighth as part of a double-switch, said he knew that when first baseman Paul Goldschmidt had to field the ball with his bare hand, Maybin had a good chance to score.
"I saw Goldschmidt pick it up barehanded, and I knew it was going to be a close play," Alonso said. "By the time he threw it I could tell it was way late and Cam was going to be safe. That's a play that Cam has confidence in me, that when I do swing I'm going to put the ball in play, so he used his athleticism to score."
The game had been tied since the fourth inning, and starter Tyson Ross kept the Padres in a position to eventually win. Ross was replaced by pinch-hitter Nick Hundley in the seventh after allowing three runs -- one earned -- on seven hits. Ross struck out five and walked one batter.
"My slider was working well and I got a lot of ground balls, and the defense was good behind me. It was a great team win tonight. That was exciting -- Cam is a great player and it's great to have him back. I'm looking forward to watching him play more."
San Diego claimed its first lead of the series in the third when Chris Denorfia singled home Jace Peterson. The Padres had not held a lead in a game since a 6-4 win on April 28.
Atoning for an earlier passed ball that aided the D-Backs' three-run fourth, Rivera helped the Padres strike back quickly with a two-run double that evened the score at 3-3.
Joaquin Benoit took over in the eighth and pitched a scoreless inning before Huston Street (1-0) held Arizona in check in the ninth to earn the victory.
Tim Powers is a contributor to MLB.com. This story was not subject to the approval of Major League Baseball or its clubs.