Gee throws six-plus scoreless in outstanding outing
Offensive outburst includes 10 hits, five of them doubles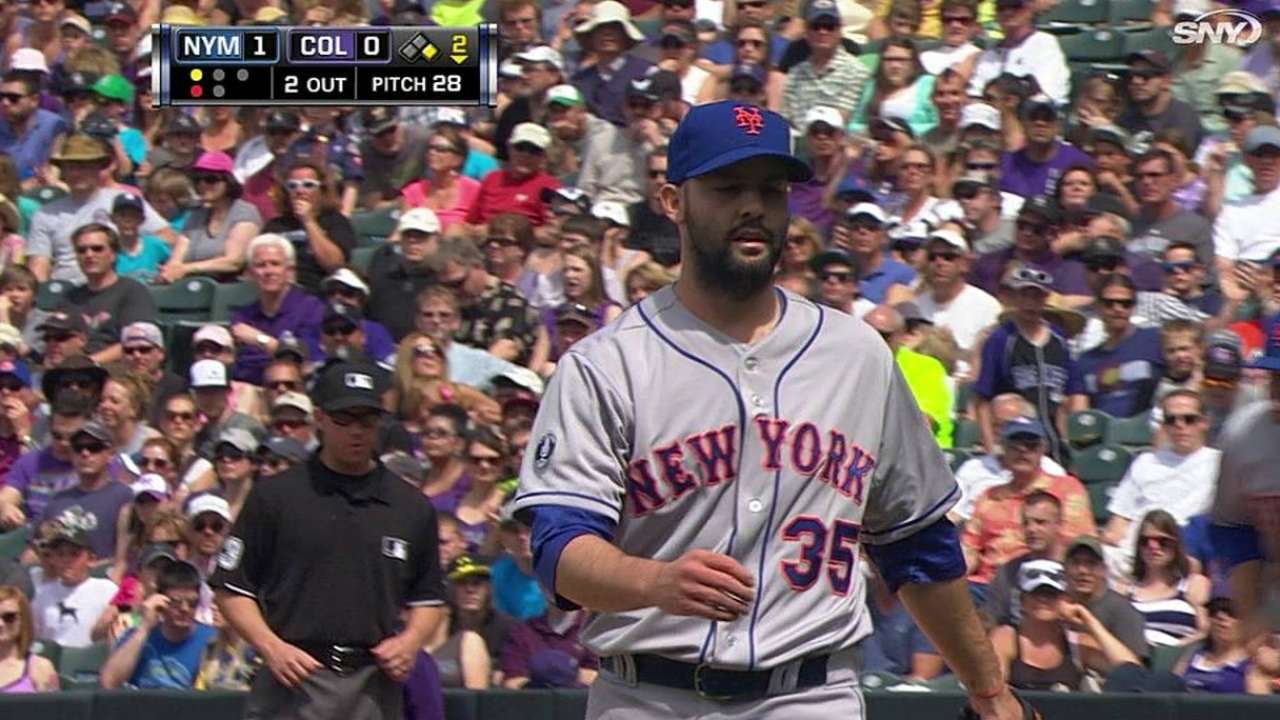 DENVER -- While losing the first three games of this series, the Mets' starters combined to work a paltry 13 innings, and not one of them reached the fifth. The Mets were banking on dependable Dillon Gee to last through the middle innings or beyond Sunday, and he didn't disappoint.
Gee pitched into the seventh and threw a season-high 113 pitches as the Mets beat the Rockies, 5-1, to avoid being swept in a four-game series at Coors Field for the first time. He gave up six hits and extended his scoreless streak to a career-high 16 innings while pitching at least six innings for the 23rd time in his past 24 starts.
Asked whether this is as well as he has pitched all year, considering the potent lineup he faced at the challenge that is Coors Field, Gee said, "Results-wise I guess so. But I definitely felt better. I think I've had better stuff than I had today. It's like that play I catch [the ball] behind my back. You got to have things like that happen for an outing like this, really."
Gee, who said he is in poor defensive position when he finishes his delivery, was referring to a play that ended the second when he reached behind his back to grab DJ LeMahieu's hard bouncer.
The Mets had gotten at least five innings from their starter in their first 26 games before this series, a streak that the Rockies obliterated as they roughed up Bartolo Colon, Zack Wheeler and Jenrry Mejia to improve their home record to 11-4 with an average of 7.8 runs per game. Against that backdrop, Gee's outing was all the more notable.
"Considering our starters had pitched so well and had so much trouble here, for him to go out there and go six gave our bullpen a little bit of a break," Mets third baseman David Wright said. "And anytime you can hold that lineup in this ballpark to no runs over six, you're doing something right."
Gee, who is 3-1 with an 0.67 ERA in his past four starts, left after giving up consecutive singles to Michael McKenry and Corey Dickerson to start the seventh. Carlos Torres got LeMahieu to bounce to shortstop, moving up both runners, and struck out pinch-hitter Drew Stubbs. Left-hander Scott Rice then retired Charlie Blackmon on a fly to short center.
Jhoulys Chacin understandably had command issues as he made his 2014 debut for the Rockies after suffering a right shoulder strain in Spring Training. He was unable to retire the Mets in order and gave up four runs on eight hits and five walks, one intentional, in five innings.
"It's never easy here," Chacin said. "You have to throw strikes, keep the ball down and make them hit a ground ball. That's my game. Today, I didn't get a lot of ground balls. Today wasn't my game and wasn't my day."
Back-to-back two-out doubles in the fourth by Juan Lagares and David Murphy gave the Mets a 4-0 lead. They scored twice in the third on doubles by Wright and Chris Young. Chacin issued three walks, one intentional in the inning, but escaped more trouble when he got Travis d'Arnaud to ground into an inning-ending double play.
Lagares and Murphy led off the game with singles. Lagares scored on a one-out single by Curtis Granderson that sent Murphy to third. The Rockies made it 5-0 in the seventh when Tommy Kahnle walked Young with one out, and Lucas Duda followed with a run-scoring double in the gap in left-center.
Gee avoided any serious trouble. He walked No. 8 hitter LeMahieu with one out in the fifth and gave up a single to pinch-hitter Brandon Barnes. Blackmon grounded into a fielder's choice, and Gee stranded runners at first and third by getting Charlie Culberson to ground out.
Gee gave up a one-out double in the first to Culberson but got Gonzalez to ground out and Arenado to fly out. Arenado extended his hitting streak to 24 games, the second-longest in Rockies history, with a one-out double in the fourth, but Gee retired Justin Morneau on a fly out and struck out McKenry.
Morneau's ninth-inning homer accounted for the only Rockies run.
Gee has thrown back-to-back scoreless starts for the first time in his career and gave the Mets a much-needed outing as they head toward Miami, the final stop on their three-city road trip, where the Marlins are 14-5 at home.
"We're happy to take the one and get out of here," Mets manager Terry Collins said. "We can't look back. We're playing the Marlins, who have the best home record in baseball, so we got a big task ahead just the next three days."
Jack Etkin is a contributor to MLB.com. This story was not subject to the approval of Major League Baseball or its clubs.