Rangers support Darvish as slumping bats come alive
Choice, Arencibia belt homers; Yu turns it on after overturned call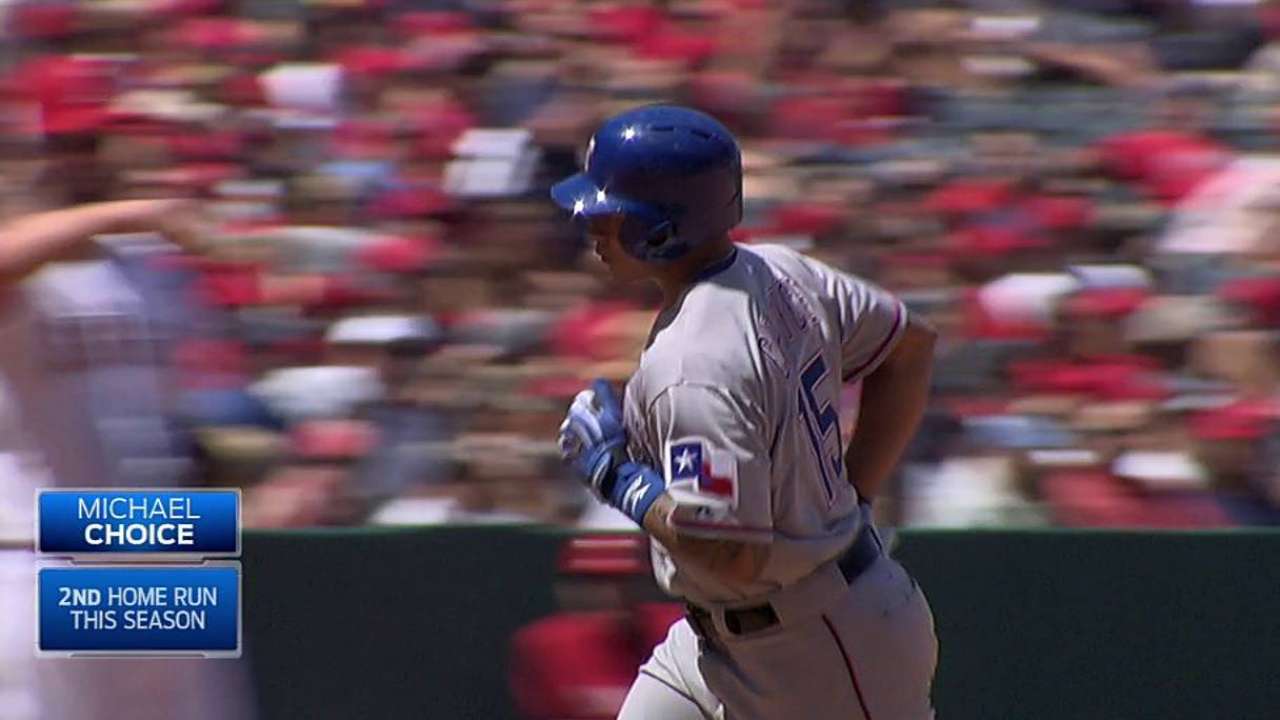 ANAHEIM -- With slumping hitters coming alive all through the lineup, Rangers pitcher Yu Darvish finally received plenty of run support. It just took him a couple of innings to figure out what to do with it.
A crucial call reversed by replay helped immensely as did a big strikeout against arch-nemesis Mike Trout. After that, everything else fell into place for Darvish and the Rangers rolled to a 14-3 victory on Sunday afternoon at Angel Stadium.
Darvish beat Angels left-hander Tyler Skaggs, who was 2-0 with a 3.34 ERA coming into the game. The Angels had won all five of his starts until the Rangers finally broke loose offensively and knocked him out in the third inning. The Rangers had 14 hits including five for extra bases. It's the first time they've had five extra base hits in a game since April 19 against the White Sox.
"A lot of guys had good games, so it was definitely a good day," first baseman Prince Fielder said. "That's what you hope for. It's a long season, but that's the plan. You just try to come out each day and see what you can do."
Fielder had three hits including a pair of run-scoring doubles, marking the first time he's had two extra base hits in a game this season. Adrian Beltre had three hits and scored three times, J.P. Arencibia had two hits, including his first home run, and added a sacrifice fly, and Elvis Andrus started a rally with a single from his new spot at the bottom of the order. Michael Choice, hitting .196 coming into the game, broke it open with a three-run home run in the fourth.
"It was fun," Arencibia said. "It's a long season, unfortunately where we are at this point, things get blown out of proportion. But today was a good team effort from top to bottom."
The victory allowed the Rangers to take two of three from the Angels and remain two games behind the Athletics in the American League West as they open a four-game home-and-home series against the Rockies. Darvish went 6 1/3 innings, allowing three runs on nine hits with a walk and nine strikeouts while throwing 116 pitches.
"It's better to have run support than not having run support but my approach doesn't change," Darvish said. "After the second inning I had about 50 pitches so my mindset was to get as deep into the game as possible and I was glad I was able to do it."
He also created a scary moment in the fifth when he clipped Albert Pujols in the helmet with a 91-mph fastball. But the pitch didn't hit Pujols directly and he was able to stay in the game.
"I had two strikes on him so it was a waste pitch," Darvish said. "Unfortunately it hit him in the helmet."
The Angels weren't too happy about it. Angels pitcher Michael Kohn began the next inning with an inside fastball that had Alex Rios jumping back from the plate. That didn't make Rios happy.
"I don't know," Rios said. "I don't think [Darvish] was trying to hit Pujols intentionally. For him to come out and throw intentionally at me was not right. It is what it is, but it's not right."
The Angels insisted Kohn was not trying to hit Rios.
"Michael Kohn was trying to pitch aggressively inside [in the fifth], like Darvish was," Angels manager Mike Scioscia said. "That's part of the game."
The Rangers had scored 1.45 runs per nine innings over Darvish's previous five starts. That was the lowest run-support average in the American League but now that honor belongs to teammate Robbie Ross at 1.93 per nine innings.
The Rangers lifted Darvish out of the bottom spot with three runs in the first inning. Fielder's first double -- a vicious line drive down the right-field line -- drove in one run as did a single by Michael Choice and a sacrifice fly by Arencibia.
The Angels struck back with a pair of solo home runs in the bottom of the inning from Erick Aybar and Albert Pujols. But the Rangers responded in the top of the second after a leadoff single by Andrus. A single by Choo moved him to third and he scored as Daniel Robertson grounded into a force play for his first Major League RBI. Robertson scored on another line-drive double by Fielder.
"They just hit the pitches I was throwing," Skaggs said. "They made adjustments and had a good game plan. I started OK but then I started falling behind. It's easier to hit when it's 3-1 and 2-0. I wasn't throwing the strikes I want to throw. They got infield hits, one off my glove, one off my foot.
The Angels threatened again in the bottom of the second as singles by C.J. Cron and Collin Cowgill put runners on first and second. Erick Aybar followed with a slow roller to the left of the mound. Darvish grabbed it and flipped to third trying to get the force. Cron was ruled safe by third-base umpire Lance Barrett, who said the toss pulled Beltre off the bag.
The Rangers asked for a review, the call was overturned for the second out and Darvish struck out Trout to end the threat. Trout, who has four career home runs off Darvish, was 0-for-3 against him on Sunday.
Arencibia, who was hitting .077 coming into the game, made it 6-2 with his home run in the third. Choice followed with his three-run shot in the fourth, his second home run of the season.
"That was a big one that Michael Choice got us," manager Ron Washington said. "They were still in the ballgame and that gave us some breathing room. It was the whole team today and Darvish did a great job."
T.R. Sullivan is a reporter for MLB.com Read his blog, Postcards from Elysian Fields and follow him on Twitter @Sullivan_Ranger. This story was not subject to the approval of Major League Baseball or its clubs.