Farquhar goes two innings for spot save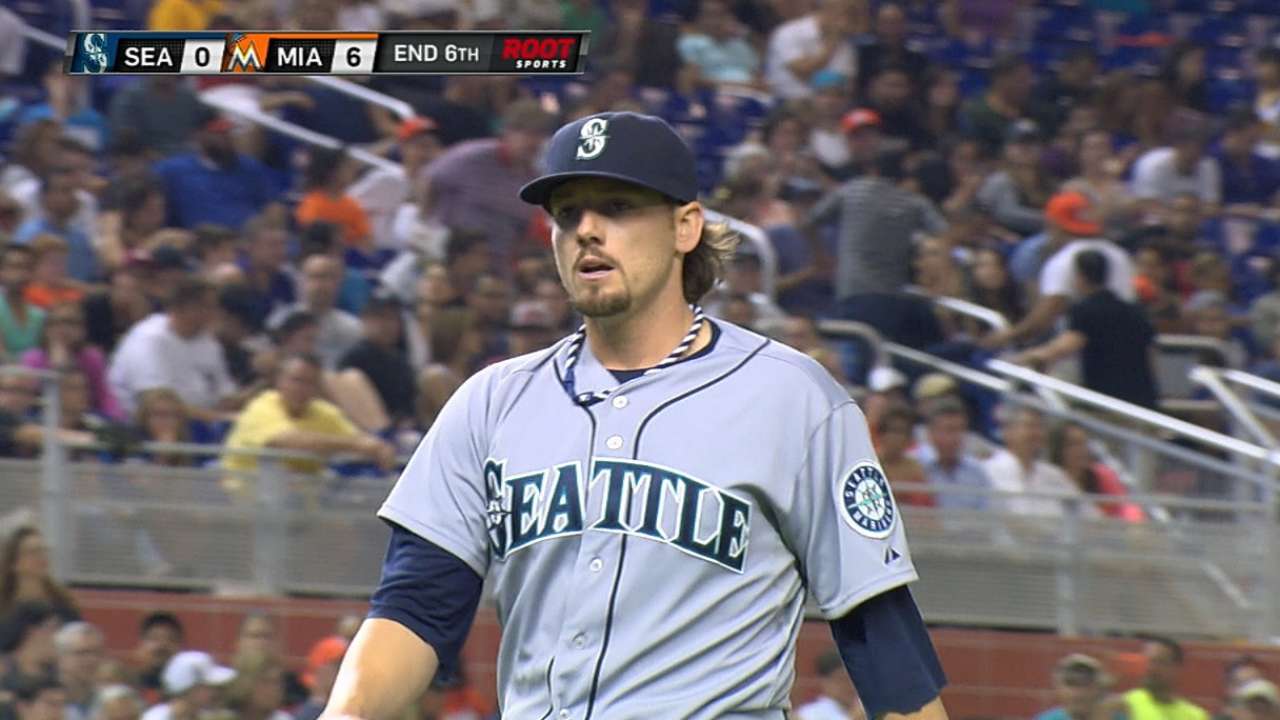 HOUSTON -- With Fernando Rodney having pitched in five of the Mariners' last eight games, including a four-out save on Saturday, manager Lloyd McClendon went to Danny Farquhar to fill the closer's role on Sunday and wound up using him for two innings in the 8-7 victory over the Astros in the series finale at Minute Maid Park.
Farquhar allowed three hits and a run after replacing a struggling Charlie Furbush, with the first hit allowing two inherited runners to cross the plate as Houston closed the final gap. But the 5-foot-11 right-hander dug in and got his first save of the season after saving 16 games last year.
"I've done that plenty," Farquhar said of the two-inning save. "It's nothing different. That's college stuff. That's what I used to do [at Louisiana-Lafayette]. You just have to do what you have to do and just get it done when the time comes."
Farquhar said he was told just before the game by bench coach Trent Jewett he'd be in the closing role for the day.
"I was on my way out doing handshakes with position players in left field and Trent called me back and said you'll pitch the ninth today and if the game calls for it, you might pitch the eighth, too," Farquhar said. "So I was prepared, which is nice, so you can do you routine and get ready."
Farquhar has proven to be a valuable and versatile commodity in the Mariners bullpen with a 1.20 ERA in 15 innings over 13 appearances.
"He bounces back really well and he closed games last year," McClendon said. "He knows what he's doing."
Rodney and Yoervis Medina were given Sunday off, with Medina having pitched in three straight games. Medina gave up three hits and two runs while getting just one out Saturday, leaving Rodney to escape a bases-loaded jam in eighth to preserve the win.
But McClendon didn't think that had to do with Medina pitching too much.
"No, I can't make that excuse," McClendon said. "I just tell it like it is. He was just bad. If you ask him, he'll tell you he was bad. It wasn't the fact he's overused. A sinkerballer should be better with the more outings they get, he was just bad."
Same story with rookie Dominic Leone, who had his first rough outing, giving up two hits and a walk without recording an out, including a two-run homer by Jonathan Villar. McClendon said he has total trust in the 22-year-old, despite that blip.
Leone pitched to two batters on Friday, striking out both on nine pitches, but previously had not thrown in a game since April 25.
"He'd had six days off in a row, so I don't think fatigue was it at all," McClendon said. "I just think probably more than anything it was rust. Six days off is a long time. You come back and you're short and then he came right back again. So it was probably rust more than anything."
Leone has worked his way into more of a late-inning role since being called up on April 6 to replace Hector Noesi, posting a 2.13 ERA in 10 outings even with Saturday's implosion.
"I think he's earned those type of situations and you'll probably see him in more high-leverage situations," said McClendon, who has been interchanging his setup opportunities between Tom Wilhelmsen, Medina and Leone when going to a right-hander. "Most of the time we look at matchups and see if there is some history there. With him, there's obviously no history there, but I know what he's got and what he's capable of doing."
Greg Johns is a reporter for MLB.com. Follow him on Twitter @GregJohnsMLB as well as his Mariners Musings blog. This story was not subject to the approval of Major League Baseball or its clubs.