Hernandez, bullpen shut out Nats to take series
Right-hander steps in and fires 7 1/3 scoreless innings to down rivals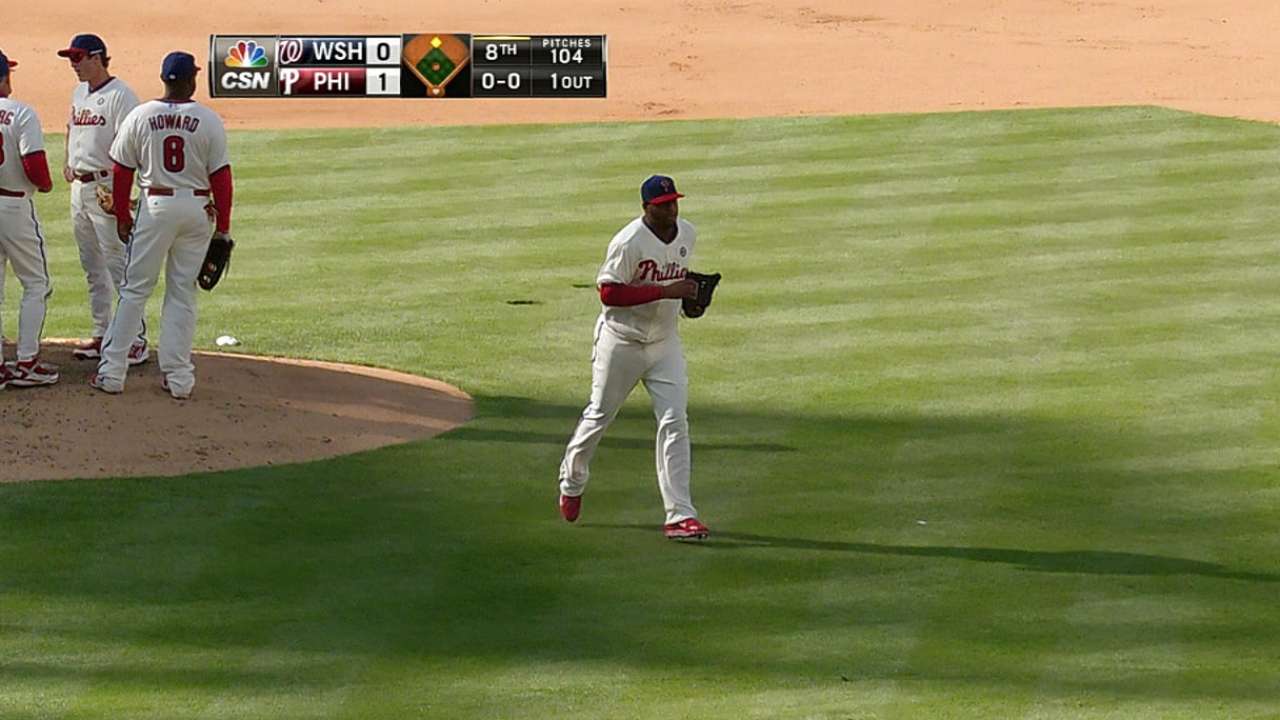 PHILADELPHIA -- This is the month for the Phillies to make a move.
They play 21 of 27 games at home in May and Sunday's 1-0 victory over the Nationals at Citizens Bank Park handed them their first series victory of that stretch. They improved to 6-7 at home this season, a number that must continue to improve if they have any serious shot at competing for a postseason berth.
"I think this is a good month for us to get back on track and hopefully make a push and see if we can't separate ourselves," Mike Adams said.
The Phillies are 15-14, the fourth time this season they are a game over .500. They have not been two games over .500 since Oct. 1, 2012, when they were 81-79. They also are 1 1/2 games out of first place in the tightly-packed National League East, where every team has a winning record.
The Phillies can thank Roberto Hernandez for Sunday's victory. He allowed four hits in 7 1/3 scoreless innings, pitching on relatively short notice.
"Hernandez was so locked in," Phillies center fielder Ben Revere said. "He hit his spots. When he fell behind, he got a groundout or fly out. Today was his day."
The Phillies skipped Hernandez in the rotation last week because of some breaks in the schedule. The Phillies initially pushed him to Tuesday's start against the Blue Jays, but when Cole Hamels got the flu Saturday, the Phillies bumped up Hernandez a couple days.
"It's not that big a deal," Hernandez said. "You have to do what you had to do. No big deal."
Hernandez walked two batters in the first inning on four pitches, throwing just eight of 20 pitches for strikes. But he settled after that. After Denard Span's leadoff single in the third inning, Hernandez retired 15 of the next 17 batters he faced.
"I just tried to keep the ball down," Hernandez said. "I just wanted to keep it down, not overthrow and get the ball over the plate."
He allowed another leadoff single to Span in the eighth. Kevin Frandsen's sacrifice bunt advanced Span to second with one out.
Phillies manager Ryne Sandberg then asked Adams to face Jayson Werth, whom he struck out Saturday.
Adams blew a one-run lead in the eighth inning Friday in a 5-3 loss, but pitched a scoreless eighth with a five-run lead in Saturday's 7-2 victory. Sunday was the first time he had pitched three consecutive days since Aug. 26-28, 2012, when he pitched with the Rangers.
He got Werth to ground out to first, moving Span to third.
"It's been a long time. I felt all right though," Adams said about the three straight days of work. "Luckily, I kept my pitch count down the past two days. I'm kind of glad it was only one hitter today. I was hanging a little bit, especially after I got done. I could feel it. All the adrenaline left and I could kind of feel my arm hanging a little bit. But it all worked out good. We got the 'W' and I think that's what our bullpen is capable of doing. Hopefully, we can get this thing turned around and start going in the right direction."
Sandberg then called for left-hander Antonio Bastardo to face Adam LaRoche, but he walked him to put runners at the corners. Bastardo recovered and struck out Anthony Rendon looking at a 2-2 fastball to end the inning.
Jonathan Papelbon picked up his ninth save with a scoreless ninth.
The Phillies scored their only run in the first inning when Jimmy Rollins tripled and scored on Chase Utley's single to center.
The Phillies outscored the Nationals in the first inning this series, 7-0. The early leads led to a victory twice in the series.
The Phillies open a two-game series Monday against the Blue Jays before playing their next five on the road in Toronto and New York. But then it is back to Citizens Bank Park for five games against the Angels and Reds.
The Phillies have won eight of their last 12. They like how they are playing right now.
"I think, overall, we've showed improvement in many areas," Sandberg said. "Starting pitching is our strong suit right now. Guys are going seven innings, into the eighth inning with our starting pitching. That's been very good. Been able to utilize the bullpen in more situational roles. Papelbon's on a roll. We've improved defensively behind the pitching. I see the balance of our lineup, with different guys on different days getting the job done."
Todd Zolecki is a reporter for MLB.com. This story was not subject to the approval of Major League Baseball or its clubs.