Thomas to work as starter at Triple-A Gwinnett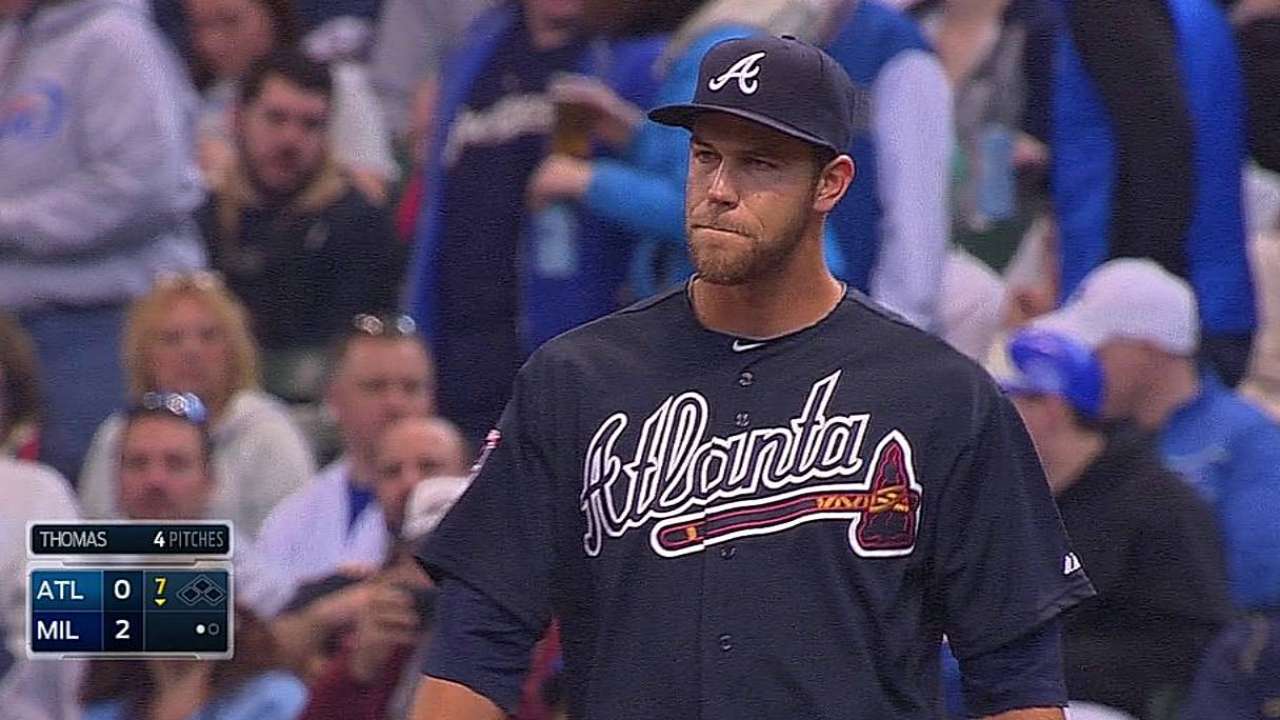 ATLANTA -- The Braves were comfortable using Ian Thomas in two high-leverage relief situations over the past week. But when forced to create a roster spot for Gavin Floyd on Sunday, they opted to take advantage of a chance to give Thomas an opportunity to further his development while serving as a starting pitcher for Triple-A Gwinnett.
With Floyd set to make a spot start for Ervin Santana on Tuesday, the Braves are in position to spend most of this upcoming week working with six relievers, as opposed to the customary seven, in their bullpen. Thomas' demotion leaves Luis Avilan as Atlanta's only left-handed reliever.
"The way our bullpen is now, you need a legit long guy," Braves manager Fredi Gonzalez said. [David Hale] gives us that. You feel [right-handed reliever Jordan Walden] can get left-handed hitters out. He's done it in the past and he's been really, really good at it. [Avilan] has been our guy."
While Avilan served as one of Atlanta's primary setup men last year, he has not been nearly as effective this season. His struggles led the Braves to give Thomas a chance to pitch in three tight situations this past week. Thomas retired the only batter he faced -- left-handed hitter Roger Bernadina -- to earn his first career win in last Sunday's 10-inning win over the Reds. Given a chance to keep Thursday's game tied in the seventh inning, Thomas surrendered two consecutive bloop singles and was saddled with a loss. He then walked the first two batters he faced after entering Friday's seventh inning with the Braves trailing the Giants by a run.
Thomas earned an Opening Day roster spot after coming to Spring Training as a rather obscure non-roster invitee who was just two years removed from beginning a fourth consecutive season in an independent league. The 27-year-old left-hander allowed three earned runs and seven hits while working 6 1/3 innings in 10 relief appearances with Atlanta.
"The right way to look at it is we [sent down] the guy who needs the most work, [Thomas] being that guy," Gonzalez said.
While serving as a starter at Gwinnett, Thomas will attempt to develop a slider and refine the curveball and changeup that currently serve as his primary offspeed pitches. The plan is for him to add to his repertoire with the hope he will be more versatile as a reliever if he gets a chance to return to the Major League level.
Mark Bowman is a reporter for MLB.com. Joe Morgan is an associate reporter for MLB.com. This story was not subject to the approval of Major League Baseball or its clubs.