Gio excellent, but bats come up empty in finale
Hernandez keeps offense off the board as Phils nab series victory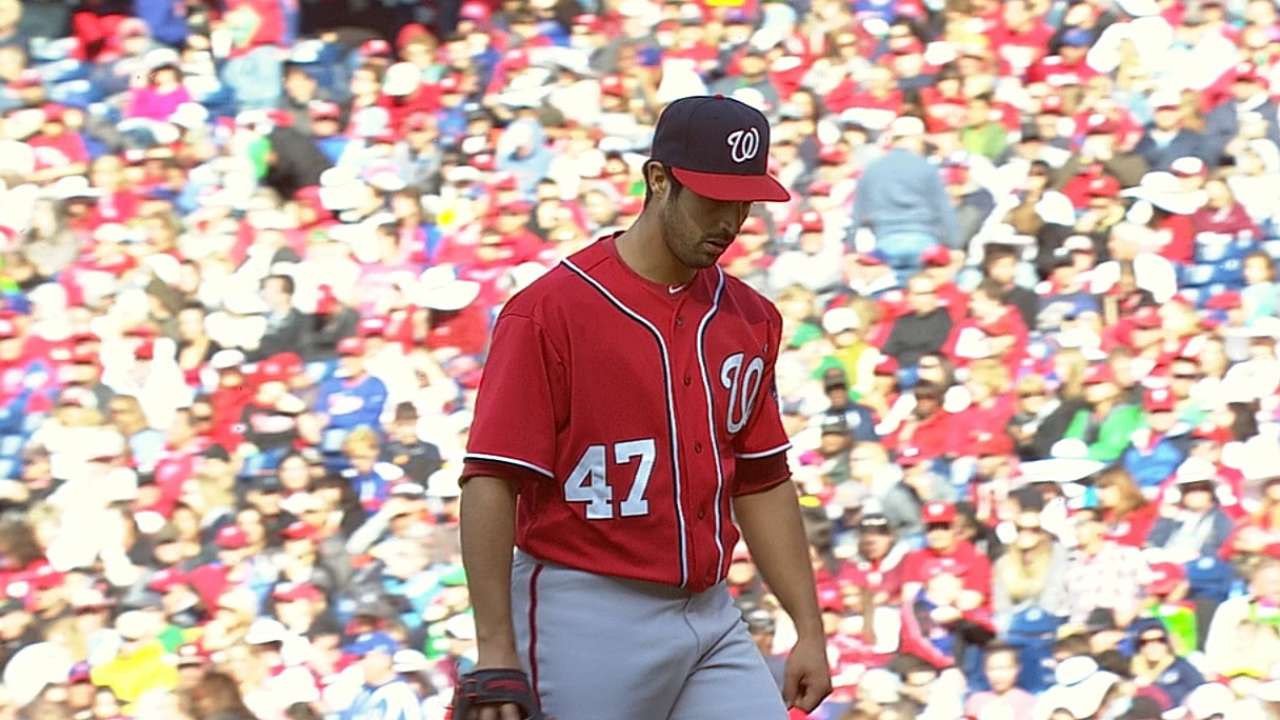 PHILADELPHIA -- Left-hander Gio Gonzalez was solid for 7 1/3 innings, but right-hander Roberto Hernandez was even better as the Phillies blanked the Nationals, 1-0, at Citizens Bank Park on Sunday afternoon.
It seemed like old hat for the Nationals, but they fell behind once again in the first inning. With one out, Jimmy Rollins tripled to left-center-field and he came home on a single by Chase Utley. That was all Hernandez would need as he lasted 7 1/3 innings, allowed four hits, struck out three batters and walked three.
"Hernandez was so locked in. He hit his spots. When he fell behind, he got a groundout or fly out. Today was his day," said Phillies center fielder Ben Revere.
Nationals manager Matt Williams was impressed by what he saw from both sides.
"Opportunities were out there, but Gio pitched well, [Hernandez] pitched well. We certainly had good work from our bullpen today, too," Williams said. "It was a good old fashion pitchers' duel."
Gonzalez picked up his second loss of the season. It was one of those games where he knew he had to keep the team in the game as long as possible.
"The Phillies had opportunities, too, and I was fortunate enough to get out of innings," Gonzalez said. "I think it was one of those games where it was going to be a battle all the way. You didn't sense it until maybe the seventh or eighth inning."
The Nationals' best chance to score against Hernandez was in the first inning. After Kevin Frandsen walked with one out, Jayson Werth singled to left field, but Frandsen was thrown out trying to advance to third base on the hit.
"I'll go 100 times out of 100 on that one, especially with one out," Frandsen said. "Knowing that J-Dub [Werth] is aggressive as well, he is going to be on second base. One guy is going to be in scoring position or two guys. It took a perfect throw to get [me]. I'm not second guessing that one at all."
Even Williams didn't have a problem with Frandsen going to third base.
"Was it wise? Yeah," Williams said. "We want to be aggressive there. We want to make sure we are putting pressure [on the other team]. At the end of the day, it looks like a play that if we didn't do, we may have a different opportunity. I don't have any problem with that."
Adam LaRoche then walked to put runners on first and second. However, Anthony Rendon grounded out to third baseman Jayson Nix to end the threat.
The Nationals had a chance to tie the score in the top of the eighth inning. After Denard Span singled and advanced to second on a sacrifice by Frandsen, Hernandez was taken out of the game in favor of reliever Mike Adams.
Werth came to the plate and grounded out to first baseman Ryan Howard. Left-hander Antonio Bastardo entered the game and he walked LaRoche to put runners on first and second. Rendon then came to the plate and struck out looking.
Phillies closer Jonathan Papelbon pitched the ninth inning and the Nationals made it interesting. With two outs, Sandy Leon singled to right field. Zach Walters came to the plate to pinch-hit for Jerry Blevins. Walters swung at Papelbon's 1-2 pitch. It looked like Walters was going to hit his fourth home run of the season and tie the game at 1, but the ball went foul the last minute.
Walters eventually struck out to end the game, while Papelbon earned his ninth save of the season. The Nationals lost their second straight game and dropped their record to 17-14. They are only a half-game behind the Braves, who were swept by the Giants this weekend.
The good news is, the Nationals will get some of their major players -- Wilson Ramos, Doug Fister and Scott Hairston -- off the disabled list sometime this week.
"Considering what happened to us and where we are at, we are OK," Williams said. "We have to keep battling, though. It's certainly a tough homestand and a tough road trip [ahead]. We have to play well."
Said Frandsen, "I feel like we are in a great position because every single one of these guys battles and fights. Nothing is ever over. It's pretty awesome to watch and be a part of. No matter what it is -- 1-0, 7-2 -- whoever is pitching, I feel like we have a chance. That's the courage of this team. To be where we are with all those injuries, I say it's even better."
Bill Ladson is a reporter for MLB.com and writes an MLBlog, All Nats All the time. He also could be found on Twitter @WashingNats. This story was not subject to the approval of Major League Baseball or its clubs.