Hughes' impressive start lifts Twins to series win
Suzuki goes 3-for-3 with two-run 2B; Plouffe adds two-run two-bagger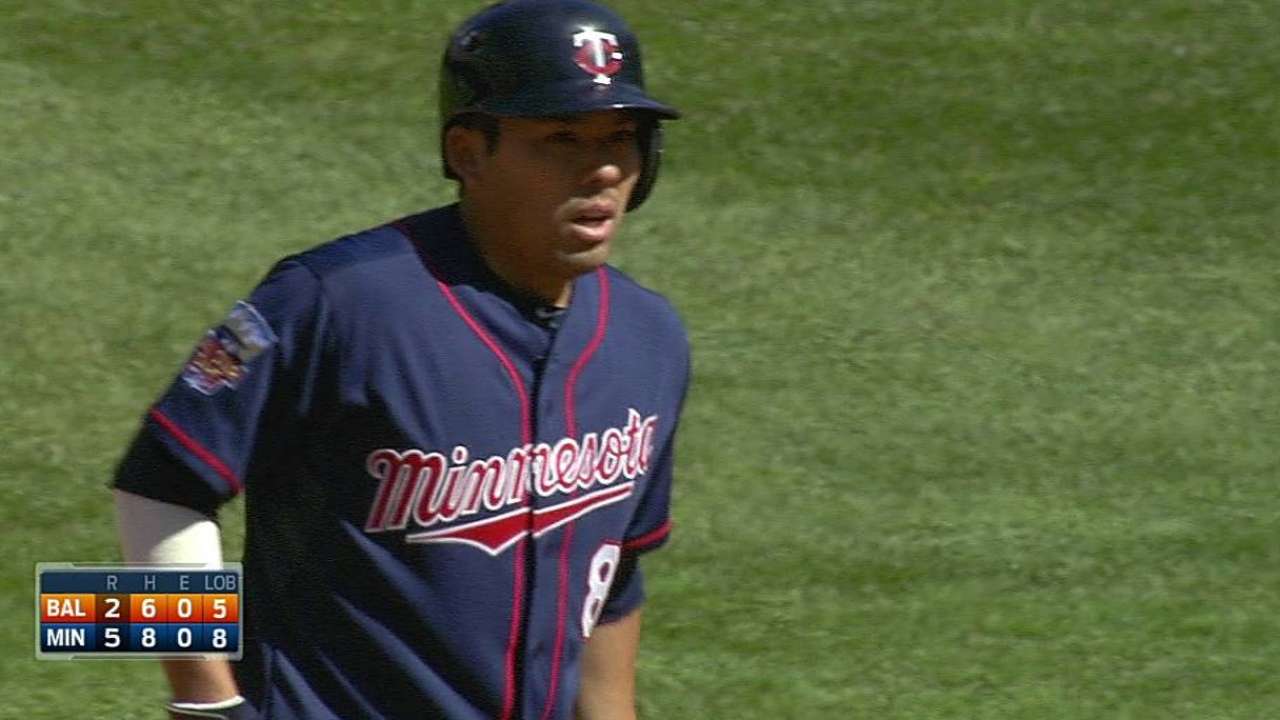 MINNEAPOLIS -- After struggling in his first three starts of the season, Phil Hughes has started to turn it around, and he kept it going against the Orioles on Sunday.
Hughes turned in his third straight quality start, while Trevor Plouffe and Kurt Suzuki powered the offense to lead the Twins to a 5-2 win over the Orioles on Sunday at Target Field. It was also the third straight quality start from a Twins starter, as they combined to post a 2.41 ERA in 22 1/3 innings in their three-game series against Baltimore.
Hughes went 6 1/3 innings, giving up two runs on six hits with three strikeouts to pick up his third straight win and help the Twins to the series victory. Hughes posted a 7.20 ERA through his first three starts of the year, but he has a 2.79 ERA over his last three starts to lower his ERA to 4.72 on the season.
"I certainly feel like I'm throwing the ball better than I was at the beginning of the year," said Hughes, who joined the club on a three-year, $24 million deal this offseason. "I can still be better, but I'd like to keep it going."
Hughes was helped by an early lead, with the Twins scoring two runs in the third inning against O's right-hander Miguel Gonzalez. Eduardo Escobar and Brian Dozier both singled to set the stage for a two-run double down the left-field line from Plouffe. It was Plouffe's Major League-leading 14th double of the year.
"He's been doing it all year for us since Day 1," Twins manager Ron Gardenhire said. "He put a nice swing on that one, and it was a big hit for us."
Minnesota scored again in the fifth, as it used four walks to its advantage against Gonzalez. The Twins loaded the bases with two outs before Suzuki drew a walk to bring home a run. It was the final batter for Gonzalez, who was replaced by left-hander Troy Patton, and the reliever was able to get Sam Fuld to ground out to end the inning.
"I thought I was throwing the ball well and they were just being patient," Gonzalez said. "The first four innings, they were being aggressive and it's crazy to be in that situation, throwing a lot of balls and walking guys. That's not me. I don't think that's ever happened in my career."
The Orioles scored their two runs against Hughes on one swing from Nelson Cruz in the sixth. Cruz connected on a two-run blast on an 1-0 cutter that hit off the facing of the third deck in left field for his second homer of the series.
"For the most part, I was able to make some good pitches," said Hughes. "But obviously, I made a mistake on the pitch to Cruz."
Baltimore threatened again in the seventh, when Hughes gave up back-to-back singles to J.J. Hardy and Delmon Young with one out. Right-hander Anthony Swarzak was brought in and got Steve Pearce to pop up for the second out, but he walked Jonathan Schoop to load the bases. Left-hander Caleb Thielbar came in and made a nice play on a hard-hit comebacker from Nick Markakis to get out of the inning.
The Twins added two insurance runs in the seventh against reliever Ryan Webb on a two-run double from Suzuki with one out. Suzuki's double over the head of Cruz in left scored Chris Colabello and Jason Kubel, with Kubel being ruled safe on a close play at the plate that was confirmed after a replay review.
Suzuki had three hits and three RBIs, and said he wanted to make the Orioles regret their decision to walk Kubel intentionally to get to him before his two-run double.
"I wanted to go in and make them pay," said Suzuki, who leads all catchers with 22 RBIs. "That's the mindset you always take when someone walks the guy in front of you. They think they can get you out, so you try to go up there and make them pay."
Right-hander Casey Fien threw a scoreless eighth before handing it over to closer Glen Perkins, who picked up his seventh save despite Chris Herrmann dropping a routine fly ball in right field that would've ended the game. It completed an eight-game homestand for the Twins, who went 3-5, including 2-1 against the Orioles.
"The bullpen came in and did a nice job," Gardenhire said. "We ran around the bases and put a few runs on the board. It was a nice win for us and a nice series win for us against those guys, who are pretty good."
Rhett Bollinger is a reporter for MLB.com. Read his blog, Bollinger Beat, and follow him on Twitter @RhettBollinger. This story was not subject to the approval of Major League Baseball or its clubs.