Myers' inside-the-park HR, four RBIs lift Rays
Right fielder KO's CC in Bronx as Tampa Bay seals road trip with win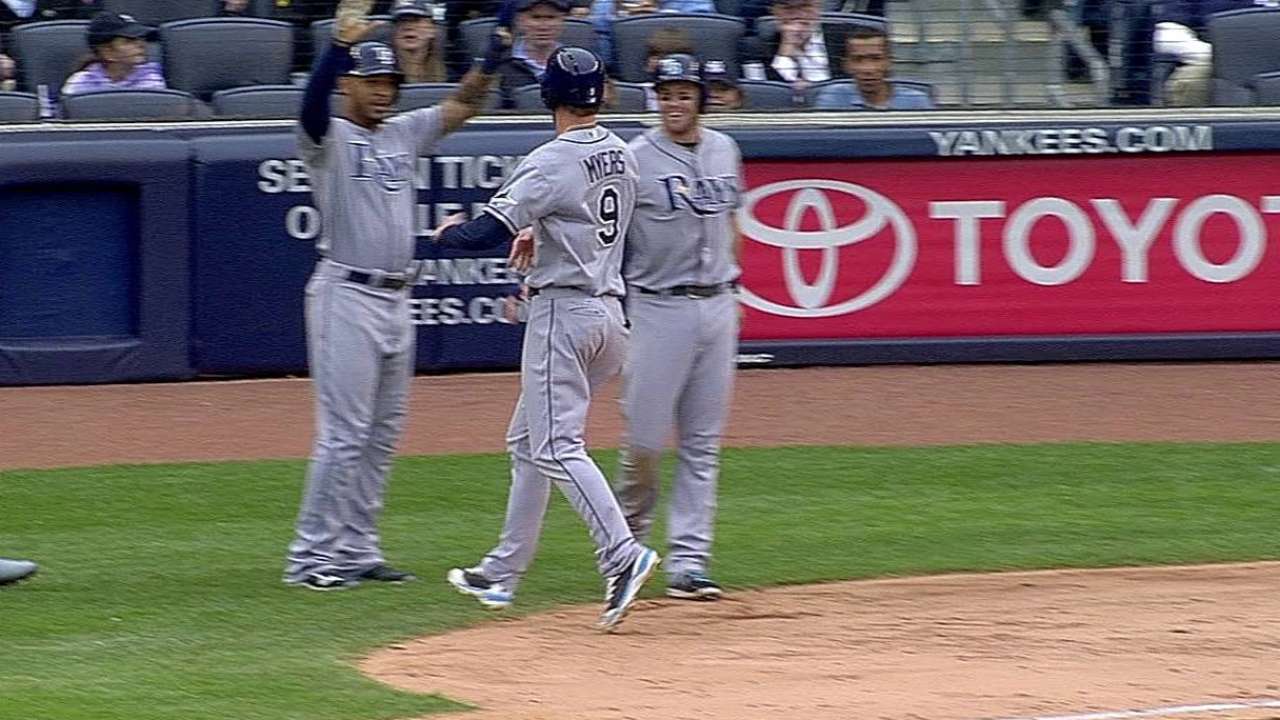 NEW YORK -- On Kentucky Derby weekend, Wil Myers made his own Run for the Roses, rounding the bases en route to a three-run inside-the-park homer Sunday afternoon to lead the Rays to a 5-1 win over the Yankees at Yankee Stadium.
Kentucky Derby or Myers' home run, which was more exciting?
"When it comes to the Sport of Kings, I've never got involved with that a whole lot," Rays manager Joe Maddon said. "And I'm not a big betting guy. So I'll take Wil Myers' homer."
Myers finished with four RBIs and Erik Bedard gave the Rays a solid outing to help the team finish their road trip to Chicago, Boston and New York with a 5-5 mark. The Rays are 15-17 heading into a six-game homestand against Baltimore and Cleveland that begins Tuesday night at Tropicana Field.
Desmond Jennings doubled off CC Sabathia in the third inning and Evan Longoria walked to bring Myers to the plate with one out and the game tied at 1.
Myers picked out a 2-2 slider from Sabathia and drove the ball deep to center field. Yankees center fielder Jacoby Ellsbury leapt to try to make the catch, but he did not come down with the ball, splattering against the wall.
In the aftermath of Ellsbury's unsuccessful effort, the ball shot away from the wall and Myers scooted around the bases for his first career inside-the-park home run to give the Rays a 4-1 lead.
"That was the game-changer for us," Maddon said. "... That flipped it in our favor today."
When Myers first hit the ball, he thought it would clear the fence for a home run.
"I said, 'Uh-oh' when it hit the fence," Myers said. "... I knew I had a chance after I saw it kick off Ellsbury and head down the warning track."
Myers' home run marked the 11th inside-the-park home run in team history. Ben Zobrist last turned the trick Sept. 25, 2011, against the Blue Jays.
Myers' RBI double off Sabathia with two outs in the fourth chased the veteran southpaw and gave the Rays a 5-1 lead.
Sabathia defeated the Rays at Tropicana Field in a 10-2 Yankees win April 17. On Sunday, he gave up five runs on 10 hits in 3 2/3 innings.
"The changeup was really cutting back over," Sabathia said. "The two-seamers that they did hit were hard-hit balls to right field, so they were staying on it pretty good. Maybe if I would've come in a little more early in the count, I would've gotten them off some of those good swings."
Bedard brought an 0-9 mark in his previous 15 starts into the game. He allowed the Yankees to score in the second on Yangervis Solarte's sacrifice fly. The left-hander then pitched out of jams in the fourth and fifth innings before he retired the Yankees in order in the sixth on five pitches.
"I was just throwing strikes, being more consistent," Bedard said. "If you want to hang around in this game, you have to be consistent and throw strikes all the time."
Bedard surrendered a leadoff single to Solarte to start the seventh, which finished his day. He allowed one run on six hits, walking one and striking out three en route to his first win since June 26 against the Cardinals when he pitched for the Astros.
"Just in terms of execution and what we were trying to do to the hitters, [Bedard] was getting it done," Rays catcher Ryan Hanigan said. "He was executing. He does different things. He's got some options and what he was doing was working. He's hitting his spots. We're doing what we're trying to do. It's nice to have that happen. To execute a game plan and keep the team under control."
Tampa Bay got off to a 1-4 start on their road trip, so finishing strong felt pretty good as the team prepared to head home.
"It's huge," Hanigan said. "Take two from Boston and the Yankees is big time. At the end of the day, that Chicago team can swing the bat. I think we kind of slept on that a little bit, because we hadn't played them yet and they're kind of establishing themselves as a real premier offensive team. Hopefully next time around we'll have a little something better for them. Big wins. Big wins. Two series roads wins against division rivals. Big wins."
The Rays will have an off-day on Monday. Maddon believes his team grew a lot on the 10-game road trip.
"I think we've kind of come together as a group and I think there's a lot of belief in the clubhouse," Maddon said. "Now we get to go home, a well deserved day off -- do that, do nothing but enjoy yourself -- come back and let's be ready to play Tuesday night."
Bill Chastain is a reporter for MLB.com. This story was not subject to the approval of Major League Baseball or its clubs.