Tigers ride Verlander's arm to sweep of Royals
Right-hander fires 5 2/3 hitless innings; Castellanos, Avila hit HRs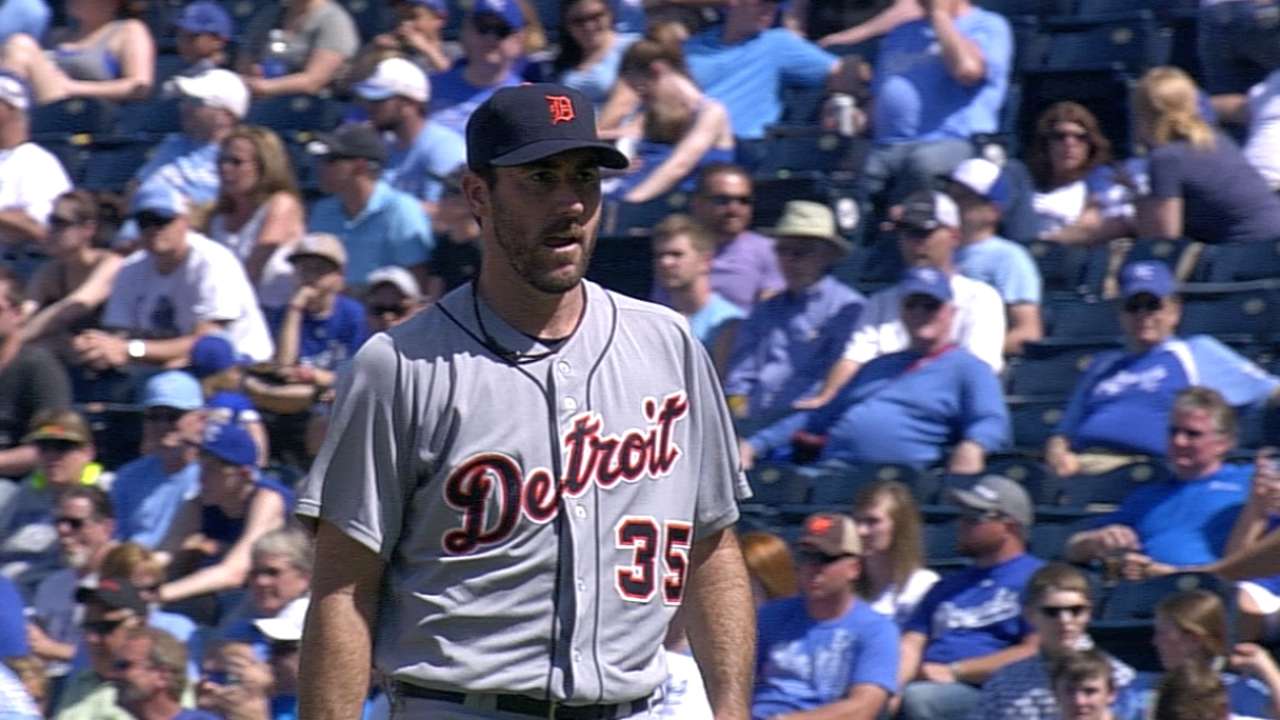 KANSAS CITY -- Billy Butler got Justin Verlander again. The way the Tigers' weekend visit unfolded, Butler's sixth-inning single was the one victory the Royals could claim for the series.
It broke up Verlander's bid at a third career no-hitter. By that point, he would have needed to give up a whole lot more for the Royals to break up a three-game sweep.
"This is the way that we're expected to play baseball," Verlander said after his seven innings of three-run ball helped the Tigers cruise to a 9-4 win on Sunday at Kauffman Stadium. "We can do a lot of little things. We can also bang. And I think the fundamental of this team is starting pitching, as it should be with every team.
"You keep guys off the board and allow the offense to go out and score runs, and that's how you win a lot of ballgames."
It's easy to preach, but hard to do for an extended stretch, even against struggling teams. It's what the Tigers did all week, save for two off-days.
They outscored the Royals by a 26-8 margin, and didn't trail for the final 25 innings of the series. Detroit went 6-1 over their three-city road trip, and the only loss came after a blister forced out Anibal Sanchez in the third inning last Saturday at Minnesota.
The Tigers' 17-9 record marks their best start to a season since 2006. Five of those wins have come in as many games against Kansas City, which entered the season as a potential challenger to Detroit's run of three straight American League Central titles.
"Detroit came in here red-hot," Royals manager Ned Yost said. "The last three games, as a group, there wasn't one hole in their lineup you could count on getting an out from. They were all swinging the bats extremely well."
It's early, but the Tigers are starting to build a gap, now 4 1/2 games ahead of the second-place White Sox. They're the only team in the AL Central with a winning record, and they own the longest winning streak in the league.
"It could just be a case where they caught us hot," manager Brad Ausmus said. "It's just five games into the season series with the Royals. They've got a very good team, so I'm not chalking it up to anything other than we swung the bats well and got some good starting pitching this weekend."
In other words, as Verlander said, they did the exact things the team was designed to do.
"We just flat-out got beat in every aspect of the game," Royals first baseman Eric Hosmer said. "It's early and we've got to rebound."
By taking the first two games of the series behind seven-inning performances from back-end starters Rick Porcello and Drew Smyly, Detroit handed the ball to Verlander with a chance to finish off the sweep against a reeling Royals offense. He nearly added an exclamation point.
Butler entered Sunday 31-for-71 lifetime against Verlander, including 17-for-32 since 2012. Salvador Perez, meanwhile, was 11-for-24 against Verlander since breaking into the league a few years ago. They loomed in the middle of the order in a lineup without a whole lot of individual success otherwise against Verlander.
Through six innings, however, the only Royals hitter having his way with Verlander was leadoff man Nori Aoki, who drew walks in each of his first three plate appearances, much to Verlander's frustration. The only other baserunner in that stretch was Alex Gordon, who walked in the fourth as Verlander cursed himself over his full-count pitch after striking out Butler on a nasty slider.
"I was pretty upset about those at-bats," Verlander said.
The right-hander's first couple turns against Butler and Perez, by contrast, were Verlander near his best. Butler and Perez both flied out to deep center field their first times up, and Butler had a 3-0 count on Verlander in the fourth before taking a fastball over the plate for strike one.
Verlander ran the count full by spotting a slider on the outside corner, then buried one as Butler swung over it.
"When he got in a hitter's count, he wasn't just throwing it in there and saying, 'Hey, hit it,'" Butler said. "He was still pitching, throwing offspeed stuff in hitter's count."
Once Perez grounded meekly to first base to end the fourth, the no-hit bid was on. The normally supportive Tigers dugout began leaving Verlander, saving for a pat on the back from pitching coach Jeff Jones.
"It always enters your mind early on," Verlander said, "but then again, at the same time, you know there's a long way to go."
Verlander has been through a few of those before. So, too, has Alex Avila. Asked if he was aware of it, Avila smiled.
"If I had a dime every time somebody asked me that when we had a no-hitter in the fifth," the catcher said, shaking his head. "When it gets to the fifth or the sixth, you know what's going on."
Aoki's leadoff walk in the sixth meant Verlander either needed a double play or had to face Butler with a runner on in the sixth. He struck out ex-teammate Omar Infante and got an Eric Hosmer line drive that hung up long enough for Rajai Davis to run down, setting up a showdown with Butler.
Unlike the fourth, Verlander had the setup he wanted, using back-to-back sliders and a curveball to put Butler in a 1-2 count and slow down his bat for a fastball. Verlander had the velocity he wanted at 96 mph, but not the location, leaving it over the plate.
"I just missed," Verlander said. "I didn't throw a good pitch."
Butler turned and lined it into right.
"There's no secrets," Butler said. "I just go up there and look for a good pitch to hit and I've had some good results off him. That could change."
Or as Avila put it, "Billy's a good hitter. Holding him to one hit, knowing the success he's had off of Justin, fine with that."
Verlander (4-1) retired Gordon to maintain the shutout bid, but Perez's leadoff double in the seventh set up a three-run rally punctuated by Jarrod Dyson's two-run triple.
Nick Castellanos and Avila homered to lead an 11-hit attack over five innings against Royals starter Jason Vargas, who had flummoxed Tigers hitters for seven innings of one-run ball on April 2 at Comerica Park.
Jason Beck is a reporter for MLB.com. Read Beck's Blog and follow him on Twitter @beckjason. This story was not subject to the approval of Major League Baseball or its clubs.