Royals stymied in pursuit of first-place Tigers
Vargas labors through five frames; KC falls to 0-5 vs. division rivals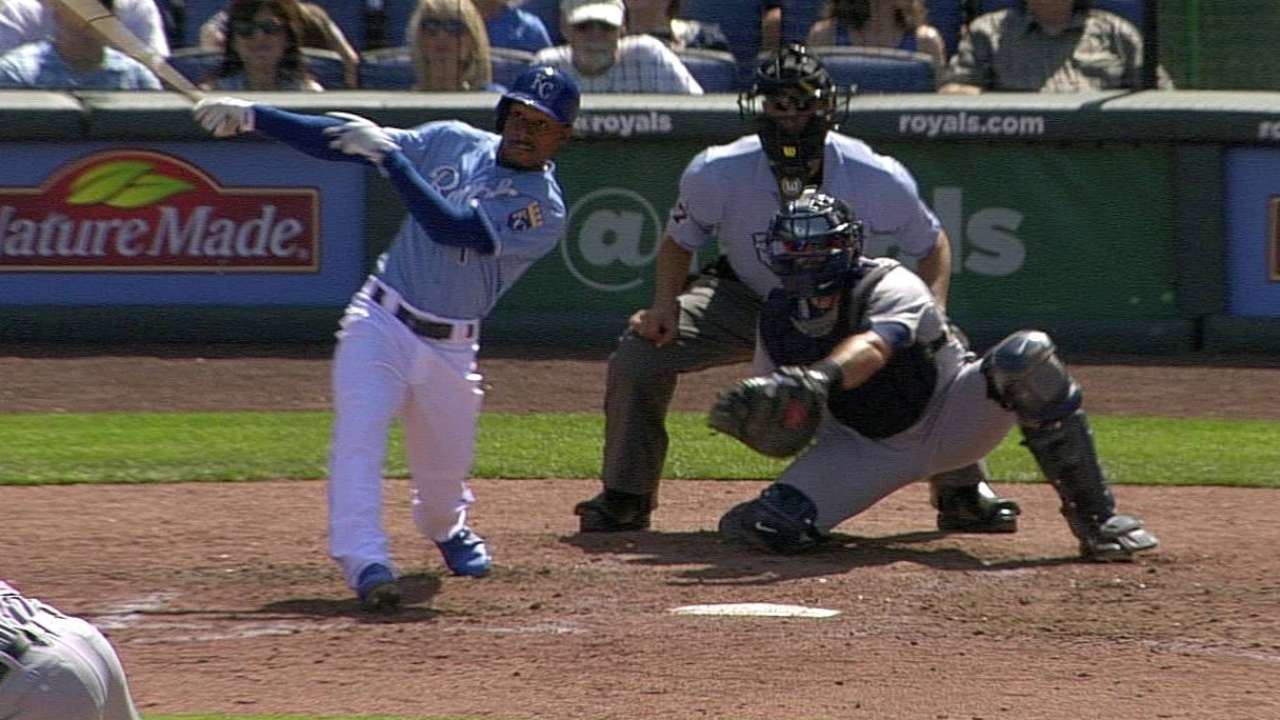 KANSAS CITY -- This is not what the Royals had in mind when the Detroit Tigers dropped into Cowtown.
When the series began, Kansas City was just two games behind the first-place Tigers, close enough to take the lead with a sweep. Instead the Royals were wiped out in three straight and are now five games behind, sliding to fourth place in the American League Central standings.
Justin Verlander and the Tigers completed the sweep, 9-4, on an 83-degree Sunday afternoon with 22,504 fans enjoying the sunshine if not necessarily the result. This also gave the Tigers a 5-0 record against KC this season.
"Detroit came in here red-hot," Royals manager Ned Yost said. "The last three games, as a group, there wasn't one hole in their lineup you could count on getting an out from. They were all swinging the bats extremely well."
Over the three games, the Tigers had a 26-8 advantage in runs and in each game everyone in their starting lineup had a least one hit. They outhit the Royals, 42-16.
Yost was asked if he could draw any positives from the series.
"No, nothing positive about it," he said. "We didn't play well, they played great."
On Sunday, Verlander had the Royals no-hit through two outs in the sixth inning.
"He was tough, good fastball, good everything. He's tough to hit," said the Royals' Omar Infante, a Verlander teammate last year. "Great location, inside, outside, changeup -- oh, nasty, man."
Verlander began the sixth by issuing his fourth walk -- and third to Nori Aoki. He sent Infante sprawling from a high inside pitch.
"He felt bad about it," Infante said. "He had a no-hitter going. He was trying to throw a nasty fastball inside, he didn't try to throw it right there. He was trying to throw the ball to a good location."
Infante struck out and Eric Hosmer flied out, turning the batter's box over to Billy Butler. Sure, Butler was aware of the no-hitter,
"Everybody's aware of it," he said. "You're never not aware of a no-hitter."
Butler is an old Verlander tormentor. While Verlander has fashioned a 17-5 record over the Royals, Butler has managed to rock the right-hander for 32 hits in 74 at-bats -- a .432 average. In this game, Butler had flied out deep and struck out before drilling a 96-mph fastball into right field for a single. Verlander would not get his third no-hitter.
"Fastball away, just kind of ran back a little bit over the plate," Tigers catcher Alex Avila said. "Billy's a good hitter. Holding him to one hit, knowing the success he's had off of Justin, fine with that."
Nor would Verlander get his seventh shutout. The Royals struck for three runs in the seventh inning when Salvador Perez doubled, Alcides Escobar singled, Jarrod Dyson drove a two-run triple and Aoki floated a sacrifice fly. That was Verlander's last inning.
Dyson broke out of an 0-for-11 skid with his triple that dropped just shy of the right-field fence.,
"I didn't get all of it," he said. "If I got all of it, man, I'd have been jogging around the bases. There was still a little bit more left in there to get. I just didn't get it."
Royals left-hander Jason Vargas, so stingy in his first five starts, has experienced a downturn in his fortunes. Last Tuesday, he gave up five runs to Toronto, but the Royals rallied to win.
This time the Tigers roughed him up for seven runs in five innings, Vargas' shortest outing of the year. Two of their 11 hits were home runs, a solo shot by Nick Castellanos and a two-run, 418-foot bomb by Avila.
"It was right down the middle so it was not where you usually want to throw when you've got a guy with two strikes," Vargas said of the pitch to Avila.
"It was hard labor out there for Vargy today," Yost said.
Tim Collins, the lefty reliever just back from rehabbing with Triple-A Omaha, took over for the sixth and pitched two scoreless innings. After Michael Mariot gave up two runs in the eighth, closer Greg Holland pitched a scoreless ninth. Holland wanted some work after being idle for three days.
This three-game trouncing was in contrast to the Tigers-Royals season series last year. That was marked by close games -- all but two of the 19 games were decided by three runs or fewer. It was a series of tight battles and the Royals won the war, 10 games to nine.
"It's going to be a war this year. It's not over," Dyson said. "They're just winning the first beginning of it, that's all. It's all about who'll get the last laugh."
As the Royals packed up for their flight to San Diego, they mulled over their fourth straight loss and getting swept by the team they need to beat in the AL Central.
"Anytime you get swept, no matter who it is, it's disheartening. You don't like to do it," Yost said. "But, we were unfortunate enough to catch them real, real hot. Hopefully next time around, they're going to catch us hot and we'll see what happens."
"We caught a team on fire," Butler said. "Everything they hit found holes, they hit a lot of balls hard. We'll catch 'em later in the year."
Butler was asked if the Royals, going into the Detroit series, had thought much about their opportunity to take over first place.
"I don't think it matters who's in first place on May 4th," Butler said. "I'll leave it at that."
Dick Kaegel is a reporter for MLB.com. This story was not subject to the approval of Major League Baseball or its clubs.