Culberson's walk-off HR caps heavy-hitting affair
Arenado streaks to 23 games with slam; Tulo reaches 1,000 hits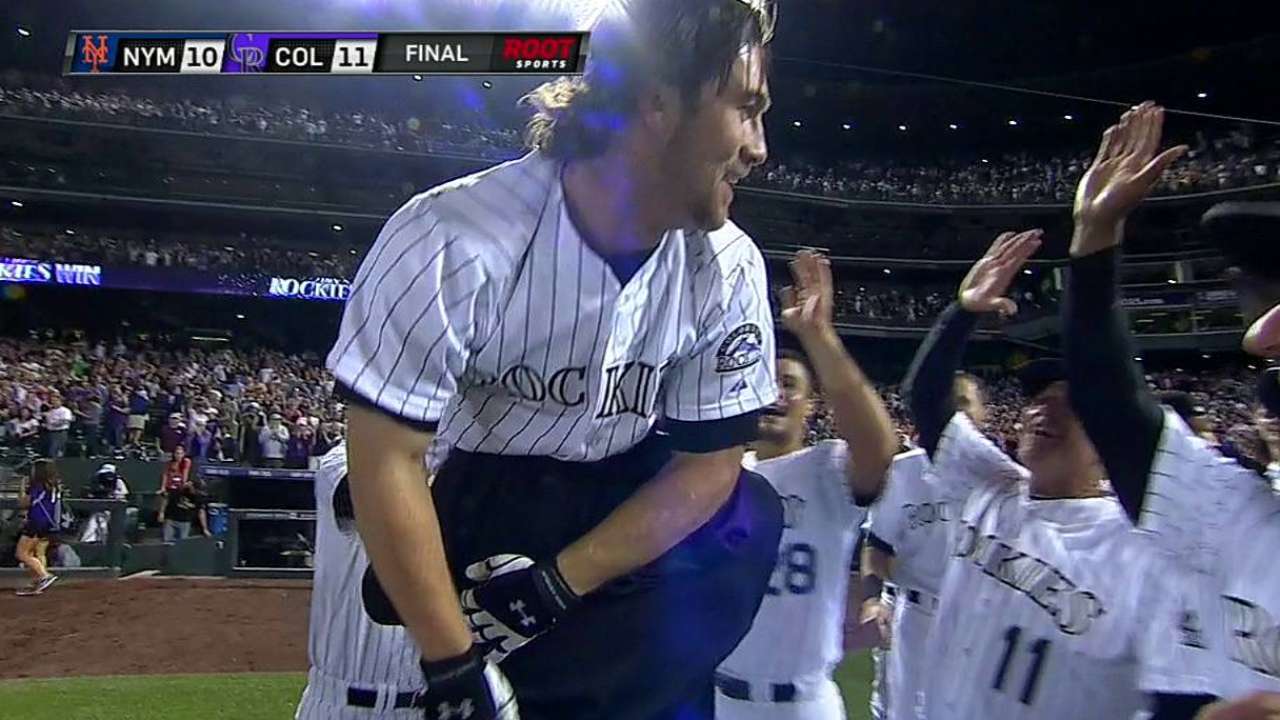 DENVER -- Charlie Culberson had never ended a game with a home run in the Minors or in his brief Major League career, but he dreamed and planned, nonetheless.
But he couldn't premeditate the fist pumps rounding the bases and the roundhouse hurl of his batting helmet before the mob scene at home plate that occurred Saturday night. Culberson homered to straightaway center for two runs to give the Rockies a wild 11-10 victory over the Mets at Coors Field in front of 38,688.
"I always thought about that, 'What am I going to do if I hit a walk-off?'" Culberson said. "'What am I going to do with my helmet?' I just chunked it.
"Somebody else said it was a good toss."
It would be hard to top the Rockies' 13th triumph in 18 games -- a result that left the Rockies in position to earn a four-game series sweep on Sunday afternoon.
It was a night for stars. Nolan Arenado ran his hit streak to 23 games -- tied for second-longest in club history -- with a grand slam during an eight-run fifth that erased a 6-0 deficit. The second of Troy Tulowitzki's three hits was the 1,000th of his career, which made him the 78th active player to have that many.
"The No. 1 thing about my 1,000th hit is I'll remember this game and how we won it," Tulowitzki said.
An unlikely player made it so.
Culberson entered as a pinch-hitter, with a .111 batting average and no homers in sparse playing time. But, believing his chance would come against Mets closer Kyle Farnsworth (0-2), he studied video. Culberson culled more information from watching Tulowitzki single to open the ninth and Arenado fly out to center.
Culberson fouled off a couple of pitches as the count ran to 1-2, then he didn't miss.
"I don't hit many home runs, but for some reason I just knew it was going to go out," Culberson said.
It's just a little more than a month into a long season, but signs of something special are popping. On Tuesday, for example, a struggling Drew Stubbs homered in the ninth for a 5-4 victory at Arizona. This time, it was Culberson's turn to make his first homer of the season count.
"That was awesome for Culbie," Rockies manager Walt Weiss said. "He's one of the guys on the bench that's been working his tail off, staying ready."
The teams combined for 30 hits, including a season-high 17 for the Mets. Daniel Murphy led the way with four hits, including two doubles and a triple. David Wright was 3-for-5 with a double. Juan Lagares gave the Mets a 10-9 lead with an RBI single off LaTroy Hawkins (1-0) in the ninth.
"Guys fought back, time and again, swung the bats very, very well," Mets manager Terry Collins said. "This is a park that's known for getting your last at-bat. The last team that gets up can be the most dangerous."
The Rockies didn't wait until the end of the game to believe they would do something special. Being at Coors, where the Rockies are 11-4, can foster that attitude.
"You can feel it in the dugout," Weiss said. "When we get down, there's still a lot of energy. Not just here. It's been on the road, too. When we're in a tough game, the energy, the mentality is still real good, real confident. It's just compounded when we're here."
Left-hander Franklin Morales gave up three runs in the first and the third, and in all was victimized for six runs (five earned) and nine hits. He struck out five and lasted five innings.
"I just tried to keep competing, you know?" Morales said. "I know we've got a great team here. Six runs here is nothing. You see the game today."
Every little bit helped. Morales reduced the load on an iffy bullpen that was a man short. Chad Bettis was sent to Triple-A Colorado Springs on Saturday, and the team called up catcher Michael McKenry because regular Wilin Rosario was ill enough to not be at the park.
Mets starter Jenrry Mejia coasted until Ryan Wheeler, in his second game since being called up from Triple-A, homered into the right-field seats to open the fifth.
"I haven't been up here that long, but I know that we've been scoring runs non-stop," Wheeler said. "When he cracked a little bit, everyone could feel it."
Charlie Blackmon, Drew Stubbs and Carlos Gonzalez (back from missing Friday with a broken blood vessel in his left index finger) each added RBI singles.
Mejia hit Tulowitzki with a pitch to load the bases, and Arenado swatted Mejia's first offering into the left-field bleachers for an 8-6 Rockies lead. Arenado's fifth homer this season chased Mejia, who yielded eight runs and nine hits in 4 1/3 innings.
Arenado tied Dante Bichette's 23-game streak from 1995 for the second-longest in club history. Michael Cuddyer's 27-game run last year is the club record.
The Mets tied it in the sixth when Murphy and Chris Young each doubled off Chris Martin, and Curtis Granderson singled off Rex Brothers to drive in Young.
Tulowitzki's single off Daisuke Matsuzaka with one down in the seventh gave him 1,000, and it led to Jordan Pacheco's bases-loaded sacrifice fly for a 9-8 Rockies lead.
The Mets tied it against Adam Ottavino in the eighth, on Murphy's leadoff double and Young's RBI single. They went ahead on Lagares' RBI single, which gave him a 12-game hit streak.
Then Culberson lived his dream in the ninth.
"That's definitely the best feeling I've had in baseball so far," he said. "The crowd going crazy, almost four hours into the game, seeing my teammates at home plate ... that's awesome."
Thomas Harding is a reporter for MLB.com. Follow him on Twitter @harding_at_mlb. This story was not subject to the approval of Major League Baseball or its clubs.