Slumping Braves lose fifth straight game
Teheran allows three solo shots; offense held to one run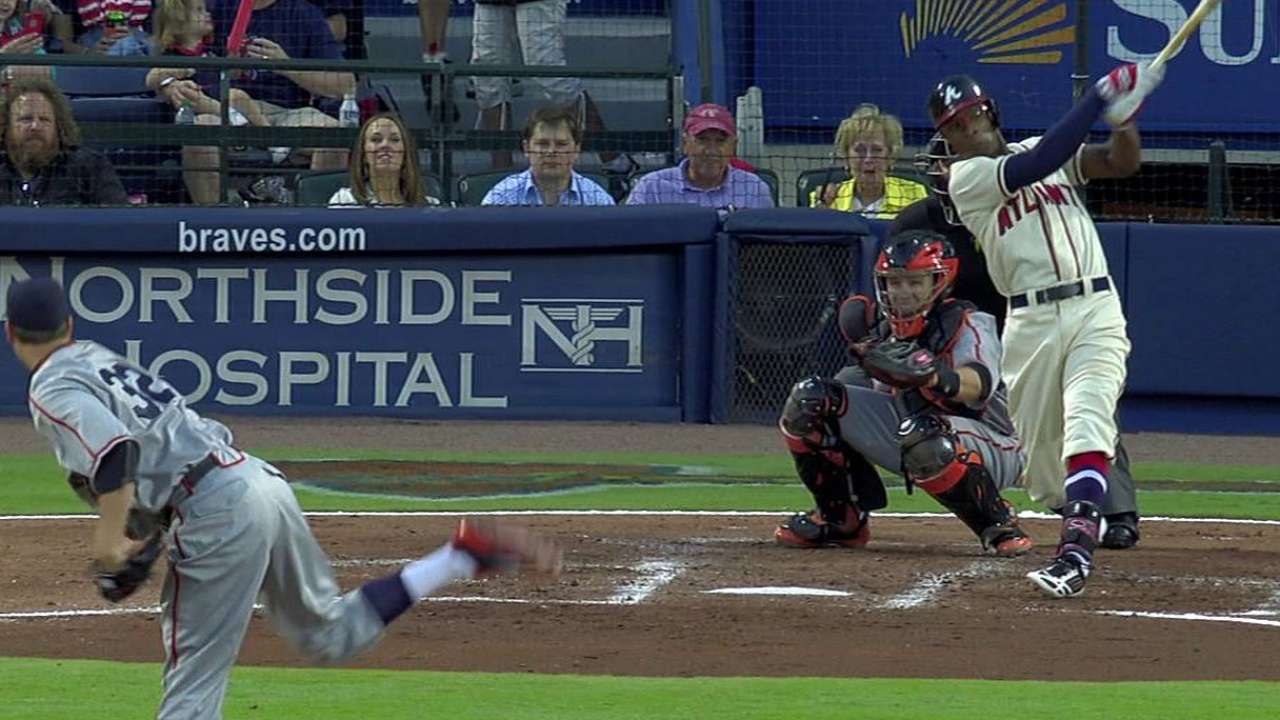 ATLANTA -- Given that they would have to face Johnny Cueto, Jose Fernandez and Nathan Eovaldi within a four-day span, the Braves knew this was going to be a challenging week. But they certainly did not anticipate it would be as frustrating as it has proved to be.
Seemingly influenced by the tension that has mounted over the past few days, the Braves extended their offensive woes as they squandered multiple opportunities to exacerbate for the career-high three home runs an otherwise efficient Julio Teheran surrendered in Saturday night's 3-1 loss to the Giants at Turner Field.
"We've given ourselves plenty of opportunities to drive in runs," Justin Upton said. "We just haven't done it. We haven't come up with a big hit. That can doom you sometimes because when you're facing good pitching, when you get those runners out there, those are the times you have to score."
Since overcoming Cueto's strong eight-inning performance in last Sunday's 1-0, 10-inning win over the Reds, the Braves have seen their National League East lead weakened by a five-game losing streak -- their longest skid since losing eight straight May 21-28, 2012. They have totaled nine runs and gone 5-for-35 with runners in scoring position over these five games.
"It's a talented group of guys," Braves manager Fredi Gonzalez said. "These are the same guys that in April they were scoring some runs, so we want to get out there and keep the line moving a little bit."
While winning 17 of the 24 games that preceded this skid, the Braves relied heavily on a starting rotation that allowed two earned runs or fewer in 22 of those contests. The rotation was dented as Alex Wood and Aaron Harang produced consecutive clunkers to begin this past week's series in Miami. But Atlanta's starters have not been the primary problem during this current series.
Solo home runs have accounted for each of the five runs the Giants have totaled over the past two nights. Mike Minor surrendered two in Friday night's 2-1 loss and Teheran was doomed by the three homers he surrendered to begin innings on Saturday.
"Sometimes you feel good and just a couple of mistakes that cost you a game," said Teheran, who had surrendered just three home runs through his previous six starts this season.
The solo shots hit by Brandon Belt, Buster Posey and Michael Morse accounted for three of the four hits surrendered by Teheran, who did not issue a walk while throwing 64 of his 87 pitches for strikes.
Belt opened the scoring with a homer in the second inning, and Posey gave the Giants the lead for good with his fourth-inning shot. Morse, who had hit Friday's decisive homer, provided San Francisco starter Ryan Vogelsong some insurance when he opened the seventh with his eighth homer of the season.
"They are pretty good hitters, and I made a mistake, and I've got to pay for it," Teheran said. "They were the pitches I wanted to throw and where I wanted to throw."
While there was no reason to be ashamed of being handled by Cueto, Fernandez and Eovaldi, the Braves were definitely looking to do more the past two nights against Tim Lincecum and Vogelsong, who both entered this series with a five-plus ERA.
"Those are two guys who are capable of coming out and having a good outing any time," Justin Upton said. "They are effective pitchers. They have been in the past. You can't look at their numbers. When they have their stuff and they're locating, they can beat anybody. We've got to do a better job of what we're capable of doing."
Like Lincecum on Friday, Vogelsong limited the Braves to one run over six innings. B.J. Upton's game-tying double in the third inning accounted for the only run surrendered by Vogelsong and one of the three hits Atlanta has tallied in 17 at-bats with runners in scoring position during this series.
"That's a tough lineup," Vogelsong said after seeing his ERA drop from 5.40 to 4.60. "You definitely have to make pitches and be smart. Because if you don't, it could be a long night."
This could have certainly been a long night for Vogelsong, who escaped both the second and fifth innings unscathed after the Braves put two on with less than two outs. The veteran righty also had reason to be thankful that the third inning did not prove to be his demise.
After the Braves put two on with none out in the second inning, Chris Johnson grounded into a double play, giving Vogelsong a chance to pitch around Dan Uggla and Andrelton Simmons to get to Teheran, who grounded out with the bases loaded.
B.J. Upton's RBI double in the third inning was followed by a Freddie Freeman single that put runners at the corners with one out. Vogelsong quieted the threat by striking out Justin Upton and then ended it by getting Evan Gattis to swing at a 3-2 pitch out of the strike zone with Freeman running on the pitch. Freeman was easily thrown out second base for the third out.
"There, I'm thinking, 'Just put the ball in play,'" Gonzalez said of his decision to put Freeman in motion. "I'm not thinking we've got a double steal or anything crazy. Just put the ball in play and try to get us another run, and he swings at ball four. We had a couple of guys today swing at balls way out of the strike zone, and that's something that we need to talk about. I don't know if it's pressing."
Justin Upton's second strikeout of the night stranded two in the fifth inning. But the strikeout that provided indication that the Braves might be pressing was the one Simmons recorded when he concluded a three-pitch sixth-inning at-bat by swinging at a pitch at his eyes. Simmons had struck out in just four of his previous 101 at-bats.
"Usually when teams go in slumps or individuals go in slumps, the first thing you look at is if you're swinging at pitches out of the strike zone," Gonzalez said. "And just thinking about three or four occasions today we did that."
Mark Bowman is a reporter for MLB.com. This story was not subject to the approval of Major League Baseball or its clubs.