Masterson battles to earn elusive win
Ace fans six in 7 1/3 scoreless; Swisher helps out with unassisted DP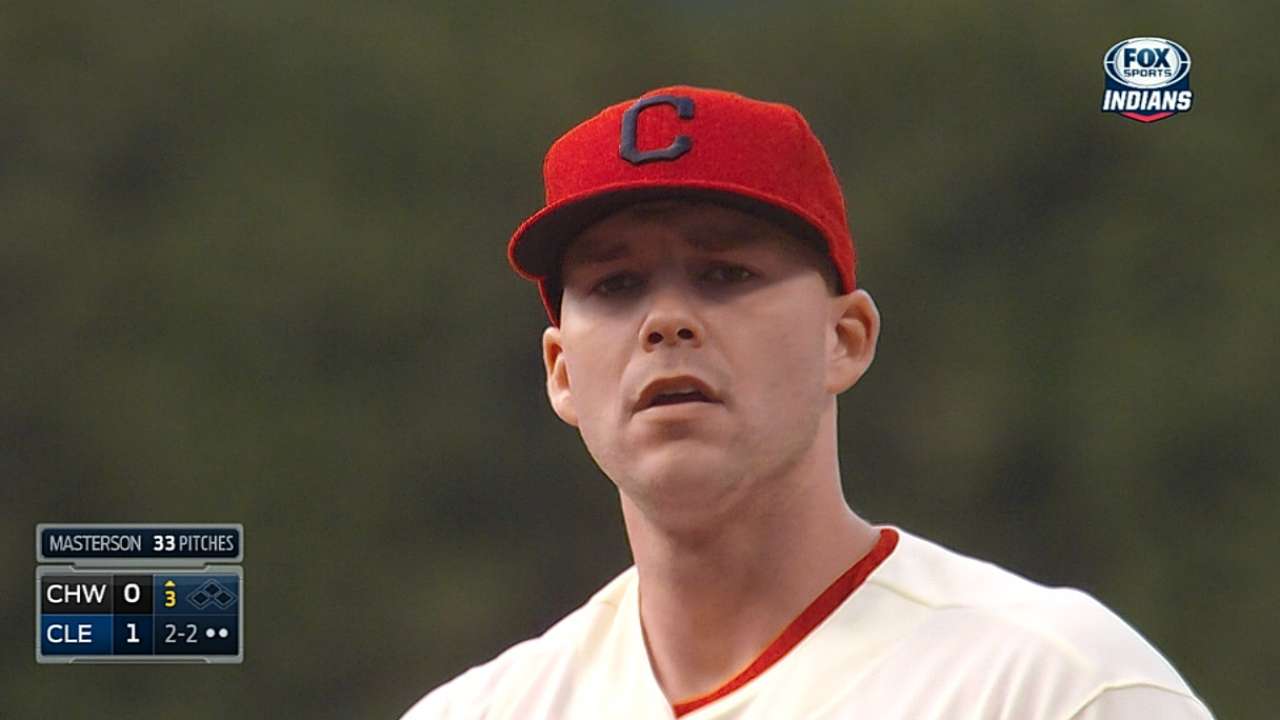 CLEVELAND -- The Indians traded big-time offense for big-time outs, making it back-to-back wins over the White Sox.
Justin Masterson kept the White Sox off the scoreboard, and his bullpen and defense backed him up as the Tribe shut out Chicago, 2-0, on Saturday.
Masterson (1-1) went 7 1/3, giving up four hits and walking only one. He struck out six, but had to work hard for many of his outs. Masterson's ability to gut out tough at-bats as his pitch count mounted made the difference.
"I thought Masty did a good job in the middle innings when he wasn't really working ahead, the second time through the order," manager Terry Francona said. "He was kind of fighting it. He never gave in, but he executed pitches."
Masterson had good movement on his pitches, getting that elusive first victory of 2014.
"I was able to control it today, effectively wild at times," Masterson said. "I was able to make some quality pitches when we needed them."
Masterson dominated Chicago's right-handed hitters. The three left-handed White Sox hitters combined for three of the four hits Masterson allowed.
"I thought he kind of did what's he's supposed to against right-handers," Francona said.
Last time the White Sox faced Masterson, they had seven lefties in the lineup, but injuries kept manager Robin Ventura from repeating the strategy.
"You can't do it right now," Ventura said. "We are missing a few of them. He's tough on righties."
But the Tribe's ace -- a winner for the first time since Aug. 21, 2013 -- couldn't have gotten there without Nick Swisher's unassisted double play in the fifth and Cody Allen's three-pitch strikeout of Major League home run leader Jose Abreu.
The Tribe took an early lead in the second when Lonnie Chisenhall came home on Marcus Semien's fielding error, and in the fifth, Semien came to the plate with a chance to give Chicago its first lead of the series.
Before the fifth inning, Masterson faced just one batter over the minimum, erasing runners in the second and third.
Dayan Viciedo reached on Chisenhall's throwing error to open the fifth, and Masterson loaded the bases by walking Jordan Danks and hitting Tyler Flowers with a pitch.
Semien came into the box with Masterson reeling, hitting a hard liner toward first base that Swisher snared before doubling up Flowers at first.
"We gave them a couple extra outs, they got bases loaded," Francona said. "And Swish makes the play of the night. It really kind of energized us."
Rarely short on enthusiasm, Swisher carried the double play's momentum forward, hitting a sacrifice fly to score Jose Ramirez and put the Tribe up by two in the bottom of the frame.
"It's more excitement than anything, especially when you've got your horse going strong," Swisher said of turning two. "You want to keep him in that rhythm.
"Just in general, to be able to make that play, it's the first time I've really gotten off my feet this year. Tito's given [me] more space to work over there this year -- hyper guy like me, that's good."
Upstaging Swisher wasn't in Allen's mind in the eighth inning, but the way he shut down Abreu came close.
After Masterson allowed a leadoff single in the eighth, Gordon Beckham doubled off Allen to put runners in scoring position with Abreu and his 11 home runs coming up.
Allen threw three breaking balls to Abreu -- three swings, three misses, inning over.
"I wasn't giving him anything to hit," Allen said. "I can't throw more than one pitch at one time, so I just try to throw that pitch and get a result."
Masterson just shook his head.
"Ninety-mile-an-hour curveballs?" he said. "That's disgusting."
Allen has emerged as one of Francona's most reliable bullpen options.
"Cody came in, made some real good pitches against one of the best hitters in the game," Francona said. "He's quickly earned a lot of trust, and it's well-deserved. He just competes so well. … He can be a pretty good weapon."
Closer John Axford pitched a 1-2-3 ninth inning for his ninth save.
Scott Carroll (1-1) took a hard-luck loss, saddled with two unearned runs. Cleveland scored on both White Sox errors, but Chicago didn't make the Tribe pay for either of their miscues.
Cleveland, which has beaten the White Sox eight straight times at Progressive Field, will go for the series sweep on Sunday.
Stephen Ellsesser is a contributor to MLB.com. This story was not subject to the approval of Major League Baseball or its clubs.