Anibal throwing with cover over cut finger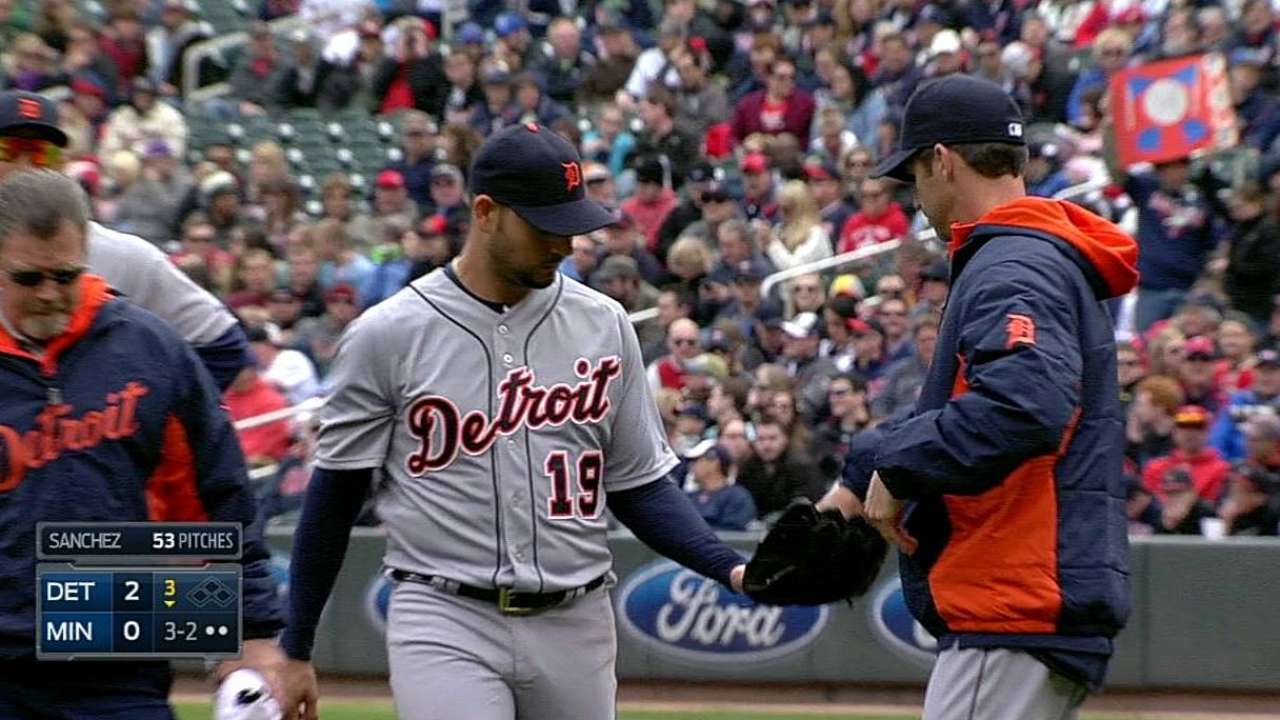 KANSAS CITY -- Anibal Sanchez continues to keep his arm fresh while he sits on the 15-day disabled list with lacerated right middle finger, playing catch and stretching out his arm. His return, however, is going to hinge on how quickly his body can rebuild the skin where a blister tore open during his start a week ago.
"I think it looks a lot better really," manager Brad Ausmus said. "It's just a matter of the skin growing back over the top."
Until that happens, Sanchez is throwing with a covering where the blister used to be. That enables him to play catch and throw, but not with any intensity.
Sanchez has about a week left before he's eligible to be activated from the DL, but it wouldn't be a surprise if the Tigers kept him on the DL for longer than that. The way the rotation works out, they'll need to replace him for at least two starts May 6 and 11, the latter coming the day before Sanchez can be activated.
With an off-day coming up during the following turn through the rotation, the Tigers could conceivably skip his spot if need be. If they don't, Sanchez's spot still wouldn't come up until May 17 at Boston.
The Tigers have announced Robbie Ray will start in Sanchez's place on Tuesday, but haven't committed to him yet for the other start. If he pitches well in that game, of course, Ausmus said they'd probably go back to Ray for the next turn five days later.
Sanchez, meanwhile, will keep healing.
"He'll have to rebuild the callus slowly," Ausmus said, "but I don't know that he'll necessarily have to have it to pitch."
Jason Beck is a reporter for MLB.com. Read Beck's Blog and follow him on Twitter @beckjason. This story was not subject to the approval of Major League Baseball or its clubs.