Royals' offense sputters in Duffy's first start
Southpaw logs four solid innings as Tigers secure series victory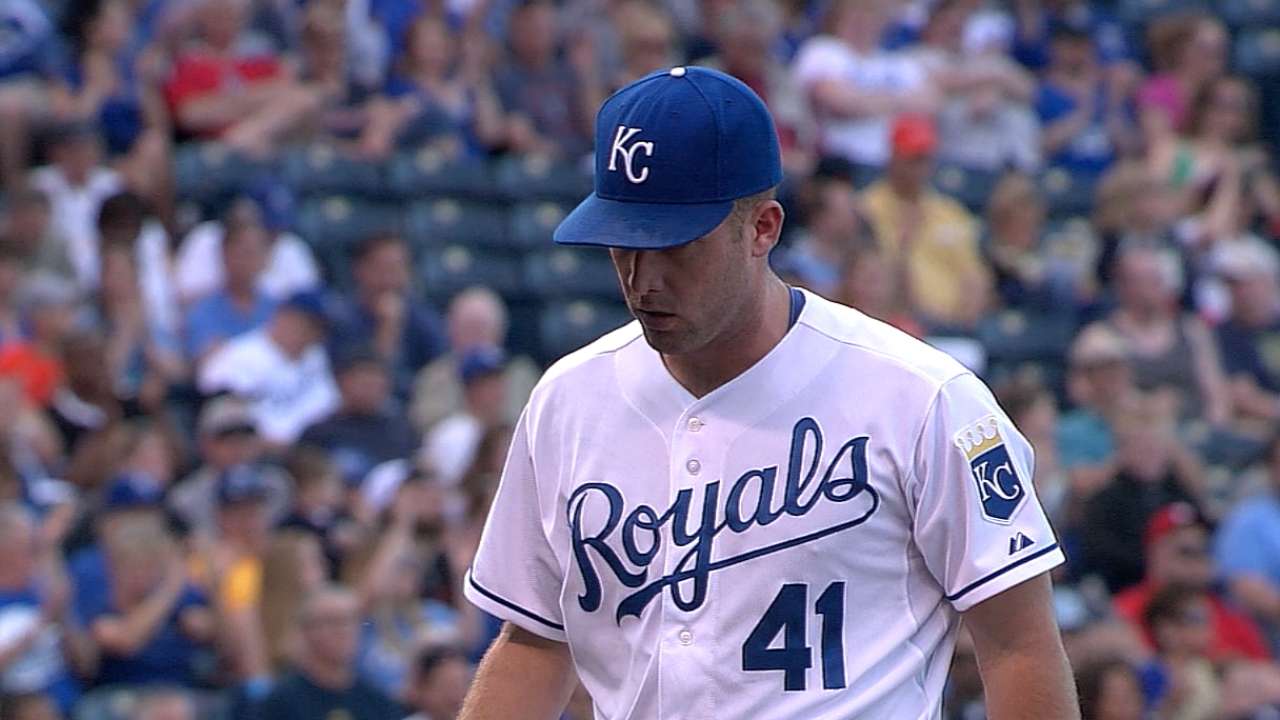 KANSAS CITY -- Not much going on with the Royals' bats since the Detroit Tigers came to town.
Left-hander Drew Smyly shut out the Royals for seven innings on two hits and the Tigers went on to post a 9-2 victory on Saturday night at Kauffman Stadium.
That came on the heels of Friday night's 8-2 loss when the Royals mustered just four hits. The downturn came just after a run-scoring bounce just a few days ago.
"But these things turn around quick," Royals manager Ned Yost said. "You look at Detroit's club and they're swinging the bats really good, all of them. They're hot right now."
The Royals have followed a hopeful phase of four wins in five games with three straight losses, two of them to the team they'll have to catch in the American League Central, the Tigers.
"They've got good pitching, which attributes to some of it," Yost said. "But we think we're a better offensive club than we've shown so far."
A hometown crowd of 29,200 saw an encouraging return to starting pitching by left-hander Danny Duffy. He got himself in and out of trouble, giving up just one run in his four innings.
"He danced into trouble and danced out of it for the most part," Yost said. "He left the ballgame down 1-0. I thought he did a nice job of keeping us in check there."
The only run off Duffy came in the fourth inning after he'd loaded the bases on three walks with one out. Nick Castellanos hit a line drive that Alex Gordon rushed in and grabbed. Unexpectedly, Miguel Cabrera took off from the third base after the catch and scored.
It might have seemed that Gordon, the outfield arm par excellence, could have bagged Cabrera at the plate. But Gordon was thinking double play at second base, not home.
"My first instinct was I saw Victor [Martinez] off the bag at second and I was going to try to double him up and get out of the inning right there," Gordon said. "I wanted to come up throwing and at first I didn't see anybody on second base so that's why I didn't throw. ... After that, it was just too late to get Cabrera. I made a running throw, but it was off-balance. Just a good play by them."
Gordon's throw was far too late and well off the plate, and the Tigers had a 1-0 lead. When Duffy ended that inning, he'd thrown 75 pitches and that was enough for his first start.
"I made a couple big pitches, got a couple big punchouts. It could've been a lot uglier than it was," Duffy said. "But we'll build on this outing personally. I've just got to be better. I'm not happy because I came up with the loss, but I felt like I kept the team in the game for the most part."
Smyly zipped right through the Royals and he thought that a diving catch by right fielder Torii Hunter on Alcides Escobar's line drive was a defining moment.
"Torii's catch was a game changer. That set the tone, I think. That was outstanding," Smyly said.
Gordon, who had walked, was heading home from second base when Hunter stabbed Escobar's bid for extra bases.
"I was playing him a little oppo. Escobar likes to hit the ball to right field a lot," Hunter said. "He just happened to get it in the gap and I just got on my horse. He put a charge in it for a little guy and I did what I had to do. Wasn't trying to dive, just kind of rolled around."
After that the Royals managed only Eric Hosmer's double and Danny Valencia's single, and nary a run against Smyly. Reliever Joba Chamberlain added a 1-2-3 eighth.
"They had good pitching and good defense today," Gordon said. "They made a lot of good plays so give them credit. Smyly did a good job and when we did put a good swing on him, it seemed like they made a pretty good play."
After Duffy left, the Royals ran a parade of four relievers through the game. The Tigers added two runs off Louis Coleman and Kelvin Herrera in the sixth. Aaron Crow worked a perfect seventh, thanks to Hosmer's dazzing dive for Cabrera's shoetop shot at first base.
Right-hander Aaron Brooks made his Major League debut with a scoreless eighth inning, but the Tigers expanded a 3-0 lead to 9-0 against him with a six-run ninth. Hunter finished up the damage with a three-run homer.
"It was just a lot to take in," Brooks said. "I just went out there and tried to attack some guys, and give us a chance to win the game. Unfortunately, in the second inning what happened, happened. It's a good-hitting club. So you can't take anything away from those guys."
With that bulging lead, the Tigers had no need for closer Joe Nathan so he sat down and out of the bullpen came left-hander Phil Coke. Finally the Royals mustered two runs on Nori Aoki's single, Hosmer's second double, Billy Butler's sacrifice fly and Gordon's double.
But the majority of the evening was spent sputtering at the plate, again.
"We've gone through this before. It's been like this for the last couple of years where you think you're never going to score a run again -- then, bam, you go on a tear for two weeks," Yost said. "Then, you think you're in and all of a sudden we slow down again. It's the way the baseball season goes."
Dick Kaegel is a reporter for MLB.com. This story was not subject to the approval of Major League Baseball or its clubs.