Phillies looking for answers in shaky bullpen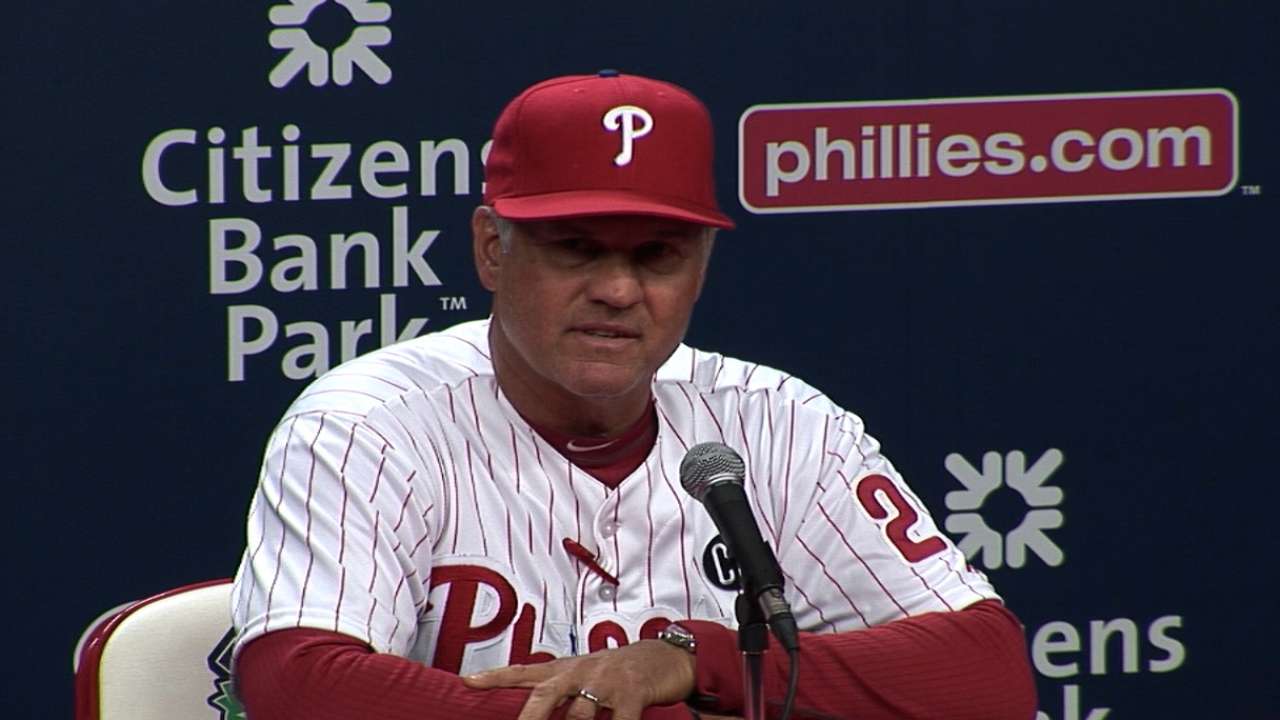 PHILADELPHIA -- Mike Adams wondered Friday if the Phillies' bullpen could be cursed a little bit.
At least it would help explain things.
The Phillies entered Saturday tied for second in baseball with six blown saves. Their 57.1 save percentage and their 34.5 inherited runners scored percentage each ranked 21st and their 5.07 bullpen ERA ranked 28th.
The Phillies had lost a lead or a tie in the seventh inning or later 10 times in 27 games, including a one-run lead in the eighth inning in Friday's 5-3 loss to the Nationals at Citizens Bank Park. They lost six of those 10 games.
If the Phillies could have won just two of those six, they would have entered Saturday's game at 15-12 instead of 13-14.
"It's about guys stepping up in the bullpen," Phillies manager Ryne Sandberg said, "and doing the job and creating the jobs themselves."
Sandberg chose Adams instead of left-handers Antonio Bastardo or Jake Diekman to start the eighth inning Friday against Denard Span, who hits left-handed. Span broke his bat on a 0-2 pitch, but it fell for a double. Span stole third and scored on a single. Adams allowed hits to the only three batters he faced before Diekman replaced him.
Diekman allowed two consecutive hits and both inherited runners to score.
Asked how he plans to handle the eighth inning in the future (the Phillies' 6.33 ERA in the eighth inning ranked 27th), Sandberg said, "Matchups, I think are key. We've got two guys capable of that with the way Adams has been throwing against right-handed hitters. I felt he was a good matchup last night. If there are a couple lefties and a righty it could be Bastardo."
Diekman struck out the side after allowing singles to Adam LaRoche and Ian Desmond. In many ways, it captured his season. He is 2-1 with a 6.75 ERA in 14 appearances. He has allowed 13 hits, 10 runs, six walks and three home runs in 13 1/3 innings, but he has also struck out 23.
He has looked dominant at times, but then at other times he's surrendered the big hit.
His first pitch to Danny Espinosa, the third batter he faced Friday, came high and inside, knocking Espinosa on his back. Diekman said he just wanted the pitch inside, but he also elevated it. Regardless, he was angry after allowing both inherited runners to score and attacked hitters the rest of the inning.
"You'd like to see that fire right from the get-go, right when he gets out there," Sandberg said.
Said Diekman: "It's execution. It's more about executing. It's a new month. Today is a new day. That's the way you have to think about it in the bullpen. You can be mad until you go home. Then after that, I feel you have to say it's over because you could be back in there the next day."
Todd Zolecki is a reporter for MLB.com. Austin Laymance is a reporter for MLB.com. Follow him on Twitter at @jalaymance. This story was not subject to the approval of Major League Baseball or its clubs.