Dodgers outlast Fish on Crawford's extra-inning blast
Late-game replacement's go-ahead homer wins it after 'pen blows lead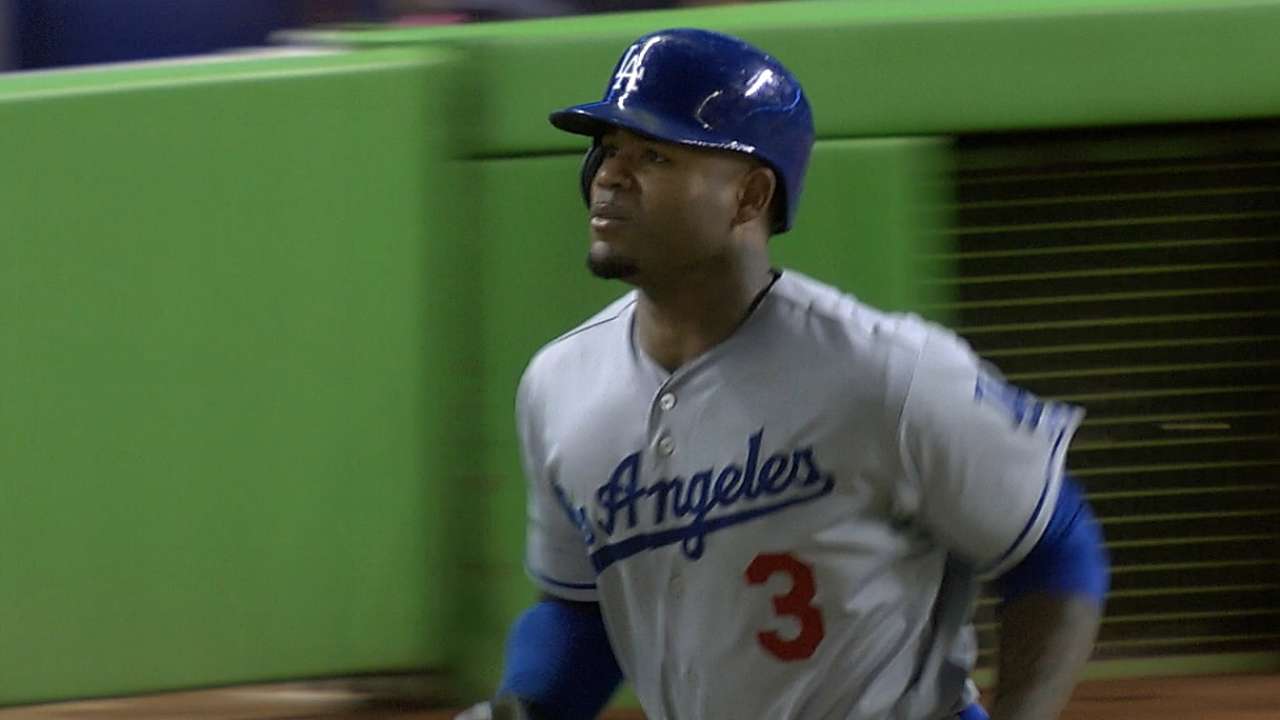 MIAMI -- The slumping, benched Carl Crawford had an interesting way of describing the feeling after blasting the game-winning home run Saturday night.
"Like busting that big pimple or something," said Crawford, who was in a 4-for-45 slide before the homer in the 11th inning. "You know things are getting bad and you need to do something before they get worse. You hope you just get a base hit or something."
Or something, like turning around former teammate Carlos Marmol's fastball for a two-run shot into the second deck, giving the Dodgers a 9-7 win in a game where the offense awoke, but the weary bullpen wobbled, blowing a five-run lead.
"I made one mistake -- pitch right down the middle and it was supposed to go away -- and he hit it far," Marmol said.
Brandon League was the star reliever, pitching two scoreless innings to get the win. Dee Gordon had five hits, three steals, scored twice and drove in two runs, Yasiel Puig slugged a three-run homer and Matt Kemp had three hits.
Manager Don Mattingly all but conceded that Gordon, a longshot coming into Spring Training, has become his everyday second baseman and leadoff hitter, now that he's batting .357, along with leading the Major Leagues with 19 steals. His on-base percentage is .387.
"You can't ask a whole lot more of him," Mattingly said of Gordon. "The game is funny. Three days ago looks like he's hitless in the doubleheader and [bench coach Tim Wallach] and I think he needs a day [off]. The last at-bat he gets a hit, throws up three last night, and all of a sudden he's back."
Puig got hot over the last two weeks, and has again secured the everyday right field job, batting .311. The outfield uncertainty is whittled down to Kemp, Andre Ethier, Crawford and Scott Van Slyke rotating in center and left fields.
"You're seeing our order is starting to take shape," said Mattingly, who defended Crawford before benching him, then said he hoped the home run was a "springboard" to return to form.
The bullpen needs a springboard, too. Reliever Brian Wilson, who got big outs in Minnesota, allowed a three-run homer to Marcell Ozuna that got the Marlins back into the game. Closer Kenley Jansen was unavailable due to repeated use, and when he called the dugout to volunteer, was told to sit down.
Instead, former Indians closer Chris Perez was asked to protect a one-run lead in the ninth inning, and didn't, issuing a bases-loaded walk in the bottom of the ninth that sent the game into extra innings.
"Kenley called and said he was ready, but we have to make the decision for him," Mattingly said.
J.P. Howell got the final out of Wilson's inning, Chris Withrow did a high-wire act to escape the eighth by striking out Giancarlo Stanton with the bases loaded, then Perez issued a bases-loaded walk in the ninth.
That brought on League, who eluded a 10th-inning jam with a double-play grounder from Casey McGehee, and pitched a perfect 11th for the win.
"I just feel good," said League, who has a 2.20 ERA this year after struggling to a 5.31 ERA last year. "I'm executing pitches and ground balls are finding gloves, not grass."
After a taxing series sweep in Minnesota and a lethargic loss on Friday night, the Dodgers at least ate well on Saturday, when Puig's mother provided Cuban cuisine for the clubhouse. The offense responded with runs in four different innings.
Paul Maholm did his job, allowing three runs over six innings and leaving with a 7-3 lead. He was touched up for solo home runs by Jeff Baker and Jeff Mathis.
Kemp got the Dodgers on the board in the second inning off Miami starter Jacob Turner, returning from a stint on the disabled list with a sore shoulder. Kemp doubled with one out, took third on Ethier's groundout and was singled home by Juan Uribe, fresh from a rare day off on Friday.
Baker tied the game for Miami with a one-out solo homer in the bottom of the second on a 3-2 pitch. The Dodgers regained the lead the next inning with another two-out RBI hit -- this one from Hanley Ramirez -- that scored Gordon, who singled and took second on Puig's groundout. But Miami replied again in the bottom of the inning on a one-out single by Adeiny Hechavarria and two-out double by McGehee.
Gordon made a heads-up defensive play to keep the inning from getting worse. Ozuna bounced a ball to the shortstop side of second base. Gordon made a diving stop, threw to third base behind McGehee and caught him trying to dive back into the bag for the third out.
The Dodgers rallied right back, this time with Gordon delivering the clutch two-out RBI single, a flare to left after one-out singles by Uribe and Miguel Olivo. Puig then clobbered a 1-0 pitch with a prodigious bat-flip three-run blast that just missed landing in the Budweiser bar by the 427-foot sign.
Ken Gurnick is a reporter for MLB.com. This story was not subject to the approval of Major League Baseball or its clubs.