Cueto stays hot, whiffs 10 as Reds storm past Crew
Ace surrenders two runs over eight frames; offense tallies 11 hits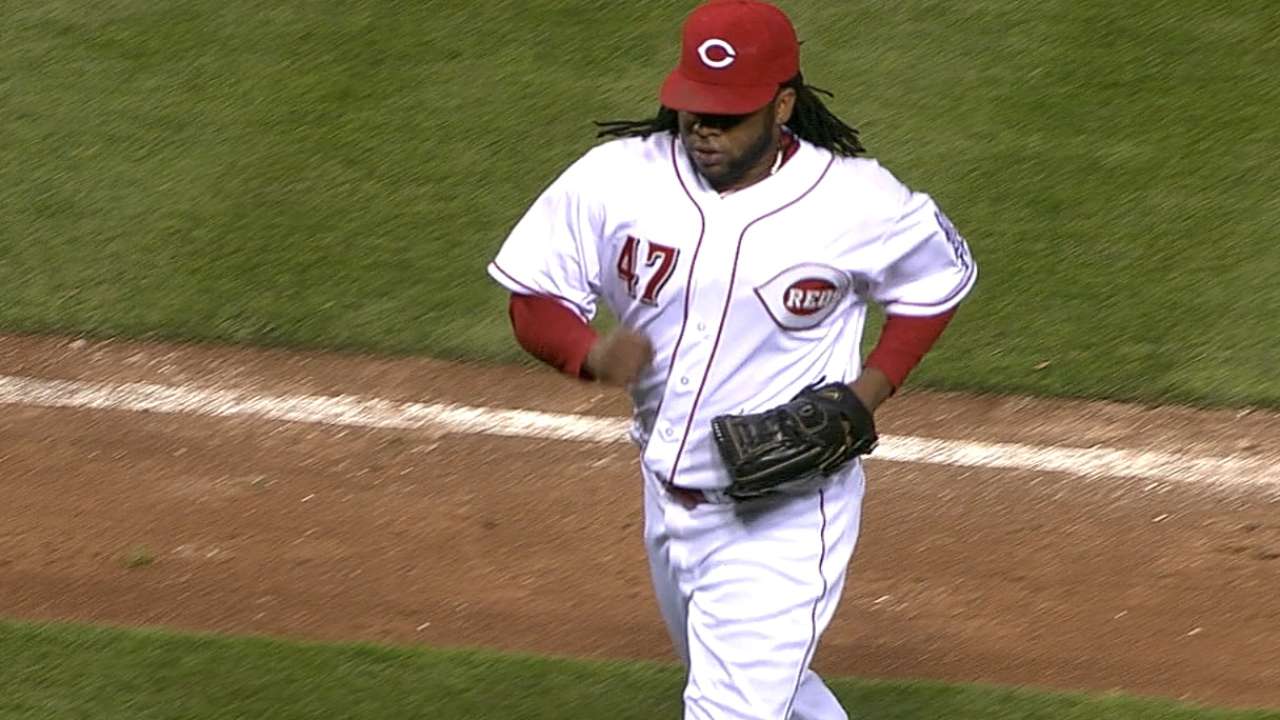 CINCINNATI -- Johnny Cueto finally got what he deserved.
The Cincinnati right-hander came into Saturday's game against Milwaukee with the best ERA (1.15) in the big leagues, but only a pedestrian 2-2 record to show for it. The Reds demonstrated their determination to change Cueto's fortunes by scoring three runs during a four-pitch span of the fourth inning and went on to a 6-2 victory over the Brewers at Great American Ball Park.
"Anybody seeing [Cueto] for the first time certainly wasn't disappointed," Reds manager Bryan Price said.
Cueto allowed just three hits -- including solo home runs by Aramis Ramirez and Mark Reynolds -- over eight innings and assisted his cause with a sixth-inning RBI single.
He has worked 55 innings in seven starts and eight or more innings in each of his last four appearances.
"I feel really strong," Cueto said. "I'm really healthy. I've been working for this. I asked God to keep me healthy."
The Reds have won two of the first three games in the four-game series that concludes Sunday. Milwaukee came into the series with the best record in baseball (20-8).
"With these guys [the Brewers], it's going to be a heavyweight fight," Reds catcher Brayan Pena said. "They have the best record in baseball, but we've never backed down."
Cueto threw 73 of 114 pitches for strikes, striking out 10 and walking one. No Milwaukee batter reached safely through the first seven innings except via a home run.
"He's always good," Milwaukee manager Ron Roenicke said of Cueto. "He's always really good. ... His changeup's fantastic. His fastball's great. He throws a cutter, he commands the ball great. He didn't throw as many curveballs as he usually does, but his fastball was great. We knew we were going to have a tough time when we faced him."
Cueto had thrown only 89 pitches through the first seven innings, but needed 25, and a challenged umpire's ruling that went Cincinnati's way, to get through the eighth. Sam LeCure followed with a perfect ninth.
"I know I'm going to sound like a broken record," Pena said, "but [Cueto] was unbelievable tonight. Getting ahead in the count helped him a lot.
"The best part, for me, was that he didn't back down after the solo shots. He continued to attack the strike zone. He wasn't afraid of contact."
Only one of Cincinnati's first 11 batters reached against Milwaukee starter Yovani Gallardo (2-1), but the Reds struck swiftly and decisively in the fourth inning. Brandon Phillips bounced a one-out hit to the left of Milwaukee shortstop Jean Segura, who was shaded a bit toward third base.
The count was 1-1 to Jay Bruce when a sequence of four pitches followed that changed the game. Bruce singled to right, then Gallardo hit Todd Frazier in the left rib with the next pitch to load the bases. Ryan Ludwick followed by driving the first pitch he saw through the left side for a game-tying RBI single. Pena dumped Gallardo's next pitch into left field, scoring two runs without drawing a throw.
Just like that, in a span of four pitches, the Reds turned a 1-0 deficit into a 3-1 lead.
Cueto, who often suffered from a severe lack of run support during his first six starts, took offensive matters into his own hands during the sixth inning. He drove a single between two diving Milwaukee infielders and into right field, scoring Pena from second to widen the Reds' lead to 4-2.
Cincinnati tacked on two runs in the seventh when Frazier belted a run-scoring double and later scored on consecutive wild pitches by Milwaukee reliever Tyler Thornburg.
Phillips and Ludwick, both given the day off Friday by Price, went a combined 5-for-7. After the game, Cincinnati manager was complimented on the foresight of those decisions.
"Good managing," Price deadpanned, "is having great pitchers."
Andy Call is a contributor to MLB.com. This story was not subject to the approval of Major League Baseball or its clubs.