Roark struggles against powerful Phillies bats
Right-hander gives up seven earned runs in just four-plus innings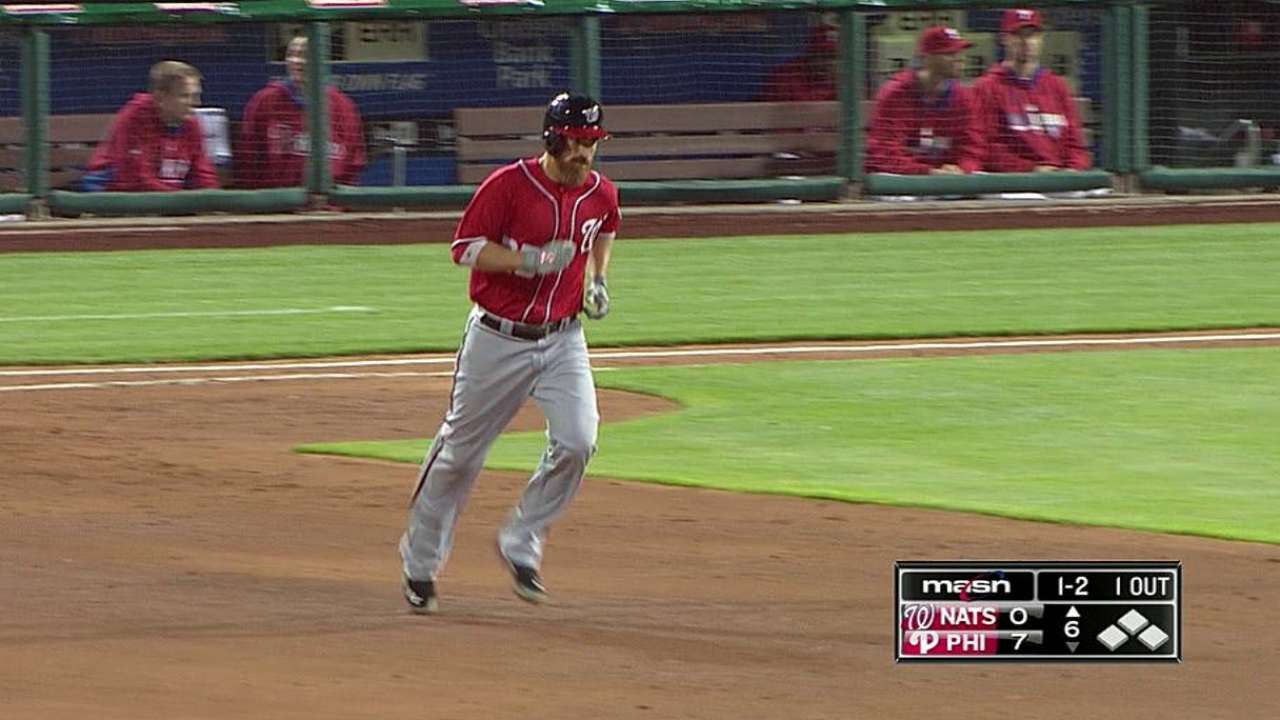 PHILADELPHIA -- Right-hander A.J. Burnett was dominating on the mound and helped the Phillies pound the Nationals, 7-2, at Citizens Bank Park on Saturday night.
The game started like it always does for Washington of late. It was behind the eight ball in the first inning. Right-hander Tanner Roark, who was untouchable in his last two starts, was hit hard.
The biggest blow came from Ryan Howard, who swung at an 0-1 pitch and hit a three-run homer over the left-field wall to give the Phillies a 3-0 lead. It meant Roark's scoreless innings streak was snapped at 18. It also marked the eighth time the Nationals have allowed three or more runs in the first inning.
No one on the Nationals could come up with a reason why the team gets off to slow starts in the first inning.
"We've gone over the whole thing -- the amount of pitches thrown in the bullpen prior to the game. All the preparations are the same. It's the way it's been sometimes," manager Matt Williams said. "Hopefully, that's out of our system and we can go on from here."
Burnett, who is playing with a hernia, took over and was lights out. He pitched six innings, allowing one run on three hits and struck out seven batters. Burnett didn't allow a hit until the fourth inning, when Adam LaRoche doubled to right field. In fact, the Nationals scored their only run off Burnett in the sixth inning when LaRoche hit his fifth home run over the right-field fence.
However, Washington had other opportunities to score runs against Burnett. In the second inning, after LaRoche and Ian Desmond reached base on walks, Burnett struck out the side to end the threat.
Two innings later, LaRoche had a one-out double and Desmond followed with an infield single, but Danny Espinosa struck out and Nate McLouth popped up to second baseman Chase Utley.
"[Burnett] is not throwing as hard as he once did, but the ball is moving a lot," Williams said. "He has comeback sinkers to the outside corner. He uses his breaking ball, too."
Howard was pleased to play a role in helping Burnett get his second victory of the season.
"We were able to get some runs and A.J. threw great," Howard said. "We jumped out early and we came through in situations tonight. It's still kind of a game of catch-up for me because I've really been out for the last year, year-and-a-half, two years [because of injuries]. But I'm just taking it day by day and continuing to progress and take it as it comes."
Philadelphia would add to its lead against Roark. In the second, Cody Asche smoked a home run over the right-field wall, and Domonic Brown scored on a double by Carlos Ruiz in the fourth.
Roark left the game in the fifth inning with runners on first and second, but those runners ended up scoring on a single by Marlon Byrd. Roark lasted four-plus innings and allowed seven runs.
"I didn't have command of my fastball. That's my bread and butter. When you don't have command of that and the ball is up, it goes a long way. That's what happened tonight," Roark said.
Washington scored its last run of the game in the top of the seventh inning, when Zach Walters hit a pinch-hit homer off left-hander Mario Hollands.
With the loss, the Nationals dropped their record to 17-13.
Bill Ladson is a reporter for MLB.com and writes an MLBlog, All Nats All the time. He also could be found on Twitter @WashingNats. This story was not subject to the approval of Major League Baseball or its clubs.