Costly fourth inning sends Gallardo to first loss of '14
Righty allows four runs over six frames; lineup held to three hits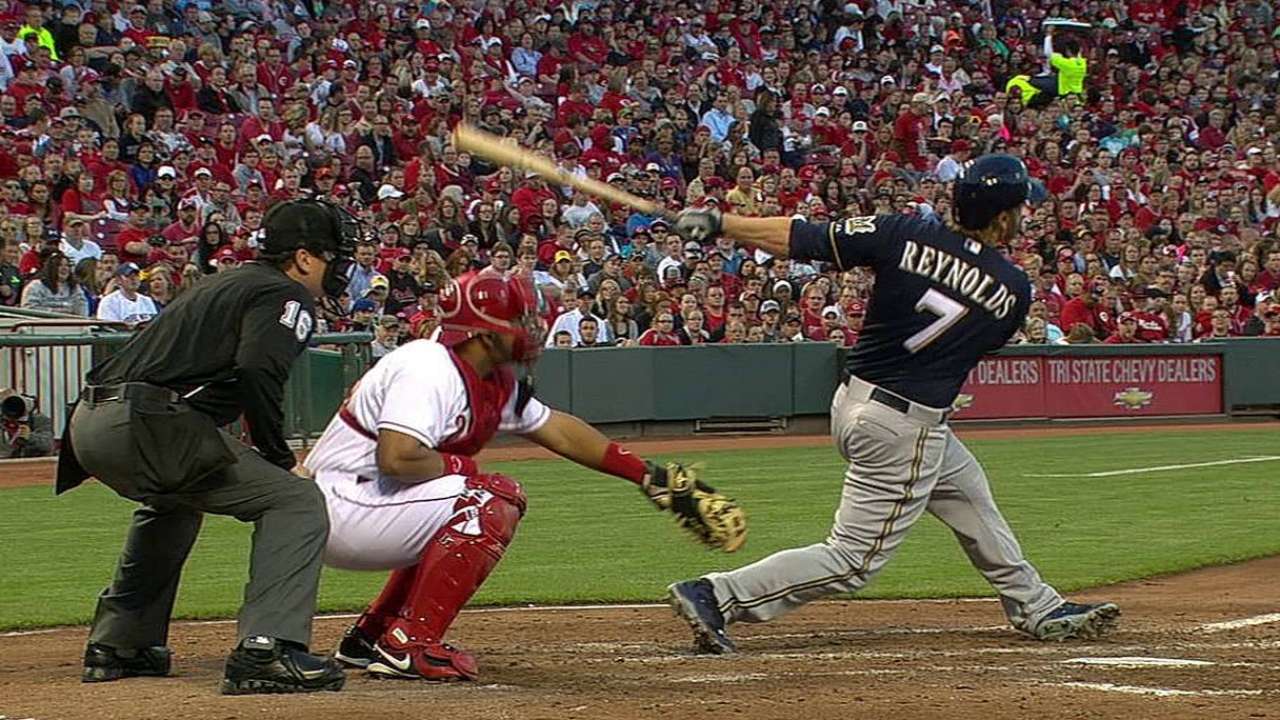 CINCINNATI -- Yovani Gallardo's season, until Saturday, consisted mostly of strong outings, few runs allowed and a lot of wins -- for his team, that is.
Gallardo hadn't actually recorded a win since the first week of the season, but his team was humming right along with him on the mound, winning four of his six starts in a first month of the season where very little went wrong.
That streak came to an end on Saturday night when the right-hander allowed four runs and was tagged with the loss as the Reds topped the Brewers, 6-2, before a packed house of 38,243 at Great American Ball Park.
But this wasn't as much about Gallardo losing as it was about Reds starter Johnny Cueto dominating. There wasn't much for Milwaukee's offense could do against the ace right-hander, who yielded three hits over eight innings, walked one and struck out 10.
The Brewers have seen this Cueto before, and they weren't surprised that he showed up tough again this time.
"At the end of the day, a loss is a loss, but some losses mentally hurt more than others," Mark Reynolds said. "Today, we just ran into a good pitcher. You can't do anything about it. You just move on and get ready for tomorrow."
It wasn't great timing for a sputtering Brewers offense that has run into a difficult stretch of late. In their first game since Ryan Braun went on the disabled list, Milwaukee's three hits consisted of solo homers by Aramis Ramirez in the second and Reynolds in the fifth, and an infield single by Jean Segura in the eighth.
That was it.
"He's always good," Roenicke said. "He's always really good. But this ... we got two hits 'til that eighth inning. He wasn't in the stretch until the eighth inning. His changeup's fantastic. His fastball's great. He throws a cutter, he commands the ball great. He didn't throw as many curveballs as he usually does, but his fastball was great.
On the Brewers' side, Saturday wasn't by any stretch a terrible start for Gallardo, but it was, by comparison, flawed. The fourth frame served as the springboard: Brandon Phillips and Jay Bruce singled, and Gallardo then loaded the bases by hitting Todd Frazier. Phillips scored in a single by Ryan Ludwick, and two more runs came home on a base hit by Brayan Pena.
The loss -- Gallardo's first this year -- marked the first time he has allowed more than three runs in any start.
"'Yo' wasn't quite on today," manager Ron Roenicke said. "He battled again, kept us in it, but he wasn't quite on it."
The difference, in Roenicke's estimation, was Gallardo's curveball, which wasn't as effective as it had been in the past.
"Two outings ago, it was a good as I've seen it," Roenicke said. "We need to get that pitch back and he's got to have something that's offspeed that they have to worry about instead of everything hard, instead of just cutter, fastball."
Gallardo, for the most part, agreed with that estimation.
"It definitely wasn't as sharp, but they put the ball on the ground," he said. "There's not much I can do after that."
Mediocre pitching wasn't exclusive to just Gallardo. Tyler Thornburg has unquestionably been one of the Brewers' most effective pitchers this year, holding opponents to a .122 average while posting a miniscule 0.61 ERA over 14 relief appearances. He had an off night this time, yielding two doubles and throwing two wild pitches in the seventh, allowing the Reds to pad two more runs onto their lead.
With the best record in baseball at 21-10, the Brewers could lose their first road series of the year with a loss Sunday.
"With these guys [the Brewers], it's going to be a heavyweight fight," Reds manager Bryan Price said. "They have the best record in baseball, but we've never backed down. I've got to give my teammates a lot of credit. We beat a tough team and a tough pitcher."
The Brewers, in the meantime, will continue to search for answers to their struggling offense. Tweaking the lineup, at this point, doesn't appear to be on the front-burner.
"We're not swinging the bat that well," Roenicke said. "The combination of what we have -- we put some more left-handers in today with [Caleb] Gindl and [Logan] Schafer. We thought it would be a little bit better against Cueto. It's hard to say what to do with the lineup. The guys are playing enough and if somebody's hot they're going to be in there more. As a group, we'll get it going."
Alyson Footer is a national correspondent for MLB.com. Follow her on Twitter @alysonfooter. This story was not subject to the approval of Major League Baseball or its clubs.