Cron's debut helps Richards earn win over Rangers
First baseman's three-hit, two-RBI night leads offense behind righty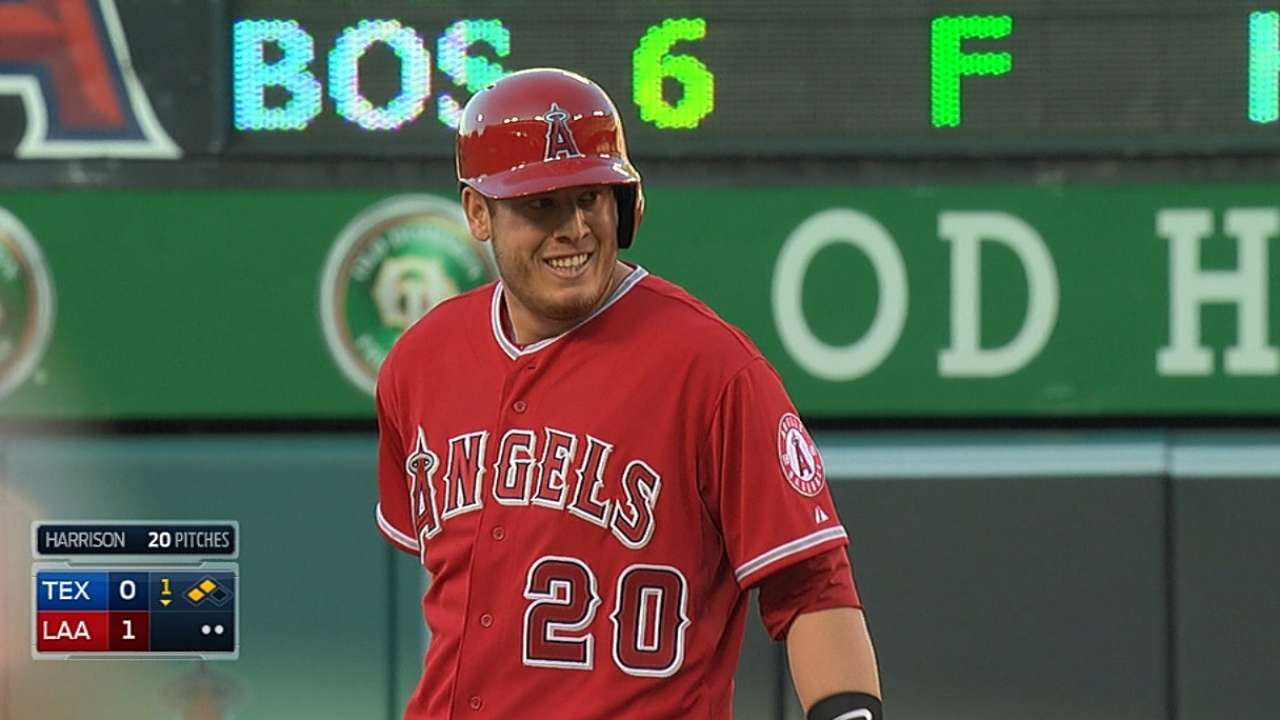 ANAHEIM -- C.J. Cron's day began at 9:45 a.m. PT, when his flight from Salt Lake City International Airport touched down in Orange County. He took a cab to his temporary room at the nearby DoubleTree hotel, took a 90-minute nap, got up, and headed toward Angel Stadium for what would be his first day on a Major League roster.
He was early, though.
It was a little after noon, for a 6:05 p.m. first pitch, and not a soul was present in the Angels' clubhouse.
"I didn't know what was going on, honestly, so I wanted to get here on time," Cron said. "I wanted to play it safe."
A couple hours later, Cron found out he'd bat fifth against Rangers lefty Matt Harrison. Ninety minutes before game time, he switched from designated hitter to first base, because Albert Pujols was feeling some tightness around his hamstrings. And by the end of it all, the 24-year-old slugger was the hero, his three hits and two RBIs pacing the Angels in a 5-3 victory.
"Every baseball player's dream is to be on this stage," Cron said after his 3-for-5 night, "and just being able to help the team win is an awesome feeling."
The first Major League pitch Cron saw went for a first-inning RBI single. The fifth went for a double to right-center field, on a ball he lined near the fence and bounced off center fielder Leonys Martin's glove. The 11th went for a broken-bat flare into shallow left field, plating what turned out to be the winning run with two outs in the sixth.
"He ambushed me swinging at the first pitch," Harrison said. "I guess he was excited. He looks like a good hitter."
"People have harped on our farm system, but from what I've seen in Spring Training and down on the farm, we have quality arms, we have some guys who can swing the bat, and we've got great defenders down there, too," Angels starter Garrett Richards said, in reference to a system that's been ranked 30th by Baseball America two years in a row. "I wouldn't read too much into whatever anybody's saying about our farm system."
Three of the Angels' starters in the second of a three-game series were all in Triple-A two days earlier.
Cron became the fourth player in franchise history -- and first since Kendrys Morales in 2006 -- to compile three hits in his Major League debut, eventually given the green light on 3-0 pitch in the eighth inning (though he fouled off Alexi Ogando's fastball).
Grant Green, called up on Friday, went 2-for-4 at the plate, made his first Major League start in left field and made a key catch to start the seventh inning, leaping up against the fence to take away a double from Adrian Beltre.
And Luis Jimenez -- called up alongside Cron as David Freese went to the disabled list and J.B. Shuck got optioned to Triple-A -- turned a 5-4-3 double play to end the game, snapping the Angels' six-game losing streak to the Rangers dating back to last season.
"These kids came up and didn't miss a beat," Angels manager Mike Scioscia said.
The Angels compiled 14 hits -- four by Howie Kendrick, three apiece by Cron and Collin Cowgill, two by Green and one RBI single from Pujols -- and Richards pitched six innings of three-run ball and struck out a career-high nine batters, moving to 3-0 with a 2.84 ERA through his first six starts of the season.
But Scioscia was most encouraged by the bullpen, with Fernando Salas, Ernesto Frieri and Joe Smith facing the minimum through three scoreless innings after Richards departed.
Frieri pitched in a setup role, signaling his first high-leverage inning since being demoted from the closer's role eight days ago. He started with three straight balls to Mitch Moreland, then came back to strike him out with a high fastball, got Donnie Murphy swinging on a slider, and induced a popup from Robinson Chirinos.
"It feels really nice to go out there and compete, knowing you're going to help the team win the game," said Frieri, who had three scoreless outings in low-leverage situations after being demoted. "But the manager and the pitching coach, they know that I'll do whatever, man. I'll pitch in any situation. I just have to do my thing, no matter what situation."
Cron did his thing, better than even he could've imagined.
His father, Chris, played in the Angels' farm system for five years, starting in 1987, and appeared in six games for them in 1991. C.J. was born right around that time, in Fullerton, Calif., about a 10-minute drive from Angel Stadium.
Twenty years later, he was drafted by the Angels in the first round of the 2011 First-Year Player Draft. Then he showcased his ability with a 1.167 OPS in the Arizona Fall League last year, batted .292 in 12 Spring Training games in 2013, posted a .319/.369/.602 slash line in his first 28 games in Salt Lake, got called up -- mainly to serve as a right-handed-hitting option at DH -- and kept right on hitting.
"It's awesome," said Cron, who had about 20 friends in the stands. "My dad was drafted, played with the Angels, so just kind of following in his footsteps and being able to play for this city -- I was born right here in Fullerton. I had a bunch of family out here tonight, and it's just an awesome feeling."
Alden Gonzalez is a reporter for MLB.com. Read his blog, Gonzo and "The Show", and follow him on Twitter @Alden_Gonzalez. This story was not subject to the approval of Major League Baseball or its clubs.