Bombers give Tanaka chance to settle in, win
Righty remains undefeated thanks to nine unanswered runs vs. Rays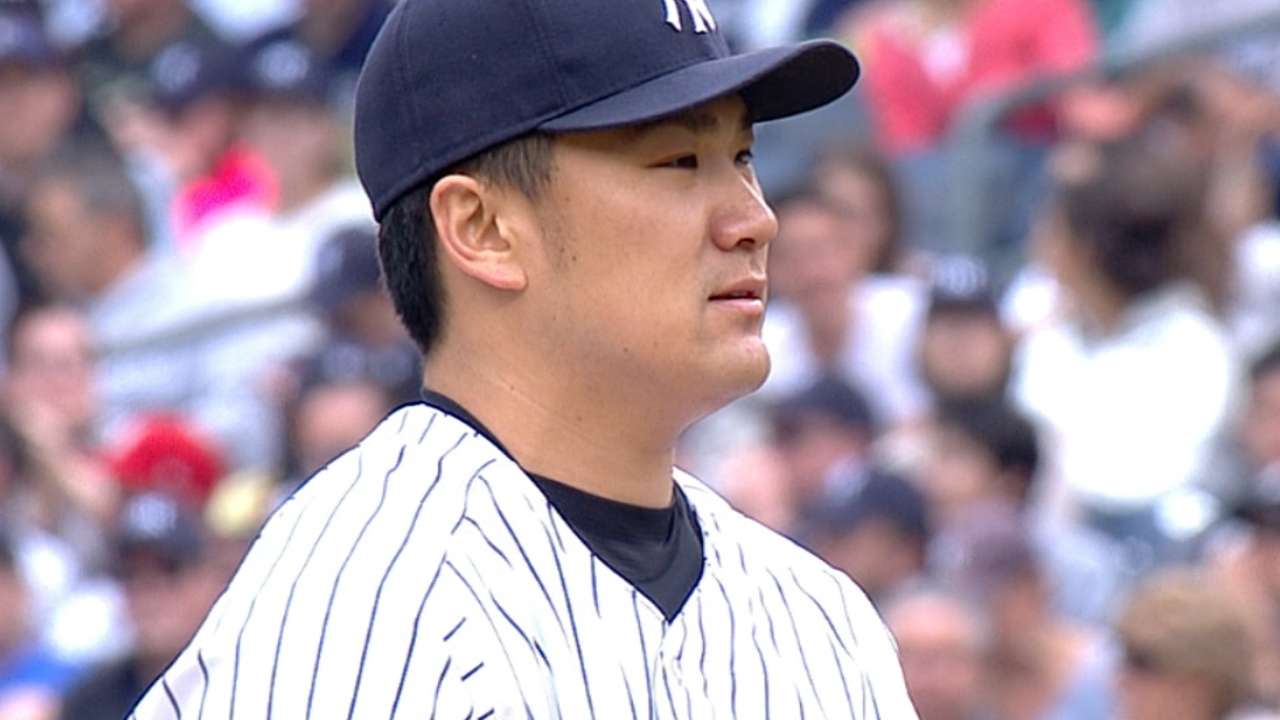 NEW YORK -- Masahiro Tanaka can't lose. Not even when he stumbles early.
Tanaka, the Yankees' rookie sensation, took a win streak that has lasted nearly two years into Saturday's outing against Tampa Bay, and he managed to keep it rolling after some early adversity.
Tanaka gave up a home run to the second batter he faced and allowed the game's first three runs on Saturday, but the Yankees slowly worked their way back into command. New York scored nine unanswered runs, and Tanaka held the line in a 9-3 win over the Rays at Yankee Stadium.
"He's a top-of-the-rotation starter, and that's what you expect from guys like him," said catcher Brian McCann. "It's hard to believe he's only 25 years old. I feel like I keep saying that, but this guy's got some poise. He competes every time he's on the mound and gives us everything he's got."
Tanaka is now undefeated in six big league starts, and he hasn't lost since Aug. 19 of his 2012 campaign. The right-hander won his final 28 decisions in Japan before signing with the Yankees this winter, and he's yet to allow more than three earned runs against a Major League club.
His streak appeared to be in jeopardy early on Saturday, though, when Tanaka allowed a line-drive home run to Desmond Jennings in the first inning. Tampa Bay scored once in the second inning and again in the fourth, with Wil Myers taking Tanaka deep for the Rays' last run of the game.
A month into his big league tenure, Tanaka is already considered a stopper by the Yankees.
"You know what you're going to get from him," said manager Joe Girardi. "You're going to get a guy that's really going to compete and is going to give you distance and is going to keep you in the game. He's going to give you every opportunity to win. I think that's fair to say."
Tanaka may not have had his best stuff Saturday, but he's logged the fifth-highest strikeout total (51) for any pitcher since 1900 in their first six big league starts. Tanaka fanned five batters without walking anybody on Saturday, but he said that most of the outing was a battle to keep things close.
"All my pitches weren't there today," said Tanaka, speaking through interpreter Shingo Horie after the game. "As for the split, it was more like a changeup, I feel. Everything wasn't crisp today."
And while Tanaka was struggling, Rays starter Jake Odorizzi was going through his own day of extremes. Odorizzi threw three perfect innings to open his start and held a three-run lead going into the bottom of the fourth, but everything fell apart for the youngster in a span of 10 batters.
Seven of those batters -- four in the fourth inning and three in the fifth -- reached base. Mark Teixeira pulled the Yankees within one run on a two-run homer in the fourth, and Jacoby Ellsbury hit a game-tying ground-run double in the fifth. Odorizzi left at that point, and the Yankees didn't take their first lead of the game until the bottom of the sixth, courtesy of a solo homer by Kelly Johnson.
New York lost the first game of the series in 14 innings Friday night, but the offense worked overtime Saturday. The Yankees put together a two-run rally in the seventh inning and a three-run burst in the eighth to seize control, and the bullpen held on to preserve the six-run margin.
"I think this is a pretty resilient group. It's a veteran group that understands that you're going to have games like last night," said Girardi. "It's going to happen. It's extremely frustrating at the time, but every day is a new day. And that's the great thing about our game: We don't have to wait a week. We don't even have to wait two days. It's usually the next day -- you get right back out and forget about it."
Tanaka had two close calls on Saturday, with one batted ball striking him on the left foot and another one buzzing off his glove right in front of his face. Girardi joked that shots like that made him quit a fledgling pitching career before it started, but Tanaka was unfazed by either shot back through the box.
The Yankees had used seven relievers in Friday night's game, and Tanaka knew before the game that he had to pitch as deep as he could to give the bullpen a lift. That may have been his biggest achievement, and he knew that it could have a ripple effect on the rest of the staff.
"I was able to go seven innings," he said. "The number of pitches went up a little bit at the beginning of the game, but I was able to get my rhythm back as we got deeper into the game."
Tanaka was hardly an unknown quantity before this season. He had starred for Japan in the World Baseball Classic in 2009 and 2013, and he was a two-time winner of the Nippon Professional Baseball league's Sawamura Award, which annually goes to the best pitcher in the league.
Now, with a 4-0 record and a 2.53 ERA through six starts, Tanaka may have his eyes on some new trophies. Tanaka has given up just 35 hits in his first six outings, and there's reason to believe that he may get even more comfortable once he has better knowledge of Major League hitters.
"He can attack you in many different ways," said McCann, describing why Tanaka has had so much early success. "He's not just a one-pitch pitcher. He can dissect both sides of the plate to both righties and lefties. When he doesn't have his best stuff, he can maneuver through lineups."
Spencer Fordin is a reporter for MLB.com. This story was not subject to the approval of Major League Baseball or its clubs.