Homers sink Milone, Athletics in loss to Red Sox
Ninth-inning rally comes up short after offense struggles vs. Lester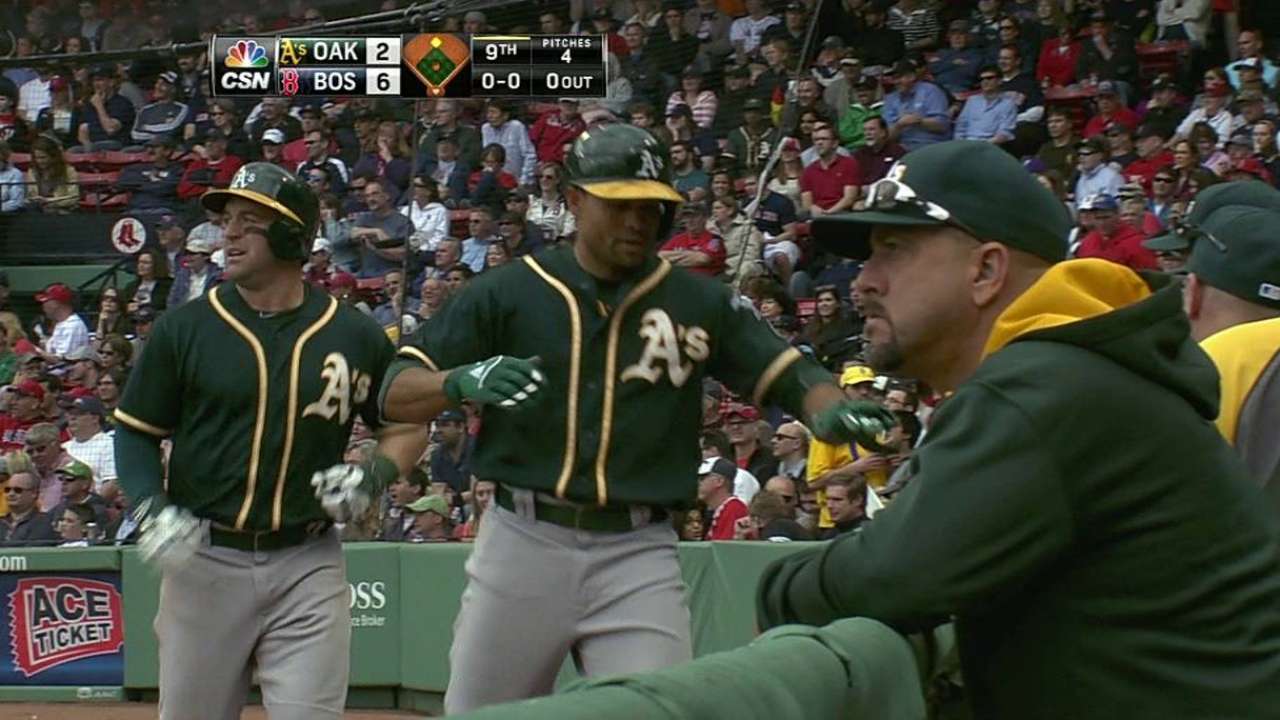 BOSTON -- The disparity between the front line of Oakland's rotation and the back end is quickly widening.
The A's were reminded of this on a frustrating day at Fenway Park on Saturday, as Tommy Milone was knocked around for three home runs, while the offense sputtered against a strikeout-happy Jon Lester in a 6-3 loss to the Red Sox.
Milone put each of his first three batters on base, two via walks, and gave up a grand slam to his fifth, former teammate Jonny Gomes. Solo blasts by David Ortiz and David Ross only gave Lester more wiggle room.
Not that the southpaw needed any.
Lester compiled a career-high 15 strikeouts and allowed the A's just one hit -- a third-inning blooper off the bat of Craig Gentry -- and two walks in eight innings, while facing just two over the minimum.
"He could pitch against pretty much anybody today, the way he commanded things," said Boston manager John Farrell. "To shut down an offense as strong as theirs has been throughout the course of this year, it adds to it."
By day's end, the A's had struck out 16 times -- a season high -- and weren't exactly stoked about a fairly wide strike zone established by home-plate umpire D.J. Reyburn.
"How many punchouts did we have today?" asked Josh Donaldson, who fanned twice. "Yeah, so I think that means we're pretty frustrated with it."
"It's always debatable," offered manager Bob Melvin. "He was hitting his spots."
Added Jed Lowrie: "That's a tough question, because when a guy is throwing like he is, it's easy to find a reason why ... you're not getting hits. And even if he was [getting a wide strike zone], he did a great job of taking advantage of it.
"I thought he had great command of all of his pitches. He executed and didn't make any mistakes. Velocity was up again, too. As much as I don't like to say it, it was pretty impressive."
The A's mounted a challenge in the ninth, plating three runs on as many hits off Chris Capuano. But the rally ended with two runners stranded, when pinch-hitter Brandon Moss lined out to right field.
The A's have just nine hits, in all, through the first two games of this three-game set, as the Red Sox have outscored them, 13-4.
But there's greater concern with Oakland's Nos. 4 and 5 starters.
Milone, who pitched to just one batter in the fifth before being pulled in favor of Dan Otero, has allowed a combined 10 runs over his last 10 2/3 innings spanning two starts. Dan Straily has given up five in his last 10 2/3 innings.
Together, they have a 5.44 ERA, and the A's have dropped nine of their 11 starts.
By contrast, the A's are 10-1 in starts made by Sonny Gray, Scott Kazmir and Jesse Chavez, who have combined for a 1.92 ERA.
"[The back end of the rotation] certainly hasn't been as productive as the front three," said Melvin, "but you could probably look at any team, and the back end isn't going to be as good as the front end."
Milone threw 21 pitches before getting his first out of the day, and was at 29 by the time the first inning was over. He was forced to throw 77 overall, with just 49 being strikes.
"Too many walks. I kind of set that inning up for them," said Milone. "If I don't walk two guys, it's not a grand slam, it's a two-run homer. Still not good, but I gotta make better pitches, throw more strikes. I just left them over the plate.
"I'm leaving balls up and over the middle of the plate. I need to do a better job of throwing more quality strikes and keeping the ball low, and letting them hit it on the ground. I feel like they were just on everything today."
Otero, Luke Gregerson and Sean Doolittle combined for four scoreless innings, allowing the A's to stage a comeback that fell short.
"It's easy to just cash it in after you've struck out 15 times in eight innings and haven't had too many good swings and you're frustrated," said Melvin. "... To be able to get those kind of at-bats in the ninth inning should help out leading into tomorrow."
Jane Lee is a reporter for MLB.com. Read her blog, Major Lee-ague, and follow her on Twitter @JaneMLB. This story was not subject to the approval of Major League Baseball or its clubs.