Tribe powers up behind Salazar to snap six-game skid
Santana, Brantley both go yard, combine for five RBIs in series opener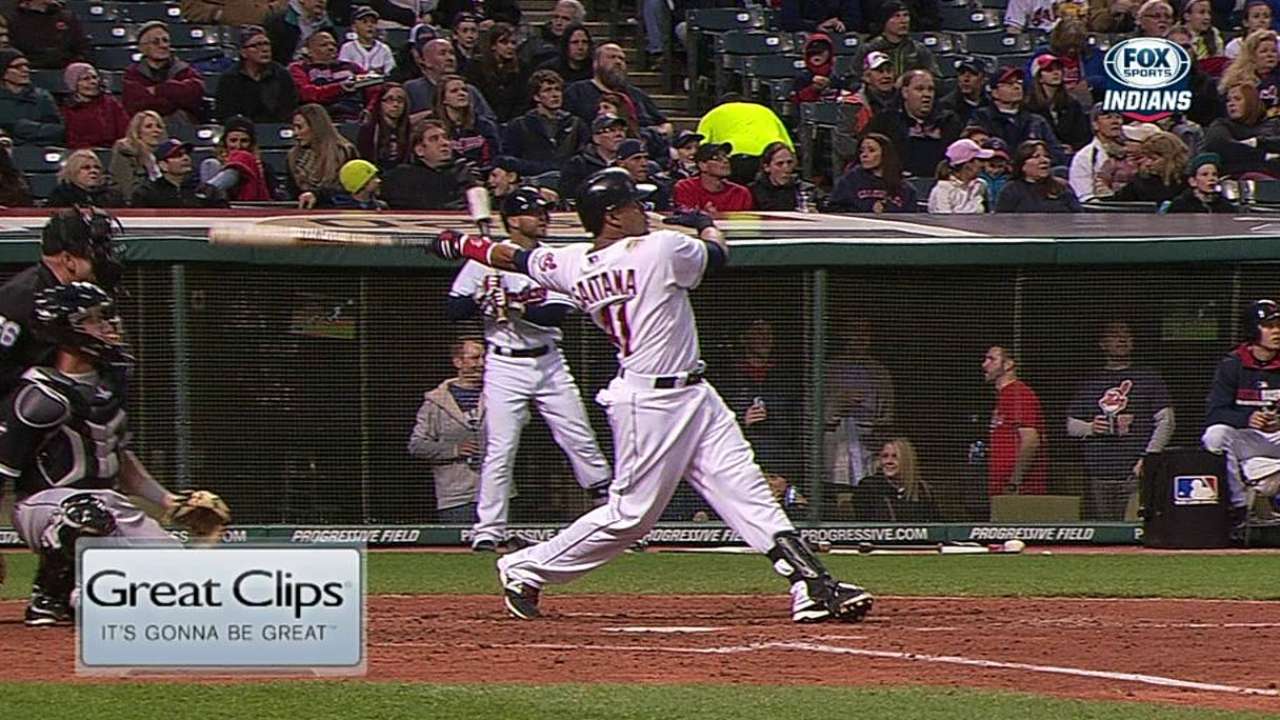 CLEVELAND -- Almost from the first pitch, the Tribe hitters looked like they had moved on from their anemic April.
The Indians hung five runs on Chicago starter John Danks before recording their second out, and Danny Salazar earned his first win of 2014 as Cleveland beat the White Sox, 12-5, on Friday at Progressive Field.
The Indians hadn't scored more than six runs in a game since beating the White Sox, 12-6, on April 12, and Friday's victory ended a six-game losing streak.
"We had a good approach, and we used the whole field," Indians manager Terry Francona said. "We kind of stayed after them, which is good."
Cleveland's inability to score sent the club to the bottom of the AL Central by the end of April, but Friday, the Indians had amnesia at the plate.
The Indians batted around in the first, as Ryan Raburn and Yan Gomes each had two-run hits off Danks (2-2), who beat the Tribe earlier this season.
Carlos Santana, who started putting it together in Anaheim, hit his third home run in four games, and his teammates also helped heat up the brisk Friday night.
Raburn snapped an 0-for-22 slump with a two-run single, and Michael Brantley had three hits, including a homer off Danks. Brantley, who is hitting .321 at Progressive Field, leads the Indians with five homers and 23 RBIs.
"We did a great job of putting quality at-bats together and never giving up," Brantley said.
Cleveland hitters got to Danks early, the key to success against the lefty. Danks' ERA in the first three innings is 4.80, and the rest of the way, it is 2.25.
The Tribe scored seven of their runs in the first three innings.
Danks knew he didn't have his best stuff Friday.
"I don't know what I did good," Danks said. "I feel like I made some decent pitches they were able to either fight off or place them. There wasn't a whole lot to take from tonight."
Meanwhile, Salazar (1-3) pitched well enough to win, getting a victory that had eluded him, despite being stellar in his previous start.
Although he stepped out in the second inning with a five-run lead, Salazar didn't have an easy time against the Sox. Being on the bench while the Tribe sent 10 batters to the plate in the bottom of the first took Salazar out of his rhythm, and Chicago got back into the game with three runs in the top of the second.
"The first inning was good," Salazar said of getting an early lead. "It was a really long inning. It was a little tough to warm up again."
Salazar struck out Adam Eaton and Gordon Beckham to get out of the second, and he rung up Jose Abreu and Adam Dunn to start the third.
His most impressive work, however, was in keeping the White Sox from a big inning. He let four of six leadoff runners he faced get on base, and in the fourth, Salazar gave up two singles and loaded the bases after Elliot Johnson's second error thwarted a double play.
Facing Adrian Nieto with the bases loaded and a four-run lead in the fourth, Salazar punched his sixth strikeout before forcing Eaton into a double play.
"I thought he did an outstanding job of damage control," Francona said of Salazar. "A couple leadoff walks, a couple balls we didn't turn to second, once he had his hands full, I thought he really threw the ball well."
If anyone had doubts about Salazar after his early-season struggles, Francona said, the fourth inning should be sufficient reminder of the right-hander's potential.
"Nobody out, bases loaded, pitching out of it, it takes pretty exceptional stuff to do that," Francona said. "That's the good part."
The bad part would be letting leadoff runners reach, or maybe Salazar's pitch count. Salazar checked out after Alexei Ramirez singled to lead off the sixth, having thrown 101 pitches, including 60 strikes.
But Salazar and his teammates focused on the more positive aspects.
"Tonight, I was staying down in the zone, and they were hitting ground balls," Salazar said.
Tribe first baseman Nick Swisher, who had an RBI double, had another name for his pitcher.
" He's got plus-stuff, electric," Swisher said. "That's Danny Sala-star."
Salazar struck out six and allowed three earned runs in five-plus innings. Chicago tagged him for two unearned runs thanks in part to Johnson's errors.
Stephen Ellsesser is a contributor to MLB.com. This story was not subject to the approval of Major League Baseball or its clubs.