Nolasco goes distance, but Twins fall short
Starter's first complete game this year is unrewarded by quiet offense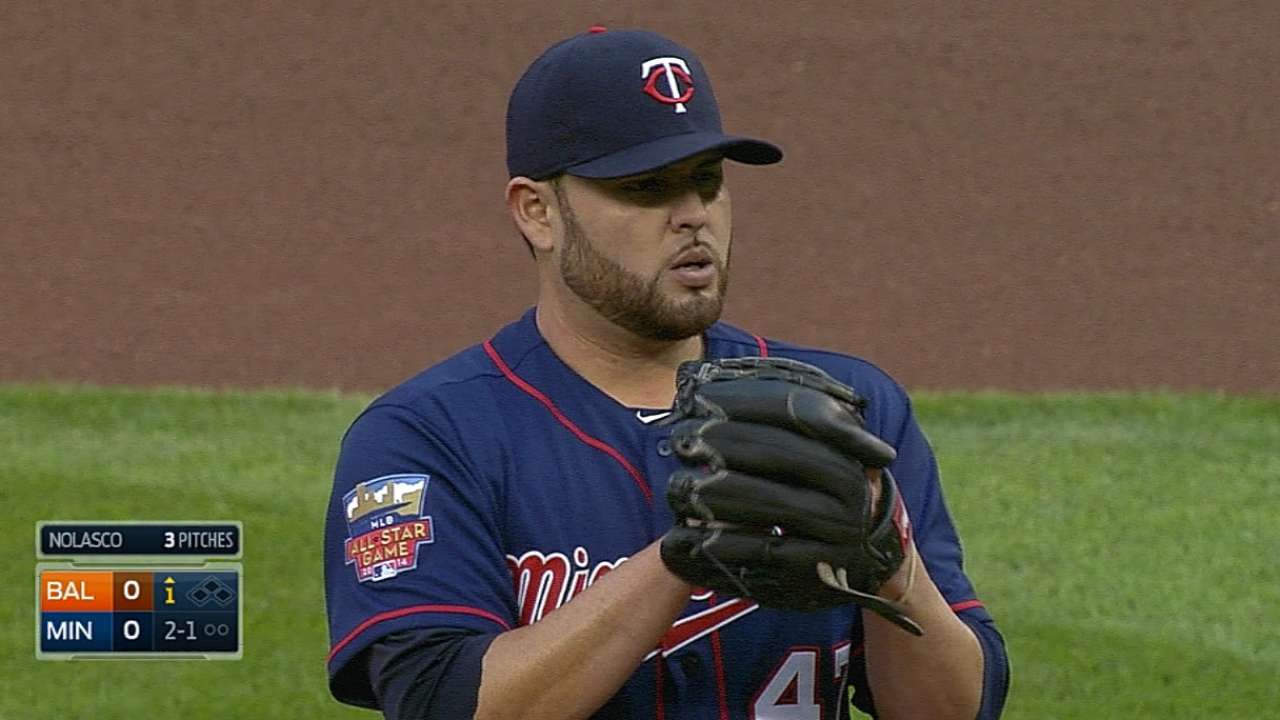 MINNEAPOLIS -- After exhausting their bullpen playing 21 innings in a doubleheader against the Dodgers on Thursday, the Twins needed Ricky Nolasco to pitch deep into the game against the Orioles on Friday.
Nolasco did just that, turning in his first complete game of the season, but he was outdueled by Ubaldo Jimenez, as the Twins fell in a 3-0 loss to the Orioles at Target Field were shut out for the second time this year.
It was Nolasco's first complete game since Sept. 9, 2012, and the 10th of his career. Nolasco gave up three runs on nine hits, including a two-run homer to Nelson Cruz, with a walk and six strikeouts to register his second quality start in six outings this season.
"It was a couple of good pitching performances," Twins manager Ron Gardenhire said. "Ricky threw the ball great. The only mistake was the home run, was a two-seamer he left over the plate. He pitched great for us with a complete ballgame. But against Jimenez tonight it wasn't enough."
Nolasco knew the importance of pitching deep into the game considering the circumstances, and though he delivered a complete game on a season-high 110 pitches, he was saddled with the hard-luck loss. It marked the first time in his career he was charged with a loss while going the distance.
"I was just trying to go out there and give us innings and a chance to win," said Nolasco, who fell to 2-3 with a 5.82 ERA. "We just came up short. You just have to tip your hat. We've been battling all year with the sticks and scoring a ton of runs, so we just got beat tonight by good pitching. There's not much you can do."
Nolasco was helped by his defense in the first inning on a leaping catch at the center-field wall from Sam Fuld to rob Manny Machado of extra bases, but he was not as lucky in the fourth inning. Cruz opened the fourth with a double off the glove of Jason Kubel in left field before scoring on a double off the wall from Matt Wieters.
Cruz was at it again in the sixth, as he connected on a two-run blast that caromed off the third deck in left field after Machado led off the inning with a single.
"That was a tough one," Nolasco said. "It was obviously a difference in the game. It's a tough one to swallow with the slider I had going tonight to get beat in that situation. But that's what separates Nelson Cruz from other guys. He made a good adjustment and got down there and got that ball. That's what good hitters do."
Nolasco didn't receive any help from Minnesota's offense, as Jimenez threw 7 1/3 scoreless innings to pick up his first quality start of the season. Jimenez, who entered with a 6.59 ERA, gave up just three hits and a walk while striking out 10 to get his first win of the year.
"He mixed his pitches well," Fuld said. "He has good stuff and had good command of the zone. When you look at his results early in the year it looked like his lack of command was a reason for him giving up a few more runs than he's accustomed to. Tonight he just showed that command he's shown over the years."
The Twins wasted their only chances against Jimenez as they stranded Brian Dozier at third base in the first and left two runners on in the third, with Jimenez striking out Dozier, Joe Mauer and Trevor Plouffe to get out of the jam.
"We had the right guys coming up there, but you tip your tip to Jimenez," Gardenhire said. "He made some good pitches. And we've seen that before from him on other ballclubs. When he gets into a jam, he can turn it up another level."
Jimenez exited after giving up a one-out double to Eduardo Escobar, and he was replaced by left-hander Zach Britton, who was able to get out of the jam. Machado made a diving stop at third to rob Dozier of a hit before Mauer struck out looking to strand Escobar at second.
Plouffe doubled to lead off the ninth against Orioles closer Tommy Hunter but was left there, as the Twins went 0-for-11 with runners in scoring position on the night.
It was a frustrating loss for the Twins, but Orioles manager Buck Showalter recognized the importance of Nolasco's outing to reset the bullpen for Minnesota for the rest of the series.
"Nolasco gave them what they needed tonight," Showalter said. "That was big for their club tonight. And if they are able to win tomorrow, a lot of it will have to do with the outing that both guys had tonight. Those are things that kind of get overlooked, but Nolasco kind of put them back on their feet, too."
Rhett Bollinger is a reporter for MLB.com. Read his blog, Bollinger Beat, and follow him on Twitter @RhettBollinger. This story was not subject to the approval of Major League Baseball or its clubs.