Minor solid in return, but Braves stifled by Giants
Lefty allows two solo shots over six innings; offense held to one run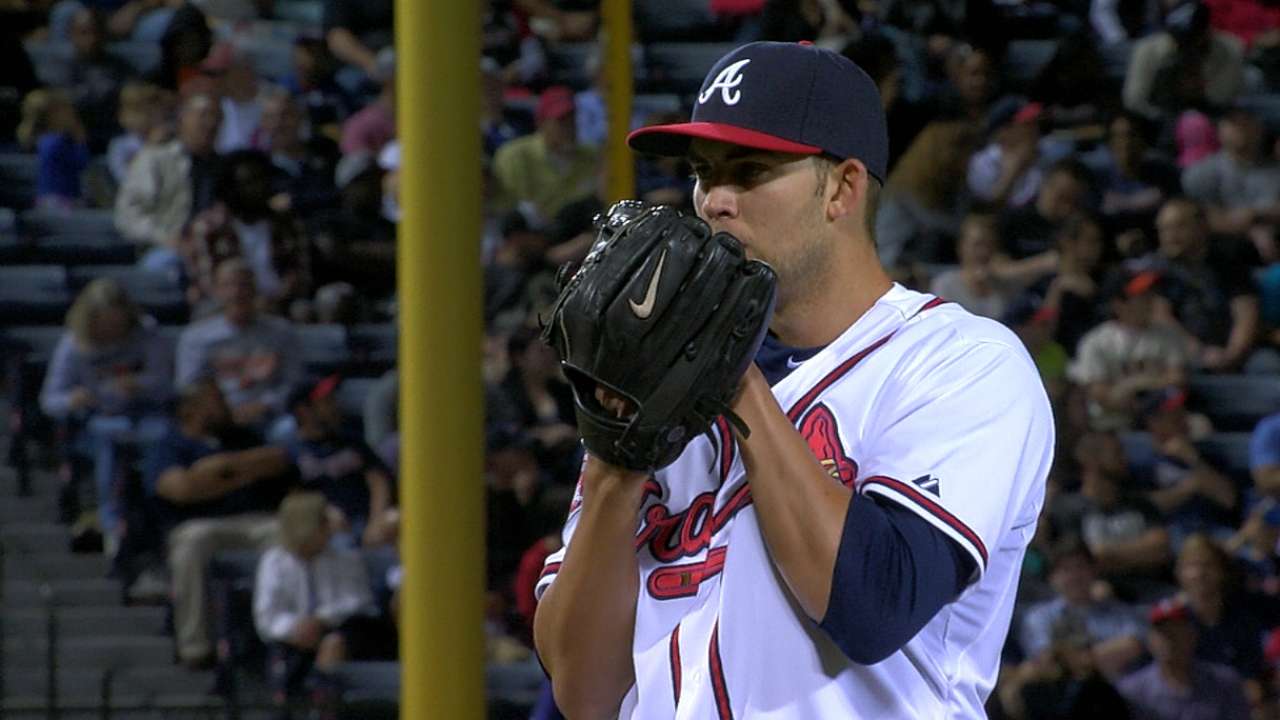 ATLANTA -- Coming off a miserable trip to Miami, the Braves returned home hoping to give Mike Minor a chance to celebrate a season debut that he has anxiously anticipated over the past couple of weeks. But instead, they extended their offensive woes on a night marred by squandered opportunities.
Minor had no reason to be ashamed by the impressive six-inning outing he produced at Turner Field on Friday night. But the two solo home runs he surrendered proved to be too much for the Braves to overcome as they stranded 12 runners and extended their losing streak to four games with a 2-1 loss to the Giants.
"We're getting on base," Braves manager Fredi Gonzalez said. "We're stealing bases, trying to create some runs that way. But we're just not getting them in when we have to."
The Braves had won 17 of their first 24 games before experiencing this four-game losing streak during which they have scored one run or less against three of the starting pitchers they have faced.
While it was easier to tip the cap when Jose Fernandez and Nathan Eovaldi proved dominant this week in Miami, Gonzalez's club knew it wasted opportunities against Giants starter Tim Lincecum, who began this three-game series by allowing just one run despite putting at least two runners on in four of his six innings.
"Tonight, we gave ourselves a lot of opportunities, it just didn't happen," Jason Heyward said after his three-hit night.
Heyward singled in three of his first four at-bats. But he also popped out to strand two on in the second inning and accounted for the second of the two outs Giants closer Sergio Romo recorded before a B.J. Upton single and Freddie Freeman walk made things interesting. But just when it looked like the Braves might steal one, Justin Upton ended the game by looking at a called third strike.
The lone hit the Braves recorded in nine at-bats with runners in scoring position came courtesy of Freeman's game-tying single off Lincecum with two outs in the fifth inning. Freeman's single snapped his 0-for-14 skid and gave him five hits in eight at-bats with two outs and runners in scoring position.
Since being dominated by Fernandez on Tuesday for the second time in a week, the Braves have gone 3-for-24 with runners in scoring position. They have not recorded more than one hit with a runner in scoring position in any of their past six games.
"That's the crazy game that we play and love," Gonzalez said. "I think you just keep putting people on base and keep getting a base hit and sooner or later, we'll get a crooked number up there."
While Lincecum halted the struggles he had experienced while posting a 5.96 ERA in his first five starts of the season, Minor provided indication that he had made all of the necessary preparations after being slowed during Spring Training because of the month-long stretch of inactivity he had experienced following a Dec. 31 urinary tract procedure.
But despite the fact that he looked impressive while totaling 80 pitches over six innings, Minor was still forced to exit feeling frustrated by the fact that two of the seven hits he surrendered were solo home runs hit by Angel Pagan and Michael Morse.
Unfortunately for Minor, this was a trend that hurt him last year when he surrendered two home runs in three of his final six starts.
"I felt good," Minor said. "I threw some quality pitches and they hit some mistakes. I gave up a lot of hits that I felt like were more middle of the plate, but other than that, I felt good."
Minor carried some extra excitement into this debut and might have paid the price when Pagan belted the game's second pitch -- an 89-mph fastball -- over the left-field wall. Hunter Pence followed with a sharp single, and Buster Posey hit a sharp liner that was caught by B.J. Upton in center field. But Pagan's solo shot accounted for the only damage the Braves' southpaw incurred during the first inning.
"I was excited," Minor said. "I think that was me overthrowing a little bit. I was leaving a lot of balls over the middle of the plate early on. Later on, I felt like I threw some quality pitches and got some double plays."
Minor stranded a pair of runners by concluding the second inning with a strikeout of Pagan and limited the Giants to just two more hits before Morse got his arms extended as he connected on an 88-mph fastball that he sent over the right-field wall with one out in the sixth inning.
"I felt really satisfied other than we tie the ballgame up and then I go back out and give up a solo shot and we lose the game by one," Minor said. "Other than that, I came out of the game with positive notes and feeling good about my outing. Hopefully, it will get better from there and we can keep it rolling."
Mark Bowman is a reporter for MLB.com. This story was not subject to the approval of Major League Baseball or its clubs.