Giants edge Braves to open tough road trip
Lincecum allows one run over six innings; Pagan, Morse homer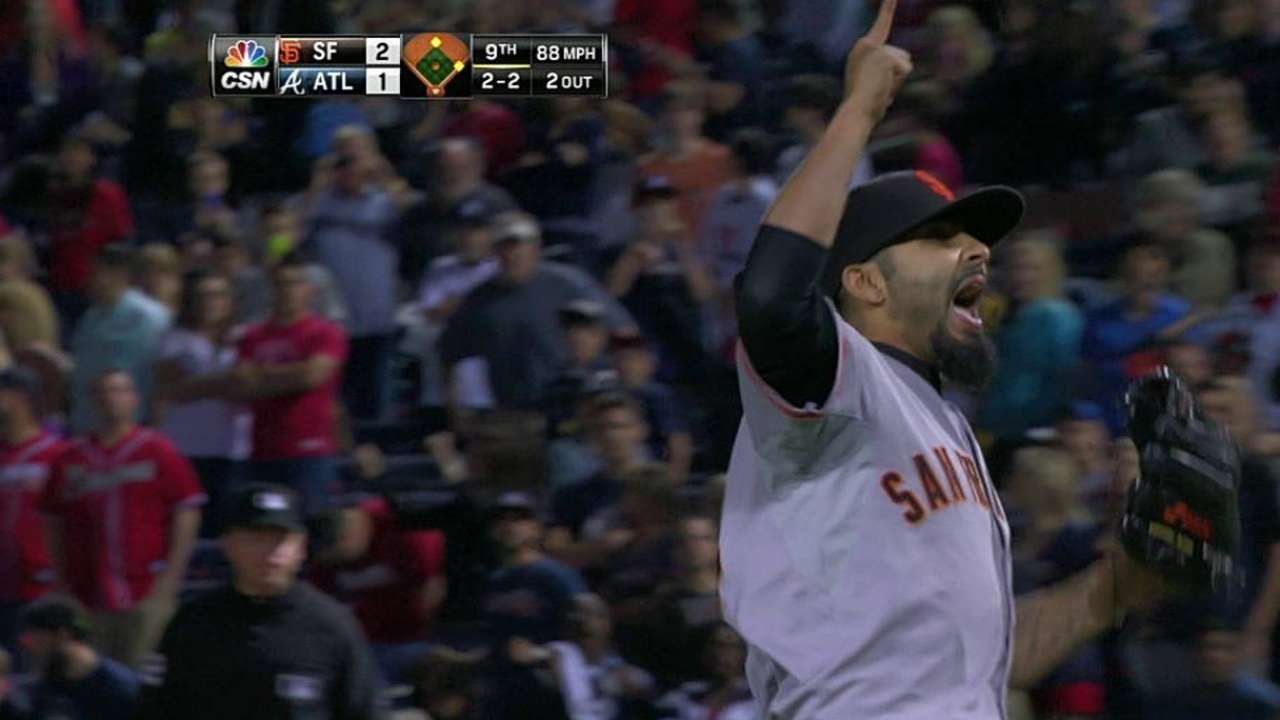 ATLANTA -- Nobody in the Giants' clubhouse said that Friday night's 2-1 victory over the Atlanta Braves felt like a postseason game.
But this taut contest between division leaders indeed had October overtones, with tension that rose until the final out. Moreover, since the Giants rarely thrive at Turner Field outside of October, maybe they should have brainwashed themselves into believing this was more than just another regular-season game.
In fact, there was nothing ordinary about the Giants' seventh victory in eight games. It began with Tim Lincecum throwing strikes and ended with Sergio Romo freezing Justin Upton with a fastball to leave two men on base. It included just enough offense, with Angel Pagan and Michael Morse hitting homers to uphold the Giants' newfound reputation as power hitters. It bore extra significance as the opener of a three-city, 10-game trip that pits San Francisco against 2013 postseason qualifiers Atlanta, Pittsburgh and Los Angeles.
And it occurred in Atlanta, where San Francisco has won only two series since 1994 while recording a 25-54-1 record in that span. That's a .313 winning percentage. Clinching Division Series triumphs here in 2002 and 2010 balanced the Giants' fortunes here to a large degree. Still, there are 71 streets in Atlanta with some form of Peachtree in their name, and all of them seem to lead the Giants toward defeat.
Not this time.
Solid pitching always has transformative potential. Such was the case in this game, as Lincecum (2-1) recorded his 91st career victory while allowing Atlanta's lone run in six innings. Lincecum lacked dominance, permitting six hits and walking three. But Atlanta went 1-for-7 with runners in scoring position off the right-hander, who marooned five runners in scoring position.
Lincecum improved to 8-6 with a 2.89 ERA in 14 regular-season starts against Atlanta. He probably would have lasted into the seventh inning for the first time this year, but manager Bruce Bochy removed him for pinch-hitter Ehire Adrianza with runners on first and second base and nobody out in the seventh.
Interestingly, having established himself as a winner against Atlanta, Lincecum said he has to feel that way more often: "I have to give myself a pat on the back, too, for what I've been doing -- maybe not necessarily the last three years, but kind of remember what I did to take that out there as motivation."
Jeremy Affeldt, Santiago Casilla and Romo preserved the one-run lead Lincecum bequeathed, though the slender edge appeared endangered in the ninth inning. Romo retired the first two batters, assisted by shortstop Brandon Crawford's diving stop of Evan Gattis' sharp grounder that robbed the pinch-hitter of a leadoff single.
Romo improved to 8-for-8 in save conversions after weathering considerable drama. B.J. Upton's single prolonged the ninth. Up came Freddie Freeman, whose ninth-inning single capped a two-run rally that beat Romo here last June 15. Freeman walked on a 3-2 pitch after Upton stole second base. Up came Justin Upton, who is sporting a .455 home batting average this season. He also was 1-for-10 lifetime off Romo. That became 1-for-11 as Romo slipped an 88-mph fastball past Upton for a called third strike.
This recalled Romo's freezing Miguel Cabrera to end the 2012 World Series.
Romo declined to dwell on his success against Justin Upton. "I don't know what the numbers are against him, but I've faced him quite a bit of times and it's always a battle, it's always a good at-bat, it's always a chess match," the right-hander said.
Asked why he threw Upton a fastball instead of his signature slider, Romo said, "Right there it just kind of felt like the right pitch. I was able to win this battle. I definitely expect to have another one with him. That's just kind of how it goes."
Said Braves manager Fredi Gonzalez: "We had the right guys at the plate today, you know, that last inning with Freeman and Justin. You like to have those two guys come up late in the game, especially a one-run game, but we're not putting that crooked number up. ... We left a lot of people on -- 12 runners on base. We're getting on base. We're stealing bases, trying to create some runs that way, but we're just not getting them in when we have to."
The Giants relied on the long ball to account for their meager offense against Braves left-hander Mike Minor.
Pagan victimized Minor, who made his season debut after recovering from tendinitis in his throwing shoulder, by belting his eighth career leadoff home run. The Braves pulled even in the fifth inning on Freeman's two-out RBI single. San Francisco reclaimed the lead one inning later as Morse lofted an opposite-field homer to right, his seventh home run of the year.
"I didn't get it really on the sweet spot, but I kind of muscled it out," said the 6-foot-5, 245-pound Morse.
The Giants have homered in their last nine games, their longest such streak since they compiled a 10-gamer from Sept. 23-Oct. 3, 2010.
"To get two runs and win on the road, that's always a good thing," Bochy said. "... That's why the home run is a beautiful thing."
Chris Haft is a reporter for MLB.com. Read his blog, Haft-Baked Ideas, and follow him on Twitter at @sfgiantsbeat. This story was not subject to the approval of Major League Baseball or its clubs.