A's offense goes missing in opener at Fenway
After scoring 25 runs during sweep in Texas, Oakland quieted by Sox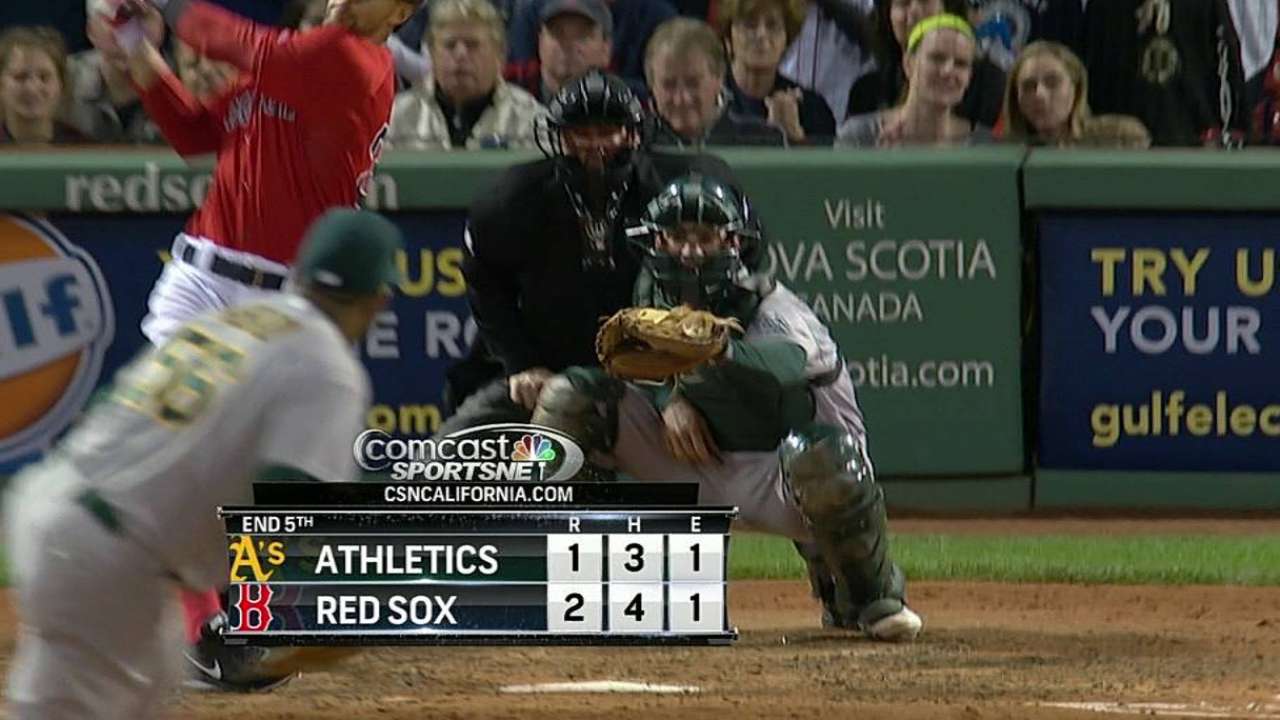 BOSTON -- Perhaps still daydreaming of Texas, the A's looked their worst on a forgettable night at Fenway Park on Friday.
Oakland plated 25 runs during a three-game road sweep of the Rangers this week, appearing rejuvenated and unstoppable. Yet that same first-place club managed just one run off Clay Buchholz and the Red Sox bullpen in the opener of a three-game set in Boston -- on a wild pitch.
A sleep-walking A's offense couldn't solely be blamed for the 7-1 loss, though. Starter Dan Straily never found his groove, and the bullpen endured its fair share of woes, too.
The biggest blow came in the sixth, when Dan Otero loaded the bases and Ryan Cook offered up an 0-2 grand slam to Dustin Pedroia, the second baseman's 100th career homer.
Cook had already thrown two sliders to Pedroia. The first breezed by him. The second Pedroia fouled off. The third "didn't do anything," according to A's manager Bob Melvin, and it was hit into the Green Monster seats.
"That was just a bad pitch he was trying to do a little too much with," Melvin said.
"I just hung it," Cook said. "It was the right pitch, I felt like. I think if I execute it, he swings over the top of it or maybe I even get a ground ball, a double play. That was really the thought process behind it. I didn't execute it, and he did what he's supposed to do."
The home run was confirmed after an umpire review for fan interference, and the A's were in a deep hole. But the struggles began long before then.
Straily fired a first-pitch strike to just three of his 20 batters, leading to a trio of walks, and recorded outs against only 13 of them. In all, he threw more balls (42) on the night than strikes (40), a first in his career.
"I hurt myself almost every single time," said Straily. "Every batter, it felt like, I was behind, 2-0, and that's just not the way to pitch. I just really struggled to throw strikes tonight, and ran out of pitches. That's a frustrating day right there. I'm out there fighting myself, hurting myself more than anything. … I have to be better than that."
"That's the problem," said Melvin. "When he doesn't get ahead, then he's pretty predictable and they can get good swings on his fastball. When he does get ahead, he's a lot better with his breaking stuff."
After walking Pedroia to lead off the home half of the first, Straily managed to navigate his way through the inning without allowing a run, but he was tagged for two runs on three hits in the second. Grady Sizemore led off the frame with a double and scored on a base hit from A.J. Pierzynski, who was then brought home on a double off the bat of Jackie Bradley Jr.
Straily's lone 1-2-3 inning was the fourth, and he was pulled in favor of Fernando Abad just three batters into the fifth, after walking Bradley and giving up yet another double, this one to Pedroia.
It was the shortest outing for an A's starter since Straily lasted just 3 2/3 innings on April 15. He has a 5.01 ERA through six starts.
Abad worked his magic, freezing David Ortiz with a called strike-three slider for the second out. The southpaw intentionally walked Mike Napoli to get to Sizemore, who he also got on strikes to end the inning unscathed.
Perfection has been the norm for Abad, perhaps Oakland's biggest bullpen weapon of the moment. He's fanned 14 of the 41 batters he's faced in 11 2/3 scoreless innings this year.
Oakland batters went 0-for-9 with runners in scoring position and left eight on base. Their only run came in the third, when John Jaso tripled and scored on a wild pitch.
Outside of Jaso's triple, Buchholz allowed just two other hits in 6 1/3 innings, walking three and fanning five.
"He seemed to be using his cutter efficiently," said Josh Reddick, who went 0-for-3. "We knew that he had it, but not that he relied on it as much as we thought. He threw it on both sides of the plate, and when it wasn't that, it was a changeup or a splitter.
"It's always frustrating to score one on a wild pitch, no matter if you scored 20 the night before. We just didn't put many guys in scoring position, and when we did, we didn't do the job."
Jane Lee is a reporter for MLB.com. Read her blog, Major Lee-ague, and follow her on Twitter @JaneMLB. This story was not subject to the approval of Major League Baseball or its clubs.