Yanks rally to force extras but fall to Rays in 14th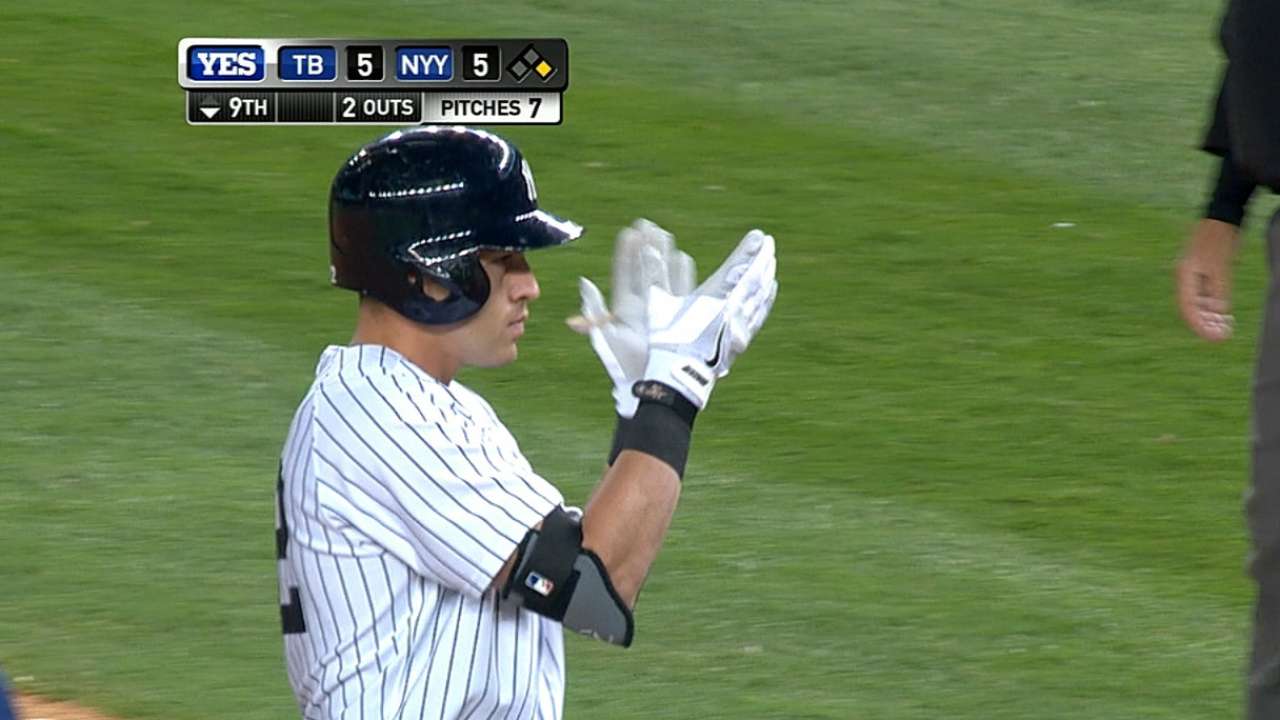 NEW YORK -- The stage was being set for another of those storybook Derek Jeter moments in the late evening hours on Friday, something that could have popped right into the highlight reel as the Yankees proceed deeper into the captain's farewell season.
Jeter walked to the plate for a 13th-inning layup, seeing the bases loaded and that potential winning run hovering just 90 feet up the third-base line. But this one didn't stick to the script. Jeter tapped softly back to the mound and the Yankees were done soon after, falling, 10-5, to the Rays in 14 innings at Yankee Stadium.
"We had our opportunities; it didn't happen," said Jeter, who went 0-for-7 for the first time in his career. "It would have been a good one to win; you're out there all that time, but you've got to have a short memory. We come back here in a few hours."
The Rays scored five runs in the 14th inning off Chris Leroux, the eighth Yankees pitcher of the evening. Wil Myers had the go-ahead hit, an RBI single up the middle, and Tampa Bay also logged run-scoring hits from Sean Rodriguez, Brandon Guyer, Yunel Escobar and Ryan Hanigan in the frame.
Losing a five-hour, 49-minute battle was deflating for the Yankees, but it will also have repercussions for the rest of the weekend. Manager Joe Girardi said that the Yankees will need to get a lengthy outing from Masahiro Tanaka on Saturday, since their relievers will be suspect.
"Our bullpen's a mess, there's no doubt about it," said Girardi, who piloted his 1,000th game for the Yankees. "What it does for us [on Saturday] is, you're going to need some distance out of your starter for sure. I'm sure there will be some conversations tonight."
The Yankees had numerous opportunities to come out on the other side of the decision, sparking to life when Mark Teixeira and Alfonso Soriano slugged back-to-back home runs off reliever Joel Peralta in the eighth, tying the score.
David Robertson allowed a run on Evan Longoria's single in the ninth, but Jacoby Ellsbury answered in the home half of the frame with a single off Juan Carlos Oviedo that knocked home Brian Roberts. Ellsbury was then picked off on a video-reviewed play, pushing the game into extra frames.
Chances abounded in the final few innings, as the Yankees left seven men on against Heath Bell in the 11th, 12th and 13th innings, starting when pinch-hitter Ichiro Suzuki grounded out in the 11th, leaving two on.
The Yankees also threatened in the 12th. With runners at first and second, Carlos Beltran hit into a rundown double play -- officially scored as a telephone number, 4-3-3-6-3-4-3-4-5-2 -- that ended with Ellsbury being tagged out between third and home. Jeter advanced to third but was stranded there.
"Some days, just when you think you've seen it all, you see something new," Jeter said.
"You want to force them to make that long throw, and that's what happened," Ellsbury said. "It almost got away; that would have been the winning run right there. It was the right thing to happen."
Things got even more eventful in the 13th, as Rays manager Joe Maddon was ejected following a video-reviewed call at first base in the top half of the inning. In the bottom half, Ellsbury was walked intentionally to load the bases with two outs for Jeter, who bounced back to Bell to leave three men on.
"The pitch was down, and he just hit it right back at me," Bell said. "I knew he took off running since I already threw the ball in the outfield once, so I think they were hoping I would throw it in the stands."
The late blows came after David Price held the Yanks to Brian McCann's two-run homer in the second inning over seven frames of work, leaving in line for the decision after outdueling left-hander Vidal Nuno in a zero-walk, eight-strikeout performance.
Making his third start -- and sixth appearance -- of the season, Nuno permitted four runs and five hits in 4 2/3 innings. Rodriguez doubled, advanced on a wild pitch and scored the Rays' first run on James Loney's second-inning single.
The Rays added two runs in the fourth, aided by a Longoria triple to deep center field that Ellsbury lost in the twilight. Longoria scored on Myers' single and, after two walks, Tampa Bay claimed the lead on Logan Forsythe's sacrifice fly.
"[Nuno] did OK. He gave us almost five innings," Girardi said. "We lose a ball in the twilight, which led to a couple of runs for them, which is unfortunate, but I thought he threw the ball OK."
Desmond Jennings chased Nuno in the fifth inning with a homer into the Yankees' bullpen. Dellin Betances hurled 1 2/3 innings of scoreless relief, Preston Claiborne recorded four outs and Matt Thornton pitched out of trouble in the eighth to give the Yanks time to catch up.
Shawn Kelley and Adam Warren each pitched two scoreless innings after the game had moved to extras.
"There's going to be days like this, and there's going to be times when your offense struggles," Girardi said. "You've got to try to find a way to scratch some runs and win a game."
Bryan Hoch is a reporter for MLB.com. Follow him on Twitter @bryanhoch and read his MLBlog, Bombers Beat. This story was not subject to the approval of Major League Baseball or its clubs.