Thanks to 'Aussie Rage,' Balfour makes Rays history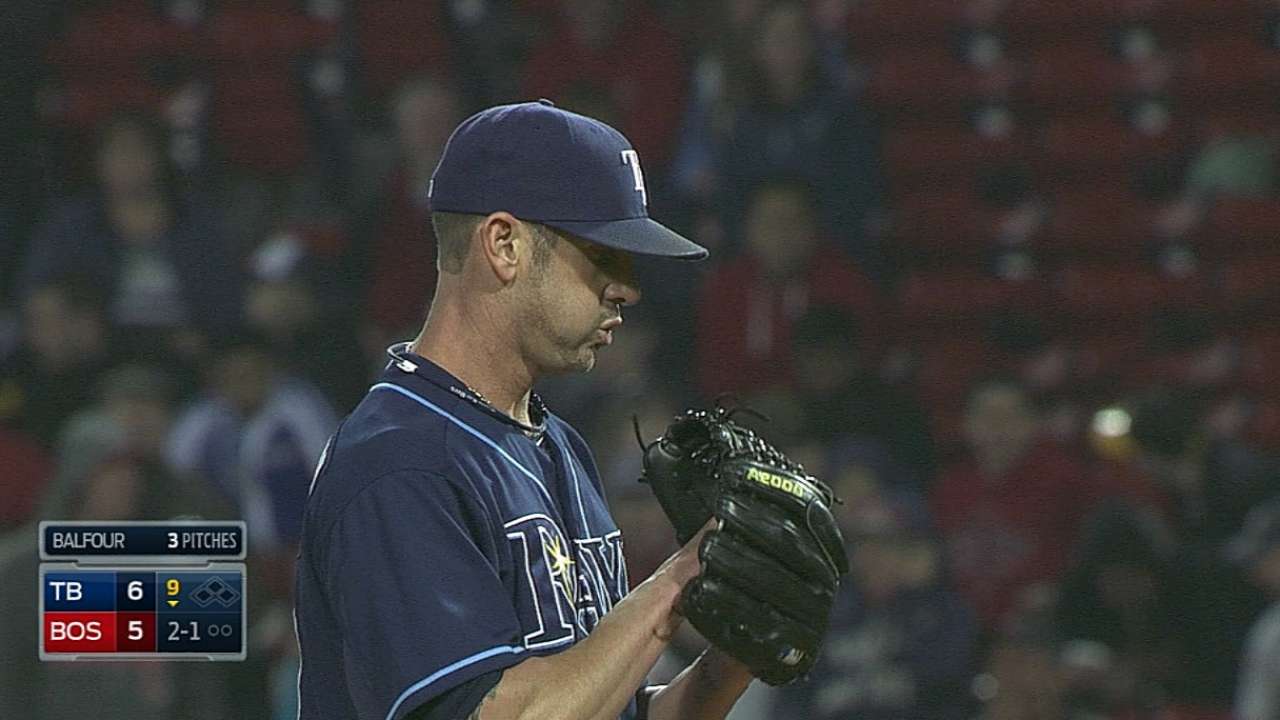 NEW YORK -- Closer Grant Balfour became the first pitcher in Rays franchise history to record saves in both games of a doubleheader, which he accomplished in Thursday's twin bill against the Red Sox.
In addition, he became the first to record two saves on the same day since Kansas City's Greg Holland did so at Detroit on Aug. 16, 2013.
In the ninth inning of Thursday's first game, Balfour insisted during a mound visit from manager Joe Maddon that he pitch to David Ortiz with two outs rather than intentionally walking the slugger with an open base. He then retired Ortiz on a groundout back to the box for the final out of the game.
By the time the end of the second game rolled around, Balfour needed everything he could muster from his reserve of "Aussie Rage" to claim the save and preserve the win.
Tasked with protecting a one-run lead, Balfour entered the game in the bottom of the ninth and surrendered a leadoff double to Shane Victorino. Ortiz then grounded out to first, allowing Victorino to advance to third with one out.
Balfour struck out Mike Napoli for the second out before walking Grady Sizemore to put the potential winning run onboard with Xander Bogaerts stepping to the plate. The count was 2-2 when Bogaerts watched an 84-mph slider cross the plate for strike three to end the game.
Balfour's two-save heroics came after a tough blown save against the White Sox in his previous appearance, prompting Maddon to note that what Balfour accomplished on Thursday was "very valuable."
"The game in Chicago, he came in after that, and he was really upset with himself," Maddon said. "And he knew that a big part of that was the fact that he did not pitch like he normally would -- meaning not nearly as aggressive, giving the hitter way too much credit.
"So even in the first game yesterday, wanting to pitch to that particular left-handed hitter [Ortiz], that told me a lot. And in the second game, Victorino leads off with a double. Then he gets advanced, and he's got some pretty good hitters up there to go punch, punch to end the game. That's pretty impressive, too.
"So I want to believe, and I've got to believe that moving forward, based on what he did yesterday, it's got to really pick up his confidence a lot."
Bill Chastain is a reporter for MLB.com. This story was not subject to the approval of Major League Baseball or its clubs.